Top Today I Found Out Posts of 2012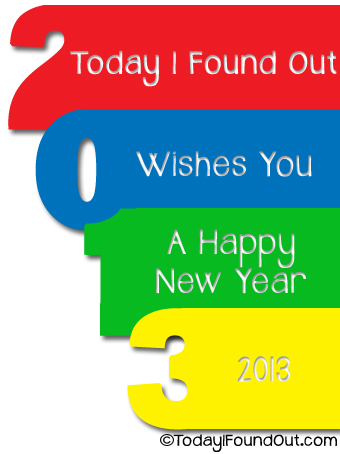 Today I found out was started three years ago on January 1, 2010.  In that span about 20 million people have visited the site with around 7.2 million of those people visiting at least once in 2012. There are now over 1400 posts between "regular" articles, "This Day In History" posts, Quick Facts, Infographics, and Answers.  2013 should be an even bigger year with more articles per day thanks to the fact that I'm taking on some new writers shortly.  I also have quite a few interesting improvements to Today I Found Out I have planned to start implementing with the freed up time from hiring additional writers so stay tuned on those.

Thanks for sticking with the site and making it one of the most popular "Interesting Fact" websites on the internet and Happy New Year!
Without further adieu, the top most visited posts on Today I Found Out in 2012:
Top 15 Most Visited Articles in 2012
1.  12 Best Ways to Remove Stripped Screws [Visitors: 260,600 | Posted On Feb. 10, 2010 ]
2. The Japanese Soldier Who Continued Fighting WWII for 29 Years After the Japanese Surrendered Because He Didn't Know [Visitors: 213,468 | Posted On Feb. 9, 2010]
3.  Record for the Most Babies Born to 1 Woman is 69 [Visitors: 115,220 | Posted On Jan. 11, 2010]
4.  The Youngest Person to Ever Give Birth was Only 5 Years Old [Visitors: 109,078 | Posted On Oct. 22, 2011]
5.  Marilyn Monroe was Not Even Close to a Size 12-16 [Visitors: 104,039 | Posted On April 17, 2012]
6.  Carrots Used to Be Purple Before the 17th Century [Visitors: 86,058 | Posted On April 15, 2010]
7.  The Origin of the Word Soccer [Visitors: 84,583 | Posted On June 23, 2010]
8.  How to Drastically Increase the Life of Your Shaver Razor Blade Cartridges  [Visitors: 81,738 | Posted On Feb. 1, 2010]
9.  The British Equivalent of That's What She Said [Visitors: 77,764 | Posted On December 30, 2010]
10. Where the Words Geek and Nerd Came From  [Visitors: 56,643 | Posted On Sep. 30, 2010]
11.  The Red Juice in Raw Red Meat is Not Blood [Visitors: 56,464 | Posted On April 20, 2010]
12. The 17 Year Old Girl Who Struck Out Babe Ruth and Lou Gehrig Back to Back  [Visitors: 52,967 | Posted On July 12, 2012]
13. Charlie Sheen Once Bought 2615 Tickets to a MLB Game to Improve the Odds of Catching a Home Run Ball  [Visitors: 46,369 | Posted On March 7, 2012]
14. Tang was Not Invented for the Space Program [Visitors: 43,571 | Posted On Jan. 27, 2011]
15.  An Asteroid Field Would Actually Be Quite Safe to Fly Through [Visitors: 35,982 | Posted On Dec. 8, 2011]
Top 10 Most Visited "Answers" in 2012
1.  What Those Nasty White Chunks That Come From Your Throat Are [Visitors: 164,045 | Posted On Sept. 23, 2010 ]
2. What Causes Eye Floaters  [Visitors: 148,763 | Posted On June 3, 2010]
3. Why Chocolate is Bad for Dogs [Visitors: 90,035 | Posted On Feb. 15, 2011]

4.  What Causes Headaches [Visitors: 68,053 | Posted On Jan. 7, 2012]
5.  How Deaf People Think [Visitors: 59,759| Posted On July 20, 2010]
6.  How Much are Olympic Gold Medals Worth [Visitors: 50,957 | Posted On Aug. 2, 2012]
7. How Dick Came to Be Short for Richard [Visitors: 41,401 | Posted On April 28, 2012]
8. The Difference Between Jelly and Jam [Visitors: 39,239 | Posted On May 27, 2010]
9.  Why a Baker's Dozen is 13 Instead of 12 [Visitors: 37,516 | Posted On Sept. 7, 2010]

10. Why Mosquito Bites Itch [Visitors: 34,121 | Posted On Aug. 10, 2010]
Top 5 Most Visited Infographics in 2012
1.   How To… [Visitors: 652,235 | Posted On August 10, 2011]
2.  10 Totally Random Interesting Facts [Visitors: 585,486 | Posted On May. 17, 2011]
3.  10 Fascinating Food Facts [Visitors: 86,364 | Posted On January 18, 2011]
4.  10 Fascinating Facts About the Human Body Part 3 [Visitors: 66,908 | Posted On May 16, 2012]
5.  8 Interesting Facts About Famous Businesses [Visitors: 52,284 | Posted On June 8, 2011]
Top 5 "You Should Know" Posts in 2012:
1. The Difference Between Farther and Further [Visitors: 12,974 | Posted On July 18, 2012]
2. When to Use I.E. vs. E.G. [Visitors: 11,646 | Posted On September 17, 2012]
3. How to Treat a Jellyfish Sting [Visitors: 11,217 | Posted On May 26, 2012]
4. The Difference Between Venom and Poison [Visitors: 5,097 | Posted On May 15, 2012]
5. What to Do if You See Someone Having a Seizure [Visitors: 3,805 | Posted On May 12, 2012]
Top 10 Most Visited Quick Facts in 2012
1.  Johnny Carson Once Accidentally Started a Near Month Long Toilet Paper Shortage in the U.S. [Visitors: 37,158 | Posted On Jan. 5, 2011]
2.  Pablo Picasso's Full Name is 103 Characters Long [Visitors: 27,898 | Posted On June 6, 2012]
3.  The Energy Required to Stop the Earth Rotating Around the Sun [Visitors: 26,201 | Posted On April 29, 2011]

4. The Patron Saint of Bacon [Visitors: 17,652 | Posted On January 24, 2011]
5. Why We Laugh [Visitors: 15,368 | Posted On March 9, 2011]
6.  The Statue of William Shakespeare in Central Park, NY was Paid for From Funds Donated from a John Wilkes Booth Performance [Visitors: 15,367 | Posted On May 11, 2011]
7.  The Same Guy Invented Pop Rocks, Tang, Cool Whip, and Quick Setting Jello [Visitors: 15,281 | Posted On November 6, 2011]
8.  Dr. "Seuss" is Supposed to be Pronounced Dr. "Zoice" [Visitors: 13,979 | Posted On Dec. 18, 2011]
9.  If We Could Convert Matter Perfectly to Energy, an Adult Male Would Produce an Explosion 160 Times More Powerful than the Largest Nuke Ever Detonated [Visitors: 12,728 | Posted On May 3, 2012]

10. The First Human to Be Killed by a Robot [Visitors: 10,672 | Posted On April 20, 2011]