The British Equivalent of "That's What She Said"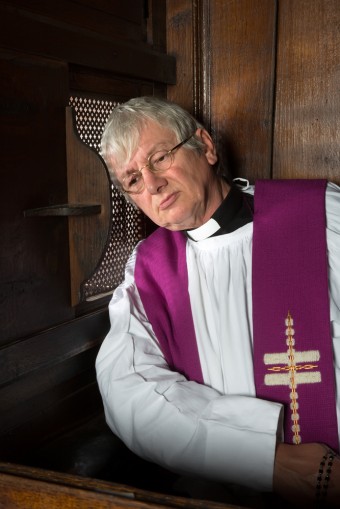 Today I found out there is a British equivalent to "that's what she said" that's been around for over a century, namely, "said the actress to the bishop".  This phrase is thought to have its origins as far back as the Edwardian period (around 1901-1910), though it didn't appear in print until "The Saint" novel "Meet the Tiger" was published in 1928.
This phrase derives from the fact that, during early English theater, actresses were poorly paid and often used prostitution to supplement their income.  Because of these "loose morals", clergymen spent a lot of time with these actresses… trying to get them to turn from their sinful ways.   Thus, it was a common occurrence for actresses to confess their sexual sins to these clergymen (bishops).  Somewhere along the line (and nobody knows exactly where or when), it became common then to say "as the actress said to the bishop" or alternatively "said the actress to the bishop" any time someone uttered a phrase that could be taken sexually, if viewed in the correct light.
If you liked this article and the Bonus Facts below, you might also enjoy:
Bonus Facts:
"Said the actress to the Bishop" became a near extinct phrase by the 1970s, but saw a huge resurgence in common usage recently due to Ricky Gervais, playing the character David Brent in the British The Office, frequently using this wellerism.
In homage to Ricky Gervais, Steve Carrel adopted the American equivalent of "that's what she said" for his corresponding American The Office character.  Similar to how the British The Office caused a resurgence of "said the actress to the bishop", the American The Office spawned a huge resurgence of "that's what she said", which had fallen out of common usage after its peak in the 1990s.
"That's what she said" is thought to have been around since the 1970s with the earliest documented case of the phrase showing up on Saturday Night Live, spoken by Chevy Chase in a weekend update skit in 1975, which also happened to be the first season of SNL.  "That's what she said" was later hugely popularized thanks to Wayne's World skits on Saturday Night Live and later usage in the movie "Wayne's World".
Both "that's what she said" and "said the actress to the bishop" are used to turn seemingly innocent phrases into phrases with sexual connotations.  The innocent phrase itself, such as "I can't do it; it's just too hard", is called a "double entendre", which basically means it's a spoken phrase which can be understood in two ways, with the first meaning being straightforward while the second is generally either ironic, inappropriate, or risqué.
"Said the actress to the bishop" is also commonly reversed, if it fits the double entendre better.  Such as "Don't grip it so tight!" *said the bishop to the actress*
Expand for References: