Daily Knowledge Newsletter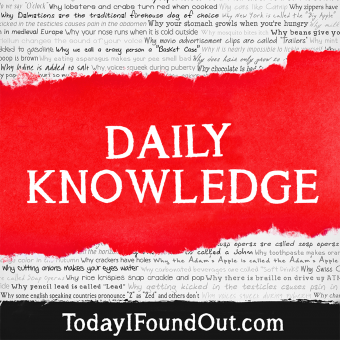 Want to gain some daily interesting knowledge?  Today I Found Out offers a free "Daily Knowledge Newsletter" and a free "Weekly Wrap" to help you feed your brain, currently with about 41,000 active subscribers.
If you subscribe to the "Daily Knowledge Newsletter", you will get one free "interesting fact" detailed article on a variety of subjects every weekday.  Examples of topics include that carrots were predominately purple before the 17th century; Abraham Lincoln established the secret service on the day he was assassinated; the author of Mary Had a Little Lamb also is the reason the United States has a national Thanksgiving holiday; why we sing Auld Lang Syne on New Years Eve; and many, many more (to date covering over 1,000 interesting topics since we started the newsletter portion of Today I Found Out).
You never know what topic you're going to get on any given day in our newsletter, but I think you'll find it's always extremely interesting, and covers details you won't find in most interesting fact style newsletters. Another thing that sets our newsletter apart is the level of accuracy you'll find.  Today I Found Out was founded partially because of the lack of accurate "interesting fact" websites out there, and we maintain that same passion for accuracy in our newsletter as well.
So that's the Daily Knowledge version.  What about the Weekly Wrap? If you subscribe to the Weekly Wrap version, you'll get one email per week covering the best of Today I Found Out's "interesting fact" articles, for your reading pleasure, along with Bonus Quick Facts.  You can see an example of what this looks like here.
Subscribe to one or both today and never again be want of something interesting to say at office watercoolers and cocktail parties the world over!