If We Could Convert Matter Perfectly to Energy, a Typical Adult Male Would Produce an Explosion 80 Times More Powerful Than the Largest Nuclear Bomb Ever Detonated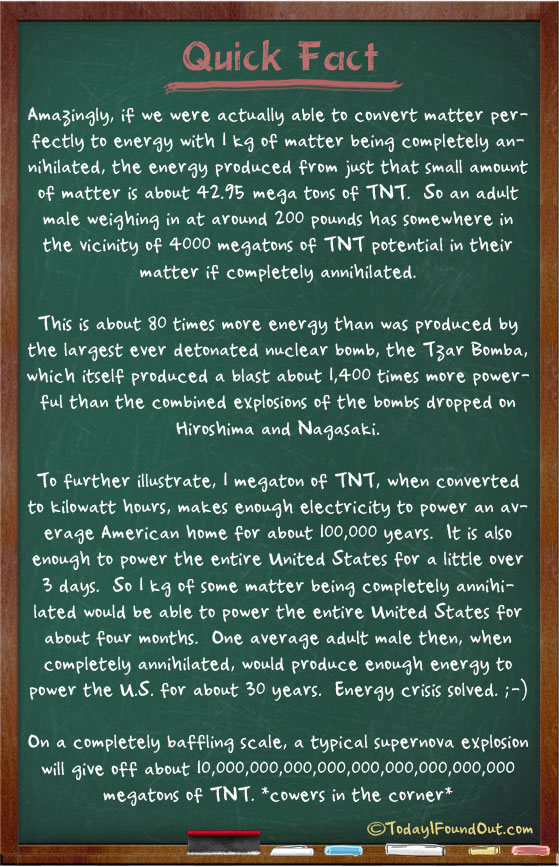 Amazingly, if we were actually able to convert matter perfectly to energy with 1 kg of matter being completely annihilated, the energy produced from just that small amount of matter is about 42.95 mega tons of TNT.  So an adult male weighing in at around 200 pounds has somewhere in the vicinity of 4000 megatons of TNT potential in their matter if completely annihilated.
This is about 80 times more energy than was produced by the largest ever detonated nuclear bomb, the Tzar Bomba, which itself produced a blast about 1,400 times more powerful than the combined explosions of the bombs dropped on Hiroshima and Nagasaki.
To further illustrate, 1 megaton of TNT, when converted to kilowatt hours, makes enough electricity to power an average American home for about 100,000 years.  It is also enough to power the entire United States for a little over 3 days.  So 1 kg of some matter being completely annihilated would be able to power the entire United States for about four months.  One average adult male then, when completely annihilated, would produce enough energy to power the U.S. for about 30 years.  Energy crisis solved. 😉
On a completely baffling scale, a typical supernova explosion will give off about 10,000,000,000,000,000,000,000,000,000 megatons of TNT. *cowers in the corner*