Welch's Grape Juice Started Out as a Substitute for Sacramental Wine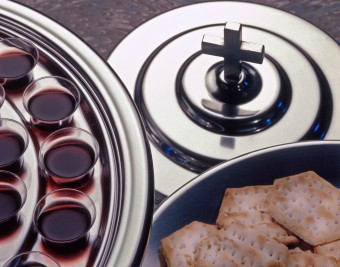 Today I found out that Welch's Grape Juice started out as a substitute for sacramental wine.
You've probably heard about Jesus turning water into wine, but Dr. Thomas Bramwell Welch is a lesser-known drink magician who developed a way to turn something that would have been wine into a non-alcoholic version of the drink, in an attempt to make an "unfermented sacramental wine".
Dr. Welch was a physician, a dentist and a Methodist minister in Vineland, New Jersey. At the time, Methodists were strongly opposed to the consumption of alcohol. This made serving wine for communion somewhat hypocritical, a discrepancy that Welch was quick to point out. His stance on the matter was so strong that he was even opposed to touching a container holding wine—a problem, since he was the communion steward.
The last straw was supposedly when a member of the church turned up at the Welch home one Sunday evening after partaking in a little too much of the communion wine. Welch was furious at the man's raucous behaviour.
So, what to do about it? Being something of a jack-of-all-trades, Welch took on the endeavour himself.  He sought to come up with a way to bottle grape juice so that it wouldn't eventually turn into wine. In 1869, he pressed juice from Concord grapes, filtered and bottled it in his own kitchen, and then used Louis Pasteur's innovative new technique called "pasteurization." He boiled the bottles of grape juice, which not only helped preserve the juice, but also killed all of the yeast in the bottles. This prevented fermentation, so the drinks would not be alcoholic.
After successfully preparing the drink, Dr. Welch delivered it to his church and even advertised it to surrounding churches as well. However, many clergymen were uninterested in Dr. Welch's Unfermented Wine; some even called serving it "heresy."
Needless to say, the unfermented sacramental wine did not get off to a great start. Welch was forced to set his product on the back-burner, though he remained heavily involved in the temperance movement. That said, a small amount of his grape juice continued to be produced for a few churches in the area.
It wasn't until Welch's son, Charles, who was also a dentist, started advertising Welch's in the 1890s that it became more popular.
At the time, Thomas Welch's advise to Charles was the same as what so many parents tell their children when the youngsters are pursuing a new career path that the parent's don't necessarily think has much of a future,
Now don't think I'm trying to discourage your pushing the grape juice. It is right for you to do so, so far as you can, without interfering with your profession and your health.
Thanks to the rise of the Temperance Movement, Charles' profession was about to change.  The juice's appearance at the World Fair in Chicago didn't hurt, either; thousands of people were able to sample it there in 1893.
In 1896, Welch's Fruit Juice Company became too big for one family to handle. To help meet the demand, Charles packed up and moved the company to a factory in New York, where he continued to grow the business. (Thomas Welch died a few years later in 1903.)
Welch's soon became the natural drink substitute for wine; it was made from the same fruit and suited the taste of the Temperance Society. In 1913, Secretary of State William Jennings Bryan hosted a dinner for the visiting British ambassador; while it was traditional to serve wine, Bryan decided to serve Welch's instead, making it more fashionable. That same year, alcohol was banned on Navy ships and Welch's grape juice was served instead.
Today, the company is a household name, featured on juice, jellies, and jams. They reportedly rake in nearly a half a billion dollars every year and have since moved their headquarters to Concord, Massachusetts, where they grow cuttings from the original Concord grape vine used.
Not bad for something that started out as the result of a pet peeve of one man who simply wanted to provide a way for people to take communion without alcohol crossing their lips.
If you liked this article, you might also enjoy our new popular podcast, The BrainFood Show (iTunes, Spotify, Google Play Music, Feed), as well as:
Bonus Facts:
During the 1500-1800s Catholic, Protestant, and even Puritans taught that alcohol was a gift from God and was created by God to be used in moderation for the pleasure of man and to aid in health.  Drunkenness was viewed as a sin, as it often is even today, but it's only been relatively recently in Christianity that drinking in general has been considered sinful.
This change took place primarily due to the increased concern over the negative effects of drunkenness among the church, beginning around the 18th century when mass-drunkenness became a major problem largely thanks to the Industrial Revolution, both because of the concentration of the uneducated in urban slums and technological advances in the mass production of alcohol. (Given the working conditions, hours and little hope of escaping that life, it's no wonder so many chose to remain drunk as much as possible.)
During Prohibition, Grape growers of the day began selling "bricks of wine", which were primarily blocks of "Rhine Wine".  These often included the following instructions: "After dissolving the brick in a gallon of water, do not place the liquid in a jug away in the cupboard for twenty days, because then it would turn into wine."
Thomas Welch was involved in the underground railroad during the Civil War, successfully smuggling several former slaves from the south to freedom.
In the 1930s, Welch's—then run by Thomas' grandsons—distributed 10% of the company's shares to their 300 employees as a Christmas present at the height of the Great Depression.
Welch's initial foray into the world of grape jam was in 1918 during World War I with a product called "Grapelade." The entire first batch was snapped up by the United States Army which doled it out to soldiers. When the soldiers returned home, they demanded the delicious Grapelade as part of their breakfast. This went a long way in helping to popularize the relatively newly invented peanut butter and jelly sandwich.
That wasn't the end of Welch's in the military. During World War II, the United States saw a shortage in Welch's products because the government once again laid claim to them for use in the military and hospitals.
Are you a fan of frozen juice concentrate? You have Welch's to thank for that! In 1949, they introduced the first juice concentrate you stored in the freezer to make juice later with.
The Concord grape was developed from native New England grapes by Ephraim Wales Bull in Concord, Massachusetts. Many varieties of grapes brought over from Europe simply weren't doing very well in the Americas. Bull planted around 22,000 seedlings before he hit upon the perfect grape. He presented his grapes to the public in 1853 and even won a prize for them at the Boston Horticultural Society Exhibition. The grapes brought him fame, but not fortune; he earned $1000 for each cutting, but still died a poor man. His tombstone reads "He sowed—others reaped."
Expand for References