That Musky Smell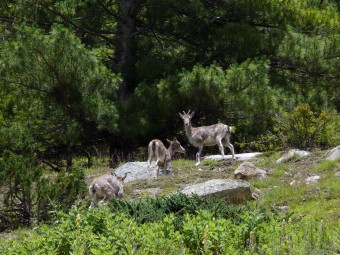 Prized since ancient times for its alluring fragrance, today musk can mean any of a number of substances used to scent perfumes. However, while in our modern era most musk is synthetically produced, when it first came on the scene, musk was only found in a scrotum-like sac on the bellies of male musk deer.
Musk deer are found throughout Asia, including in Afghanistan, China, India, Mongolia, Nepal, Pakistan and Siberia. Small, the largest barely reach 2 feet in height and weigh no more than 40 pounds. The male of the species has a scent gland sometimes called the musk pod that sits between its belly button and genitalia. Resembling jiggly bits, early on the Sanskrit speakers who started harvesting the gland used their word for testicle, muska-s, to refer to both the gland and its product.
The first use for musk was in Auyervedic medicines, the preparation of which required the gland first be dried and then ground. At this point, it is said to have a sharp, repulsive, animal smell with "ammonia accents that resemble urine and castoreum."
Eventually, however, it was learned that by heavily diluting the stinky powder in alcohol, the bestial smell disappeared, which likely made the medicine much more palatable. In addition to removing the animal stink, the dilution also revealed an underlying pleasant, complex aroma.
Making its way through ancient civilizations, deer musk became highly prized and very expensive. By the dawn of the 19th century, pound for pound, it cost more than twice that of gold. Later, as cheaper, synthetic substitutes became available, they were likewise called musk.
Today, musk is still harvested from musk deer, and while the Convention on the International Trade in Endangered Species of Wild Flora and Fauna (CITES) regulates their harvest, poaching remains a problem. Other animal sources of that musky smell include civet cats, sperm whales and beavers.
For instance, secretions from beavers' castor sacks located next to their anal glands have a musky/vanilla scent. This substance, called castoreum, is commonly used in various perfumes, in some cases used to create the "new car smell," and used in many foods as "natural flavoring," in substitute for vanilla. Certain non-dairy creamers are just one of many foods that sometimes contain castoreum.  Yum!
Another common musky additive to high end perfumes is Ambergris.  This begins as a large, compacted mass of the indigestible parts of a squid and other gross stuff in the intestines of a sperm whale. No one knows for sure how it emerges from that dark, stinky interior, although the most obvious explanation, poop, is the most popular.  Floating on the ocean until it washes up on shore, the best ambergris spends years oxidizing from a combination of salt, air and sun. Prized for its unique scent, ambergris is in high demand by perfume manufacturers and the amorous alike. In fact, high quality ambergris can sell for $20 per gram (about $9,000 per pound). As you can imagine, there is a thriving industry in ambergris hunting, and the competition can be fierce.
Luckily, there are other sources of musk available, including plants like the Abelmoschus moschatus and Amgelica archangelica, as well as several chemical compounds including aromatic nitro musks, polycyclic musks and macrocyclic musk.
If you liked this article, you might also enjoy our new popular podcast, The BrainFood Show (iTunes, Spotify, Google Play Music, Feed), as well as:
Bonus Facts:
The highest quality musk comes from Vietnam and is called Tonkin musk, while one of the lowest comes from Russia. Siberian deer musk sells for $150 per cubic centimeter, nearly 5 times the price of gold at the equivalent weight.
In a 2010 study, scientists discovered that there is generally consensus on what smells good and what stinks. According to the research, most people think lime, grapefruit, bergamot (like orange), orange, peppermint, freesia, amyl acetate (apple-banana scent), cassia (cinnamon-like), mimosa and fir trees were the most enticing aromas. Interestingly, of the scents people found pleasant, musk and patchouli were at the bottom.
Some people lack sufficient amounts of an enzyme, flavin monooxygenase 3 (FMO3), such that they cannot digest choline or convert trimethylamine (an organic compound) found in lots of common foods including red meat, egg yolks, beans and fish. As a result, the compound, which smells strongly of fish or B.O., accumulates in their bodies and is released in their sweat.  As you can imagine, this can be a socially debilitating condition.
Other conditions can also be diagnosed by smell. Schizophrenics are said to sometimes sweat out more trans-3-methyl hexenoic acid, which gives them a super sweet smell, like over-ripened fruit. Diphtheria is also said to have a sweet smell, while typhoid is known to smell like bread baking, and TB sometimes smells like beer. On the other hand, those with asthma and cystic fibrosis can be diagnosed by the smell of their breath, which is said to be a bit acidic. Liver and kidney diseases can make the breath smell of fish, and untreated diabetes can make it smell like rotten apples. There's even a condition named after maple syrup where people can't break down leucine, isoleucine and valine (all amino acids). While on the up side, their pee smells like breakfast, on the down side, in the most severest forms the condition can cause intellectual disability and even brain damage.
Expand for References