That Time Hoover Accidentally Cost Itself Almost £50,000,000 by Giving Away Free Flights with the Purchase of a Vacuum Cleaner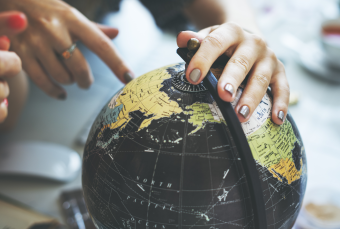 Giving away free stuff with a purchase is a good way to bolster sales and can result in a tidy increase in profits, provided you follow the general rule of making sure the long term projected profit from the promotion is greater than the cost of the giveaway. Appliance giant Hoover learned this seemingly obvious lesson first hand in 1992 when they inexplicably decided to give away free flights worth several times more than most of the products they were selling as part of what has become known as Hoovergate- one of the most disastrous marketing campaigns of all time, today taught in marketing text books the world over.
Though Hoover sells a multitude of appliances and domestic goods, the company is known mostly for its vacuum cleaners. (And if you're curious, see: Who Invented the Vacuum Cleaner?) So much so in fact that over in Blighty the word "hoover" is an accepted synonym for the device, much to the annoyance of Hoover who, like other companies, fought hard not to have their brand become genericized like Aspirin and Thermos. This generalizing of their brand name largely rose from the near total monopoly Hoover had over vacuum sales in the UK throughout much of the 1950s to 1970s. However, as the end of the 20th century approached, the British arm of Hoover found that sales were beginning to lag considerably from their heyday, with their marketing share steadily declining and warehouses slowly filling with old stock nobody wanted to buy.
In the early 1990s, Hoover's British arm was approached by a now-defunct travel agent called JSI Travel with a rather intriguing offer to help shift some of this old stock out of the warehouses and into the hands of customers. The idea was to offer two free return flights to Europe with every purchase of any Hoover product worth more than £100 (about £190 today or $235), all arranged through this travel agency. Beyond revenue from sales, much of the cost for the tickets themselves from those who jumped through the many, many hoops to actually get the tickets would be subsidized by JSI Travel selling additional services like travel insurance and hotel packages. JSI Travel also thought it would provide a long term benefit for their small company as it would introduce tens of thousands of people to their travel agency's services.
Hoover liked the sound of the arrangement and in 1992 launched their free flights campaign, advertising it on TV and in papers across the country with the simple caption: "Two Return Flight Tickets. Unbelievable."
The offer saw sales of Hoover product explode because, hey, free flights. Slowly, but surely, Hoover's warehouses began to empty.
Now, if Hoover had chosen to quit here, we wouldn't really have much to say other than kudos to them on a smart business decision. (And if you're wondering, see What's a Kudo?) Unfortunately for them, they got too greedy and hilarity ensued.
After examining the numbers linked to the campaign and realising that only a fraction of the people who'd bought a qualifying product as part of the campaign actually jumped through all the hoops to redeem for the tickets, Hoover decided to extend the promotion and get a little more international, hoping to boost sales even further in the process.
This was despite Hoover having approached various risk management companies to evaluate the promotion and being summarily told it was a horrible idea. For instance, risk management advisor Mark Kimber from PIMS-SCA would late note,
I advised Hoover of the potential pitfalls of the promotion. Having looked at the details of the promotion along with attempting to calculate how it could actually work I declined to even offer risk management coverage based upon the information presented. With such a high value offer for only a relatively small cost to the consumer, to me it made no logical sense.

…nevertheless Hoover chose to completely ignore both mine and the industry's advice and continue on its calamitous crusade without considering the potential cost or consequences…
Head firmly in the sand, Hoover approached three of the biggest airlines of the day, British Airways, Virgin Atlantic and American Airlines, along with various travel agencies, and entered into negotiations to offer a similar deal as they had previously, only this time offering free flights to either New York or Florida from the UK.
After terms were set and contracts signed, Hoover once again launched a massive ad campaign to tell the public about the promotion, which still inexplicably offered the free flights if the customer spent a minimum of just £100. This is an important fact because, at the time, a flight to either destination would have set you back on average about £600 (nearly £1,200 or $1,500 today) making the promotion infinitely more desirable than a pair of free flights to a European destination that cost a fraction of that.
According to news reports after the fact, its purported that Hoover expected that the value of the flights to America would encourage people to perhaps buy a more expensive product. Whether that's true or not, customers flocked to stores and predictably bought the absolute cheapest qualifying product possible (the Turbopower Total System which clocked in at a reasonable £119.99)  before sending off for their free tickets to the land of freedom and cheese that comes in a can.
This resulted in massive backlogs in Hoover's offices as they only anticipated about a tenth of the eventual response. Thanks to their status as a trusted, well-established brand known for their quality, Hoover's reputation wasn't initially hurt by the delays that resulted until a reporter for the Daily Record claimed that not a single airline had received a booking to America from a Hoover voucher holder. Whether accurate or not, this story raised the hackles of the customers who up to this point had been waiting patiently.
Along with being one of the most popular articles the Daily Record ever published, it had the side-effect of alerting millions of people that the promotion existed, resulting in tens of thousands of additional sales.
It was soon after reported that local travel agencies wanting to avoid the loss of income from their part of the deal began trying to dissuade customers by abusing the offer's small print- doing things like offering flights from airports that were across the country from the person trying to fly. According to a contemporary BBC report, one agency, Free Flights Europe, seemed to require customers to buy about £300 of add-ons to their "free" tickets before they'd stop hassling them and finally give them their tickets.
During the ensuing media firestorm, Hoover blamed the delays on the airlines and travel agencies they'd contracted with for being unable to meet the demand. Whoever's fault it was, their customers weren't happy.
One particularly irate customer was one Harry Cichy who decided that he was going to get his flight no matter what, organising a group of likeminded customers who doggedly pursued their tickets from Hoover in and out of court. The aptly named Hoover Holiday Pressure Group, spearheaded by Cichy, refused to allow Hoover to worm their way out of their obligation, with Cichy himself going as far as travelling to the company's American headquarters (a trip that was ironically paid for by Hoover) to argue his case in front of their executives.
Despite Cichy's best efforts, it's estimated that only 220,000 of the half million or so (Hoover never released the official figures) people who applied for the promotion were able to ever claim their free flights, with those who didn't either suing for the value of the flights in small claims court or moving on and swearing off the brand forever. This latter point turned out to be the heaviest blow to the company.
As to that aftermath, three top executives, director of marketing services Michael Gilbey, vice president of marketing Brian Webb, and Hoover's European president William Foust, were summarily fired by the company's American owners, Maytag.
Beyond the major firings, the company spent about £50 million (around £100 million today or $125 million) for the tickets for the free flights compared to about £30 million in gross revenue generated from sales during the promotion. But the ultimate cost was far greater.
To begin with, hundreds of thousands of people in the UK now had Hoover products that in many cases they didn't actually want or need. The result from this was a massive sell off of these items on the second-hand market, meaning potential future customers could easily buy brand new Hoover products for a fraction of the price Hoover was selling them for in the stores.
On top of that, the company took a major hit to their reputation, meaning even those customers who might have still purchased something from Hoover were now avoiding the brand. To try to fix this, Hoover launched an advertising campaign costing about £7 million to help restore their image, with little affect.
Unsurprisingly, the Hoover brand in the UK took a major hit, with their market share dropping from about 50% in 1992 to just 20% in 1995. Cutting their losses, the entire European arm of Hoover was sold by Maytag to an Italian manufacturer called Candy at a significant loss from what they'd paid for it just six years before in 1989.
If you liked this article, you might also enjoy our new popular podcast, The BrainFood Show (iTunes, Spotify, Google Play Music, Feed), as well as:
Bonus Facts:
A Hoover customer called David Dixon made national news when the washing machine he bought specifically to claim the free tickets offered in the promotion broke. When Dixon asked the Hoover repairman who came to fix the device about the status of tickets, he became annoyed when the repair man called him an idiot for thinking buying a washing machine entitled him to a free flight to America. In response, Dixon blocked the repairman's van in his driveway with a truck and, according to news reports, told him "I'm not as stupid as you are. At least I don't have to walk home." It's at this point we should mention Dixon lived on a farm several miles away from anywhere and the repairman didn't have a phone. Dixon held the van hostage for 13 days while the media and public gleefully hailed him a hero.
When a documentary about the fiasco was aired in 2004, Cichy was contacted by a number of people who alerted him to the fact that Hoover still held a Royal Warrant, a prestigious marker given to products or services used by the British Royal Family themselves. Cichy went out of his way to ensure this honor was revoked, successfully doing so a few months later that year as a final insult to the company.
Expand for References