The Pass That Allows People to Fly Free Forever and the Airline's Attempt to Kill It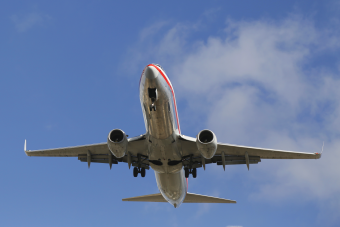 Back in 1981, in an effort to raise some quick funds, American Airlines introduced a $250,000 pass (about $641,000 today) that would allow customers to fly on its airlines for free for the rest of their lives. In 1990, they bumped the price to $600,000 (about $1.07 million today), and then in 1993 to $1.01 million (about 1.7 million today). Despite the sticker price, the airline has since admitted this is one of the costliest mistakes it has ever made.
Introduced in the summer of 1981, the unlimited "AAirpass" was originally envisioned as, to quote the airline's former chief executive Robert Crandalll, something that "firms would buy for top employees" and it was thought that the scheme would bring in many millions of dollars in revenue in a very short timespan- essentially, easy money now to grow the company with, with future costs of having people use these passes being negligible to absorb. However, the AAirpass' high cost resulted in a less than enthusiastic response from customers and in the end, only 66 passes were actually sold.
This is a shame for consumers, because those 66 customers got an amazing deal. As Crandall later noted, "It soon became apparent that the public was smarter than we were."
According to the rather loose terms of the original AAirpass contract, customers who purchased one were entitled to free first class travel anywhere in the world and were given lifetime membership to American Airline's Admirals Club, which grants priority boarding, same day booking and access to lounges across the world that offer free food and drink for members.
These benefits alone have seen some likening the unlimited AAirpass to "owning a fleet of private planes". As one of the top frequent fliers, Steve Rothstein said, "A very fun Saturday would be to wake up early and fly to Detroit, rent a car and go to Ontario, have lunch and spend $50 or $100 buying Canadian things…" and then be back by dinner.
In another case, an individual travelled all the way to London 16 times in a single month, sometimes just staying long enough for a bite to eat before flying back home.
But it didn't stop there. Savvy customers found ways to get even more out of their passes. You see, under the terms of the agreement, customers were still allowed to claim air miles on all flights they took, allowing those who used the service frequently (because why wouldn't you?) to rack up literally millions of air miles in the space of just a handful of years, which they could give away to family and friends or in the cases of some customers, sell.
On top of this, because the AAirpass offered unlimited free travel, the airline were forced to absorb any and all fees customers incurred while using them (including taxes), meaning customers could literally book a dozen flights at a dozen different times for a single day and roll up to their airport whenever they felt like it, knowing that there would be no cancellation fees to pay for missing the other flights or additional duties or taxes to pay.
But we're not done yet. On top of all this, American Airlines offered customers a chance to purchase a "companion pass" at a discount price (about 40% off), which granted all the same perks to anyone the original holder wanted as long as they flew together. Customers who opted for this particular upgrade utilised it in a number of impressively creative ways from booking an empty seat under a false name to score more elbow room in the already spacious first class, to ferrying friends and often random strangers across the world for free. In the case of a guy called Steven Rothstein, he'd sometimes book two tickets for every flight he took just to surprise people at the airport with a free first class upgrade.
If you're wondering how customers came up with all these ideas for bending the rules, many of them didn't. A lot of the aforementioned tricks like booking multiple flights on a given day or an empty seat were often suggested to customers by people working for the airline itself as part of the complimentary booking service provided to Admirals Club members.
According to an internal report from American Airlines in 2007, the top unlimited AAirpass holders cost the airline in excess of a million dollars that year, each. Although, it would be interesting to actually see how they tallied this up, because if first class wasn't sold out on a particular flight an AAirpass owner took, the airline wouldn't actually lose money other than taxes, the price of in-flight consumables and the like, as it's likely many of these customers wouldn't have taken the flights in question had they not had the unlimited pass.
Regardless, the results of this internal report were alarming enough that it prompted American Airlines to sic its so-called revenue integrity unit onto owners of the passes in attempts to find something they'd done that constituted a breach of the AAirpass' terms.
After poring over the contracts and doing extensive investigations, American Airlines were able to successfully revoke the passes of a handful of the customers who'd "abused" the system the most. For instance, American tried to coerce certain people who'd been given a free ride courtesy of some of the more generous AAirpass owners into admitting that they'd paid for their tickets. In one such case, it was noted in an internal email from American Airlines that the individual in question who'd been given a ticket by AAirpass owner Jacques Vroom, "appears to be naive, without financial wherewithal, and most probably very anxious to return 'home'". So upon the young man checking in, he was taken to a private office and a former police officer working security for American Airlines questioned him, then offered him a free ticket home if he'd just admit he gave Vroom money for a ticket.
In another case concerning Vroom, the individual, one Sam Mulroy, was told his flight was canceled, but that he'd be given a new ticket, free of charge, if he'd just say he paid Vroom for the original ticket. Mulroy denied paying anything. When the offer of a free ticket didn't work, American Airlines froze Mulroy's Frequent Flier account. When Mulroy complained to American Airlines and the U.S. Department of Transportation that he felt he was being extorted by the airline, his account was unfrozen.
In the end, Vroom did indeed lose his pass when it was discovered in a subsequent lawsuit that he really had accepted payment for at least a few flights. Vroom, however, claimed the payments were for "business advice" (Vroom is a very successful marketing consultant), not for the tickets. However, Vroom's lawyers noted that it shouldn't matter whether he accepted payments or not, as American Airlines didn't explicitly ban the practice of selling tickets in their "unlimited" pass contracts until three years after Vroom purchased his.
Other customers who lost their passes included a retired bond broker called Willard May who'd been very openly using his pass to ferry people across America for a fee for about two decades and the aforementioned Steven Rothstein for things like booking empty seats for his suitcase under the name "Bag Rothstein".  While May decided against pursuing the matter in court, Rothstein did. He ultimately lost when a judge ruled he had indeed violated the terms of his contract. (Amusingly given how it all turned out, Rothstein once met the aforementioned American Airlines chief executive Robert Crandall during a flight, prompting the then CEO to send Rothstein a letter saying, "I am delighted that you've enjoyed your AAirpass investment. You can count on us to keep the company solid, and to honor the deal, far into the future.")
At least two others were also found to have been in breach of their contracts, according to American Airlines, but their tickets were not revoked for undisclosed reasons.
For the curious, you can still purchase an AAirpass today, though not too shockingly, American Airlines no longer offers an unlimited version. The last time they did so was in 2004, three years before they'd realised exactly how much these passes were costing them every year. At that time, they offered the pass through Neiman-Marcus for $3 million (about $3.7 million today) per pass.  Despite that this would have still been a pretty good deal for a certain type of wealthy flyer or certain businesses to have such tickets at their disposal any time, nobody bought any at that price point.
If you liked this article, you might also enjoy our new popular podcast, The BrainFood Show (iTunes, Spotify, Google Play Music, Feed), as well as:
Expand for References