The Mysterious Kugelpanzer: The Nazi-Designed, One-Man Spherical Tank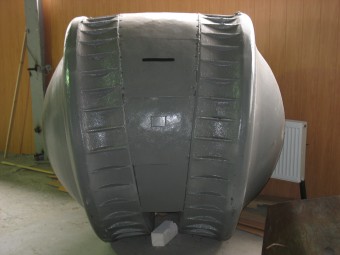 During World War II, Nazi engineers designed and built a number of revolutionary super or "wonder weapons" (wunderwaffe), including a wide array of aircraft, guns and ships. Among these weapons is a mysterious small, round tank named the Kugelpanzer (literally meaning "spherical tank"). This odd little tank was never seen in the European theater, and very little is definitively known about its purpose.
What is known is that it was made in Germany and shipped to Japan, and then later captured by the Soviets in 1945, probably in Manchuria. Today, the only one known to exist can be found in the Kubinka Tank Museum in the Odintsovsky District, Moscow Oblast, Russia.
Powered by a single cylinder, two-stroke engine, Kugelpanzer has a slit in the front (presumably a driver's view port), and a small arm and wheel in the rear (perhaps for stability and/or maneuvering). Its hull is only 5 mm (.2 in.) thick, and it isn't fully clear what type of metal comprises its armor (no metal samples are currently allowed to be taken from it).
Popular theories of its purpose include reconnaissance, as a mobile observation post for managing artillery fire, and as a cable-laying vehicle; however, there is little evidence to support any of these hypotheses, since there has never been any documentation found that explains the vehicle or its design.
Given the dearth of evidence, as you would expect, speculation is rampant, and one intriguing theory even posits that it was commissioned by the Japanese as part of their kamikaze strategy of suicide missions.
By August 1944, the ailing Japanese military had been at war in the Pacific for 7 long years, beginning with the Second Sino-Japanese War in 1937. During this period, rather than being captured, and wanting to get in one last lick, some Japanese pilots had begun the practice of crashing their mostly disabled planes into enemy positions (and killing themselves in the process).
Through most of the Pacific War, this was an informal, voluntary act; however, as the war was winding down, the desperate Japanese command (who were running out of qualified pilots and whose aircraft at this point in the war were outdated) decided that they would get the most out of their unskilled personnel and obsolete machinery by incorporating planned suicide missions into their battle strategies. As such, in the fall of 1944, Japanese forces began a series of kamikaze strikes. (Click here for more on the origin of the kamikaze and how pilots were chosen for this duty.)
In addition to improvised devices, such as simply strapping bombs onto existing aircraft, the Japanese military began manufacturing specialized equipment. These included the aircraft Ohka ("cherry blossom"), as well as suicide boats, such as Shinyo ("sea quake"). Even tiny submarines were made, including a modified torpedo named Kaiten ("returning to heaven,") and Kairyu ("sea dragon"), a two-manned craft.
Given this mindset of many Japanese military leaders, it has been theorized by some that the Kugelpanzer was a part of this plan, with a few key points often put forth to support this theory.  First, like all of the other suicide machines, it was small and designed to be operated with a limited (1-2 man) crew; second, it wasn't equipped with any apparent offensive weaponry, though it has been speculated that it was meant to have a machine gun mounted in the front; and third, its hull was rather flimsy (5 mm thick) when compared to that of other armored vehicles, but on par with that of at least one other suicide craft.
For instance, the Type 97 Chi-Ha, said to be the "most widely produced Japanese medium tank of World War II," had 26 mm thick armor on the sides of the turret and 33 mm thick armor on its gun shield. On the other hand, the Long Lance torpedo from which the Kaiten manned torpedo was developed had a comparably thin shell at 3.2 mm (.13 in.) thick – much closer to the width of the Kugelpanzer outer housing, than the strong armor of the Type 97 tank.
For further reference, the thickness of a common World War II helmet (the M1) was at .035 to .037 inches (just under 1 mm), sufficient to (at least sometimes) stop a .45 caliber bullet. So, essentially, the 5 mm thick walls of the tank would have been sturdy enough to relatively reliably stop many types of enemy bullets from getting in, but thin enough to give way easily from a blast within, to do maximum damage. At least, so this particularly theory goes.
Whatever its intended use, the Kugelpanzer certainly has gone down as one of the more unique weapons developed during WWII.
If you liked this article, you might also enjoy our new popular podcast, The BrainFood Show (iTunes, Spotify, Google Play Music, Feed), as well as:
Bonus Facts:
The aforementioned Japanese one manned torpedo-like submarines called kaitens were just modified torpedoes that allowed the person inside to control them. They also featured a self destruct mechanism if the person failed in their mission. This was necessary as there was no way for the person inside to get out of the torpedo once sealed in. Early models did include a mechanism to escape once the torpedo was aimed correctly, but not a single soldier seems to have ever used this feature, so it was quickly abandoned. Each person who died as a kaiten pilot would earn their family ¥10000 (about $120 today). Kaitens were ultimately not very successful primary because they could not be deployed very deeply and were stored on the outside of the submarines. This isn't so much a problem for the kaitens as it was for the submarines carrying them who would have to stay very near the surface. This resulted in an average of about eight submarines carrying kaitens being destroyed for every two ships destroyed by the kaitens. Each kaiten was about 50 feet long; could reach a maximum speed of about 30 miles per hour; and contained a warhead at the nose.
The Japanese were not alone in making suicide attacks a part of their 20th century battle strategy. During the Sino-Japanese War, Chinese soldiers of the "Dare to Die Corps" effectively detonated suicide bombs at the Battle of Taierzhuang (1938), the Defense of the Sihang Warehouse (1937) and the Battle of Shanghai (1937).
Expand for References