Native Americans Were Not Introduced to Alcohol by Europeans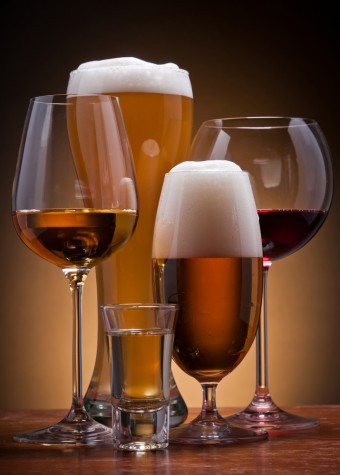 It is a sad truth that Native Americans suffer from alcoholism at rates far higher than those of other ethnic groups. While many causes likely contribute to this problem, some of those most commonly espoused, including lack of prior exposure to alcohol and genetic predisposition, are oft-repeated misconceptions. In fact, well before Europeans began to colonize the Americas, Native Americans were putting on a nice, polite buzz.
The Myth that Europeans Introduced Native Americans to Alcohol
People have been making alcohol since the dawn of civilization. In the Levant, archeologists have found evidence that "brewing of beer was an important aspect of feasting and society in the Late Epipaleolithic era" (12,000-9,500 BC). As the Natufians possessed only stone tools and basic technology, clearly it doesn't take much to make a simple brew.
This was certainly the case in North America where a number of Native American peoples had been making alcoholic beverages using various simple methods since long before first contact.
In Mexico, some believe Native Americans used a corn precursor to make a brewed drink; they note: "the ancestral grass of modern maize, teosinte, was well suited for making beer – but was much less so for making corn flour." In addition, it is well established that Mexican Native Americans prepared "over forty different alcoholic beverages [from] . . . a variety of plant substances, such as honey, palm sap, wild plum, and pineapple."
In the Southwestern U.S., the Papago, Piman, Apache and Maricopa all used the saguaro cactus to produce a wine, sometimes called haren a pitahaya. Similarly, the Apache fermented corn to make tiswin (also called tulpi and tulapai) and the yucca plant to make a different alcoholic beverage.
The Coahuiltecan in Texas combined mountain laurel with the Agave plant to create an alcoholic drink, and the Pueblos and Zunis were believed to have made fermented beverages from aloe, maguey, corn, prickly pear, pitahaya and even grapes.
To the east, the Creek of Georgia and Cherokee of the Carolinas used berries and other fruits to make alcoholic beverages, and in the Northeast, "there is some evidence that the Huron made a mild beer made from corn." In addition, despite the fact that they had little to no agriculture, both the Aleuts and Yuit of Alaska were believed to have made alcoholic drinks from fermented berries.
It should be noted, however, that most of these beverages were relatively weak, presumably no stronger than wine (which typically runs from 8-14% ABV). Whiskey, on the other hand, is usually 60% ABV, and grain alcohol (e.g., moonshine) is often 95% ABV. As a result, when Europeans introduced these stronger drinks, Native Americans were in for a shock.
The "Drunken Indian" Myth
Contrary to popular misconceptions, there is no evidence to support theories that Indians were pre-disposed to alcoholism. Rather, they appear to be the victims of a tragic combination of circumstances.
Shortly after first contact, trade was established. In exchange for the furs and skins so prized by Europeans, colonists and traders provided large quantities of strong liquor and wine. With little or no experience consuming strong alcohol, Native American communities were ill prepared to manage their populace's exposure to so much of it. As one expert noted:
When . . . large amounts of distilled spirits and wine [were] made available to American Indians, the tribes had little time to develop social, legal, or moral guidelines to regulate alcohol use.
Sadly, the hard-drinking, rowdy colonists provided early Native Americans with the worst role models possible. Binge drinking, violent outbursts and extreme intoxication were common. This influence had a devastating effect on Native American communities. As one commentator opined:
For a culture that was naïve to alcohol use, this model of alcohol consumption established a behavioral pattern of drinking that reinforced unhealthy quantities from the onset. . . . It is probable to conclude that [this] left our ancestors unable to re-establish cultural and societal standards with relation to the regulation of alcohol use.
The Genetic Myth
Another common misconception is that Native Americans lack the enzymes necessary to properly metabolize alcohol, and, therefore, have no genetic defense to protect them from becoming alcoholics. Reminiscent of the devastating effect European diseases had on native populations at first contact due to lack of immunity, this explanation has a certain appeal – but it is completely false. According to the U.S. Department of Health and Human Services (DHS):
Despite the fact that more Native American people die of alcohol-related causes than do any other ethnic group in the United States, research shows that there is no difference in the rates of alcohol metabolism and enzyme patterns between Native Americans and Whites.
This means that, sadly, the high rate of alcoholism among Native Americans is due to other factors. Some possible causes include the loss of culture and autonomy, which have included being forced onto reservations and a variety of other indignities great and small.
One example was the 20th century practice of forcing children to attend special boarding schools, often hundreds of miles away from home. In addition to the emotional and psychological damage caused by forced separation, this program prevented parents from having "the opportunity to raise their children in a way that was culturally congruent."
Alcohol and Native American Communities Today
Alcoholism is a disease that disproportionately affects Native Americans. The National Institute of Alcohol Abuse and Alcoholism (NIAAA) reports that over 12% of Native Americans are heavy drinkers (the highest among all ethnic groups), and the Centers for Disease Control (CDC) notes that Native Americans have the highest prevalence of binge drinking.
This chronic alcohol use has devastated many Native American communities. Alcohol has been identified as the culprit in 65% of car crashes on reservations and a whopping 48% of all vehicle-related deaths among the population.
Alcohol is also blamed for numerous homicides and suicides, as well as injuries and assaults from alcohol-fueled domestic violence. It is reported that one in three Native American women will suffer from domestic or sexual violence in her lifetime; this rate is more than twice the national average.
Tragically, chronic liver disease and cirrhosis was the fifth leading cause of death among the Native American population in 2009.
If you liked this article, you might also enjoy our new popular podcast, The BrainFood Show (iTunes, Spotify, Google Play Music, Feed), as well as:
Expand for References