Why Turkeys Are Called Turkeys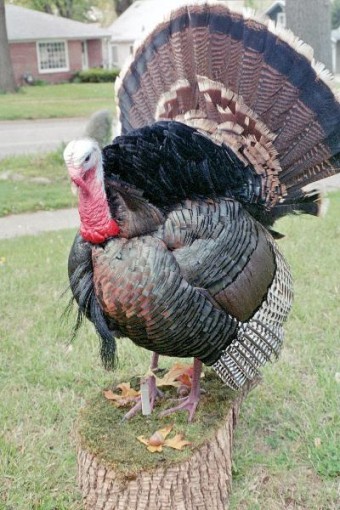 Today I found out why turkeys are called turkeys.
In the 16th century, when North American turkeys were first introduced en masse to Europe, there was another bird that was popularly imported throughout Europe and, most relevant to this article, England, called a guinea fowl.  This guinea fowl was imported from Madagascar via the Ottoman Empire.  The merchants who did this were, thus, known as "turkey merchants".  The guinea fowl themselves eventually were popularly referred to as "turkey fowl", similar to how other product imported through the Ottoman Empire acquired their names, such as "turkey corn", "turkey wheat", etc.
The North American turkey was then first introduced to Spain in the very early 16th century and later popularly introduced to all of Europe shortly thereafter.  The North American turkey was thought by many to be a species of the type of guinea fowl that was imported via the Ottoman Empire and thus, began also being called a "turkey fowl" in English, with this eventually being shortened to just "turkey".
If you liked this article, you might also enjoy our new popular podcast, The BrainFood Show (iTunes, Spotify, Google Play Music, Feed), as well as:
Bonus Facts:
A group of turkeys is technically called a "rafter", though they are often incorrectly referred to as a "gobble" or simply a "flock".
Due to the reputation of turkeys being incredibly stupid, the term "turkey" began being used as a slang, derogatory term meaning something akin to "idiot" around the early 20th century.  (Note: domestic turkeys are shockingly stupid, but wild turkeys are not.)
The phrase "Turkey Shoot" comes from the mid-20th century practice of tying turkeys behind logs, with only their heads exposed, and then holding a marksmanship competition, trying to shoot the turkey's head off.
One generally considered fictitious origin for naming a turkey such, comes from the Hebrew "tuki" (Hebrew for peacock).  If no one knew anything about the history of the turkey being introduced to the English speaking world, this might seem very plausible.  However, the historical evidence does not back up the claims here.
A similarly reasoned argument states that it comes from the fact that turkeys sometimes make a "turk turk turk turk" sound.  If that's where it came from, rather than what the historical evidence suggests, I'd think we'd have called them "gobbles".  I've raised domestic turkeys (don't ask) and don't remember them ever making a "turk turk turk" sound, though they do make a variety of sounds.  The gobble sound, from the male turkeys, on the other hand, sounds exactly like you'd expect from the name and they do this all the time.
The suit on Sesame Street's Big Bird was originally made up of over 4000 white turkey feathers dyed bright yellow.
Due to the white meat being the most popular part of a turkey, turkeys have been bred to have huge breasts.  So much so that modern day domesticated turkeys are no longer typically able to mate, due to the breasts getting in the way of the male mounting the female.  As such, most hatcheries use artificial insemination to fertilize the eggs of the domestic turkey.
A somewhat popular dance in the very early 20th century was the "turkey trot".  This was a dance where the participants would quite literally just strut around like a turkey, in circles around one another.  This was generally banned due to its lewd nature, which ended up making it a pretty popular dance.  You can see a good example of this dance if you watch the end of the movie O Brother, Where Art Thou?, when George Clooney does this dance on the stage while performing Man of Constant Sorrow.
Expand for References: