The Woman Who was the Most Successful Pirate of All Time
*Apologies for the audio quality on this one, simultaneously our audio editor / producer was on vacation and a certain host was also a great distance away from his acoustically treated studio. 😉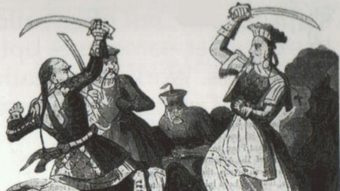 In any event, in this episode of The Brain Food Show, we start by looking at what exactly grog is, where it came from, and the origin of the name.
Next up we briefly mention our sponsor- go to https://wix.com/go/brainfood to get started on your Wix website today! And check out our new website for the Brainfood Podcast at https://www.brainfood.fm/
Moving on to the main content today we're looking at the woman who was arguably the most successful pirate of all time, dominating both land and sea in the vast region she controlled, which all ultimately saw her have one of the most impressive exits to piracy in history as well.
We follow all this up with looking at the origins of a variety of sailor/pirate slang terms.
On another note, if you could do us a huge favor and rate and review this show in whatever podcasting platform you're using (including hopefully giving us some feedback related to the new format), we would be extremely grateful. Thanks!
(You can also discuss this episode and view references on The BrainFood Show forum here.)
Don't miss future episodes of this podcast, subscribe here: iTunes | Spotify | Google Play Music | Stitcher | RSS/XML
You can also find more episodes by going here: The BrainFood Show
Podcast (brainfood): Play in new window | Download (Duration: 49:24 — 67.9MB) | Embed
Subscribe: Apple Podcasts | Android | Google Podcasts | Stitcher | RSS