The CIA's Undetectable Poison Dart Gun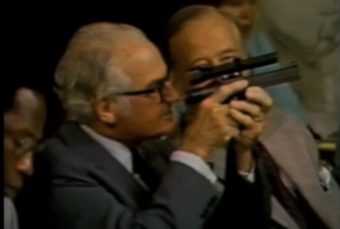 Hollywood spies often have a myriad of amazing devices at their disposal for getting rid of bad guys in a clandestine way.  It turns out, occasionally so do real spies.  Exhibit A: the CIA's "undetectable" poison dart gun that near silently shot frozen darts comprised of an unspecified, undetectable poison. The individual hit reportedly would at most just feel something like a mosquito bite as the dart penetrated their skin. It would then quickly melt and the poison would do its work, leaving the victim dead of an apparent heart attack, with no detectable evidence of the poison remaining.
The weapon was revealed as part of a broader Senate investigation into intelligence and covert action abuses by the Agency. The disclosure of the full gamut of activities and devices caused Senator Frank Church (D-ID) to conclude that the CIA had become a "rogue elephant rampaging out of control."
Spurred by the publication of Seymour Hersh's game-changing article in The New York Times on December 22, 1974, which relayed assassination attempts and covert activities to subvert both foreign governments as well as American antiwar and other dissidents, the Senate formed the Select Committee to Study Governmental Operations with Respect to Intelligence Activities in 1975.
Chaired by Senator Church, during its two years of hearings, the Church Committee, as it came to be known, published 14 reports on a variety of abuses by the CIA, Federal Bureau of Investigation (FBI) and National Security Agency (NSA), as well as others.
These included routinely opening (and resealing) US citizens' mail since 1952, misusing tax information to target domestic dissidents, and conducting domestic, electronic surveillance of peace and black power activists.
In addition, for the CIA, this also included developing weapons such as "a pistol [that] can fire a poison dart 328 feet, kill a man before he knows he has been hit, and leave no clue as to what killed him."
Part of a program named MK Naomi, established for conducting and managing bacteriological warfare, the poison dart gun was just one of many experiments by the agency, which also included pesticides to ravage crops and on one occasion, using the NYC subway to test out a "trial model" of a biological warfare attack.
On September 16, 1975, then CIA Director William Colby testified before the committee, which also included Senators Barry Goldwater (R-AZ), John Tower (R-TX), Walter Mondale (D-MN), Gary Hart (D-CO), Howard Baker (R-TN), Philip Hart (D-MI), Charles Mathias (R-MD), Walter Huddleston (D-KY), Richard Schweiker (R-PN) and Robert Morgan (D-NC).
The director gave remarkable testimony regarding the development of "toxic agents" at a laboratory at Fort Detrick, MD. Notably, Director Colby testified that only "limited records" remained of these activities, even though the program spanned from 1952-1970.
Among the director's many extraordinary statements were these from his prepared remarks:
The specific subject today concerns CIA's involvement in the development of bacteriological warfare materials . . . retention of an amount of shellfish toxin, and CIA's use and investigation of various chemicals and drugs
The need for such capabilities was tied to . . . the development of two different types of suicide pills to be used in the event of capture [during WWII] and a successful operation using biological warfare materials to incapacitate a Nazi leader temporarily
A . . . memo of 1967 identified . . . [the range of] project activity: maintenance of a stockpile of temporarily incapacitating and lethal agents . . . assessment and maintenance of biological and chemical dissemination systems . . . [and] adaptation and testing of a dart device for clandestine and imperceptible inoculation with biological warfare or chemical warfare agents
The only application of this [shellfish] toxin was in the U-2 flight over the U.S.S.R in May 1960 [Gary Powers flight]
Various dissemination devices, such as a fountain pen dart launcher and an engine head bolt designed to release a substance when heated [were developed]
A large amount of Agency attention was given to the problem of incapacitating guard dogs
Work was also done on temporary human incapacitation techniques . . . to incapacitate captives before they could render themselves incapable of talking, or . . . take retaliatory action
Success was never achieved [for the temporarily incapacitating dart system] since a larger amount of an incapacitating agent is required to safely inactivate a human than of a lethal agent . . . to kill him
Though specific accounting for each agent . . . is not on hand, DOD records indicate that the materials were, in fact, destroyed in 1970 by SOD personnel, except for the 11 grams [of shellfish toxin]. . . plus the 8 milligrams [of cobra venom, both found in a vault]
A complete inventory . . . was taken . . . consisted of . . . materials and delivery systems . . . lethal materials, incapacitants, narcotics, hallucinogenic drugs, irritants and riot control agents, herbicides, animal control materials and many common chemicals
Upon further questioning by the senators, Colby described how the poison dart gun worked:
The Chairman: Does this pistol fire the dart?
Mr. Colby: Yes . . . The round thing at the top is obviously the sight, the rest of it is practically a normal .45 . . . However, it works by electricity. There is a battery in the handle.
The Chairman: So that . . . it fires silently?
Mr. Colby: Almost silently. . . .
The Chairman: And the dart itself, when it strikes the target, does the target know?
Mr. Colby: That depends . . . .There are different kinds of these flechettes [darts] . . . and a special one was developed which potentially would . . . enter the target without perception. . . .
The Chairman: Is it not true . . that the effort not only involved designing a gun . . . but also the toxin itself would not appear in the autopsy?
Mr. Colby: Yes; so there was no way of perceiving that the target was hit . . . .
Senator Tower: Turning to the dart gun, was it ever employed for any purpose by the Agency?
Mr. Colby: I think merely experiments . . . I do not know of any actual use. There is no record of any actual use.
If you liked this article, you might also enjoy our new popular podcast, The BrainFood Show (iTunes, Spotify, Google Play Music, Feed), as well as:
Expand for References