The Truth About the Infamous McDonald's / Hot Coffee Incident
Brandon M. asks: Is it true that McDonalds had to pay millions of dollars to someone because she spilled hot coffee on herself or is it an urban legend?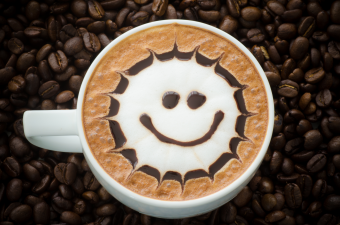 The infamous McDonald's "Hot Coffee" legal battle is considered by many to be a premier example of a frivolous lawsuit. The general story is often told that a woman named Stella Liebeck visited a McDonald's drive-thru and purchased a cup of coffee. She then drove away with the coffee sitting between her legs while also removing the lid. That combination caused coffee to spill all over her lap. The resulting burns allowed her to file suit and win almost $3 million from McDonald's.
While that oft' repeated version makes for an entertaining story, it is a bit removed from what really happened and why Liebeck managed to win the case.
Stella Liebeck was seventy-nine years old in February of 1992 when she and her grandson went through the drive-thru at a McDonald's in Albuquerque, New Mexico. The retired store clerk sat in the passenger seat of her grandson's car when she bought a coffee, and he parked the car in the restaurant's parking lot so she could add sugar and cream to her drink with the car stopped.
Liebeck held the cup between her legs (the Ford Probe she was in did not have cup holders) while removing the lid, and the cup slipped. It spilled coffee later estimated to be between 180 and 190 degrees Fahrenheit all over her legs and groin. Her sweatpants absorbed the extremely hot coffee and kept it against her skin, worsening the injury. The result was third-degree burns over 6% of her body and other burns on an additional 10%. She spent eight days in the hospital to treat the burns to her genitals, legs, and butt. During that time, she lost 20% of her body weight (bringing her down to 83 pounds) and she had to endure skin grafts and a procedure where doctors remove dead tissue from a wound, known as debridement. The burns also left her with significant scars and partially disabled for two years.
When Liebeck first contacted McDonald's to let them know what had happened, she asked for them to cover the cost of her medical bills. She reportedly wanted around $11,000. McDonald's felt that because they really had nothing to do with how the coffee was spilled, they shouldn't be liable, but did offer her a payment of $800. She refused their counteroffer and hired an attorney.
Texas attorney Reed Morgan agreed to take on Liebeck's case. This happened to be Morgan's second time facing off against McDonald's over hot coffee. Years earlier, he represented woman from Houston who also received third-degree burns from McDonald's coffee. That case was settled out of court with the plaintiff receiving $27,500 in damages.
These two cases were not the only ones McDonald's had to deal with concerning the scalding temperature of its coffee. Between 1982 and 1992, the fast food giant received more than 700 reports of coffee burning customers and paid over $500,000 to settle coffee-related lawsuits. A number of the reported injuries bore a striking resemblance to those suffered by Liebeck, including many instances of third-degree burns.
Morgan offered to settle the case before it went to trial for the sum of $300,000, but McDonald's legal team again refused. Both sides also attended mediation ahead of the jury trial at the judge's order, and the mediator recommended McDonald's pay Liebeck a settlement of $225,000.
Again, McDonald's refused. Why they were being so adamant in this case and not many other similar ones that occurred before isn't clear. Some speculate McDonald's was wanting to settle the issue once and for all to avoid having to continue to deal with these frivolous hot coffee lawsuits, but picking a case where a frail, elderly woman who was severely burned perhaps wasn't the smartest plan if that was their motivation. Whatever the case, the trial went forward, lasting seven days in August of 1994.
McDonald's legal team argued that Liebeck failed to minimize the chance of injury by holding the coffee between her thighs in the first place and she should have removed her sweatpants immediately upon spilling the coffee. They also stated that they'd have to lower the temperature of the coffee to unpalatable levels to completely eliminate the risk of such spill burns.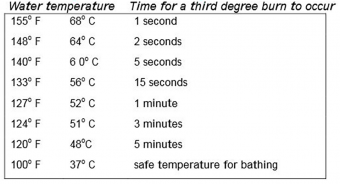 Liebeck's crew fired back that at 190 degrees Fahrenheit, the temperature around which McDonald's serves its coffee at, it takes only about three seconds to produce third-degree burns, and that lowering the temperature to 160 degrees would be much safer, needing about 20 seconds to cause similar third degree burns. (It should be noted that the latter estimates presented by Liebeck's team do not line up with data from the American Burn Association, see chart from them to the right.)
Testimony from a McDonald's quality control manager, Chris Appleton, when questioned by Liebeck's attorney, Reed Morgan, revealed he knew, of course, that coffee served at those temperatures was dangerous.
"Q: [Y]ou know, as a matter of fact, that coffee is a hazard, selling it at 180 to 190 degrees, don't you?

A: I have testified before, the fact that this coffee can cause burns.

Q: It is hazardous at this temperature?

A: At that high temperature the coffee is a hazard."
Appleton then stated customers could not safely drink the coffee within the first few minutes of receiving it without cooling measures. He was also on the receiving end of Morgan's questioning when the lawyer drove home the company's neglect for safety when they refused to change their procedures.
"Q: … I'm curious because I've shown you recordations here of some 700 people here that have been burned [by McDonald's coffee]. Obviously, to you 700 people burned is not a significantly high enough number to turn down the heat. Do you have in mind a number of how many people would have to be burned for you to become so concerned that you would insist that burn specialists be consulted and something be done to sell this coffee at a lower temperature?

A: No, I don't have a number in mind."
Appleton also stated that the company had no intention of changing its coffee temperature policies, despite what happened to Liebeck and others before her, stating, "There are more serious dangers in restaurants."
Another witness for McDonald's, engineer P. Robert Knaff, noted that the number of injuries was statistically insignificant when measured against the annual sale of billions of cups of coffee.
Though unequivocally true on all counts, being seemingly nonchalant about injuries to customers was really the heart of why McDonald's lost this otherwise frivolous lawsuit, at least according to interviews with some of the jurors after the fact.
As juror Jerry Goens noted, before the case, he thought it somewhat silly and that he "wasn't convinced as to why I needed to be there to settle a coffee spill."
Over the course of the trial, however, the jurors' opinions changed, not so much because of what happened to Liebeck or the circumstances of the specific case, but, as one of the jurors, Jack Elliot, noted, the seemingly "callous disregard for the safety of the people" that McDonald's exhibited in the case.  Another juror noted, "there was a person behind every number and I don't think the corporation was attaching enough importance to that."
Presumably making such claims like that if Liebeck wasn't so old, this wouldn't have been as much of a problem (with her burns likely being less severe if she had the skin of a younger person, according to McDonald's) didn't help the company out in this regard.
The jury spent little time deciding that McDonald's was liable for Liebeck's injures. They initially awarded her $200,000 for her injuries, but reduced that number to $160,000 after deciding Liebeck bore 20% of the responsibility for the incident. Then they awarded her punitive damages, or damages used to send a message to the party responsible, in the amount of an additional $2.7 million. The jurors came to the $2.7 million figure after determining, by their estimate, McDonald's was selling approximately $1.35 million worth of coffee each day, and the award should be equivalent to two days of coffee sales for the company.
However, Liebeck didn't actually get anywhere near that amount of money, at least as far as public record goes. The judge in the case reduced the punitive damages to $480,000, bringing the total judgement down to $640,000. Both sides appealed the decision, but their appeals were never heard as they agreed to an undisclosed settlement during mediation, thought to have been under $600,000.
The verdict and case actually kind of worked out for McDonald's.  Public opinion over the matter almost wholly sided with McDonald's, a rare thing for such "little guy vs. corporation" type cases. And now the whole country, and beyond, was discussing and defending McDonald's and noting the fact that McDonald's was a place you could get a cheap, piping hot, cup of coffee.
So did anything change as a result of the verdict? Not really. One change that did happen was that McDonald's and other companies began putting large warning labels on their hot beverages to warn consumers that, well, they're hot.
They did not, however, seem to reduce the temperature of their coffee, nor have other coffee vendors, with the industry standard still typically being to brew coffee at around 200 degrees Fahrenheit and sell it around 180 degrees Fahrenheit or so, give or take ten degrees. It turns out, customers actually prefer many types of coffee hot…
As such, to avoid similar frivolous lawsuits as much as possible, the solution has largely been the development of better container designs to minimize the risk of spilling the scalding liquid in the first place.
If you liked this article, you might also enjoy our new popular podcast, The BrainFood Show (iTunes, Spotify, Google Play Music, Feed), as well as:
Expand for References