This Day in History: October 1st- Little Golden Books
This Day In History: October 1, 1942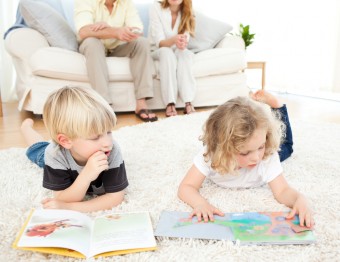 On October 1, 1942 the first Little Golden Books were published, making children's books affordable for the average family during an era when they were considered a luxury item for most. Priced at 25 cents each (about $3.50 today), Little Golden Books were an instant hit with young readers and parents alike.
Before 1942, children's books weren't intended to be handled and read by actual children. They were big and bulky – much too cumbersome for little hands to manipulate with ease. The storylines and language were also generally way over the average kid's head, and to top it off, they cost a bundle at 2-3 bucks a pop – about $28-$42 today.
Then George Duplaix of the Artists and Writers Guild, in cooperation with Simon & Schuster Publications and Western Printing, hit upon the idea of a durable and affordable children's book that would be appealing to youngsters. (Imagine that! A children's book for children!) These books would have fewer pages, plentiful, colorful illustrations and simple stories that kids could follow and enjoy.
Little Golden Books were immediately popular, but a few spoilsport librarians sniffed at the fact that the books were not the high quality literature children should be reading. They obviously hadn't stopped to consider that any book in a child's hand is better than one sitting on a shelf. Despite killjoy librarians, after only five months in the stores Little Golden Books had sold over 1.5 million copies.
One of the reasons for the success of Little Golden Books was how they were marketed. The books were available in retail outlets such as department stores and supermarkets – places books weren't usually sold, but places where harried moms were trying to keep their little darlings amused while they shopped. A quarter for a book was a small price to pay for a peaceful outing. Pure genius.
Since their introduction on October 1, 1942, over 2 billion Little Golden Books have been sold worldwide. Like a lot of beloved kid's memorabilia, early editions have become sought-after collector's items.
Little Golden Books have introduced generations of children to the world of books and reading. Along with the original classics and fairy-tales, there have always been titles mirroring popular trends, and countless other subjects, so young readers are always spoiled for choice. Thanks to Little Golden Books, many kids have come to know the joy of losing themselves in a good book – a habit some keep for life.
If you liked this article, you might also enjoy our new popular podcast, The BrainFood Show (iTunes, Spotify, Google Play Music, Feed), as well as:
Expand for References