The Tragic Family Life of Kelsey Grammer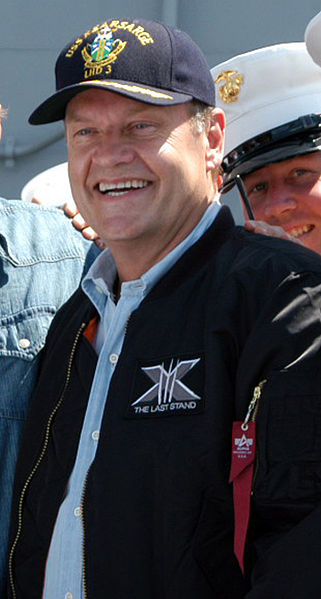 Most people are lucky enough to never experience having a loved one taken from them as a result of violence. Kelsey Grammer is not one of those people- his father was shot and killed and his sister was raped and brutally murdered.
You know him best as Dr. Frasier Crane, a psychiatrist originally from the hit television series, Cheers. Dr. Crane was a recurring character in seasons 3 and 4 and went on to become a regular in season 5 until the series finale in season 11. The end of Cheers was not the end for Kelsey Grammer, however. He continued to portray Dr. Frasier Crane as the star of the popular television series, Frasier from 1993 – 2004. Although his professional life has been very successful, he has struggled in his personal life and experienced more than his fair share of tragedies.
Kelsey Grammer's parents were divorced when he was 2 years old and his  father, Frank Grammer, owned a coffee shop and a bar-and-grill called Greer's Place. His mother brought Kelsey and Karen back to her parents' house in New Jersey where they were raised by their mother and grandfather. Unfortunately, his grandfather died when Kelsey was 11.
On April 25, 1968, a man named Arthur B. Niles set fire to Frank Grammer's car outside the St. Thomas home he shared with his second wife, Elizabeth, and their four children (Betty, John, Billy and Stephen). When Frank Grammer went outside, Niles shot him twice. During the trial, Elizabeth Grammer testified that she pulled her husband's body from in front of Niles' car because he had threatened to run over him as well. Kelsey Grammer was only 13 years old at the time of his father's murder.
Niles was found not guilty of the murder by reason of insanity and spent several decades in a psychiatric ward. In 1994, he was assessed to no longer be a threat to society and was released. In November of 2002, a judge issued a restraining order against Niles which prevented him from seeing his son. In March 2003, Niles went back to prison after pleading guilty to threatening to kill that same judge- no longer a threat indeed.
Seven years later, when Kelsey was 20 years old, his younger sister, 18 year old Karen Grammer, was raped by four men and murdered by Freddie Lee Glenn. Glenn, who was a civilian worker at Fort Carson near Colorado Springs, Colorado began his involvement in a killing spree on June 19, 1975 when he, and two soldiers, including Michael Corbett, decided to assault Daniel Van Lone, a Four Seasons Hotel cook who had just gotten off work at the time they grabbed him. They then took him to a secluded area to kill him. Corbett shot him point blank in the head and the trio made off with a whopping 50 cents from the killing.
A little over a week later, Glenn and Corbett met another Fort Carson soldier to sell some pot to him. Corbett had recently been training with bayonets, and instead of making the sale, decided to stab the soldier with a bayonet, supposedly to see how it felt to stab someone.
On June 30, 1975, Karen Grammer was sitting outside the Red Lobster in Colorado Springs, Colorado, where she had just finished her shift as a waitress. Glenn, Corbett and two friends had decided to rob the Red Lobster Karen worked at that night but left the restaurant without any money when they came across Karen. They forced her into their car, stopped to rob a convenience store, then drove her to their apartment where they took turns raping her for about four hours. Afterwards, they put a cloth over her head, promising to take her home. They dumped her in a trailer park instead. According to testimony during the trial, Glenn had taken LSD and when he got out of the car, he stabbed Karen in the back, on her hand (presumably from her trying to shield herself), and the neck.  He then drove away with his accomplices, leaving her for dead.
Karen was made of sterner stuff, though, and managed to crawl to the back porch of a nearby home that had a light on. Unfortunately, no one was at home. Detectives describe a scene where Karen had left bloody handprints and fingerprints where she had tried to ring the doorbell. From her fingerprints, she was inches away from the doorbell when she passed out.  Although, given no one was home, ringing it wouldn't have done her any good, but of course she didn't know that. She died on that back porch and was not found until the next day. Police did not know who the girl was for about a week until Kelsey Grammer arrived and positively identify her.
In 1976, Glenn was convicted for all three murders and was sentenced to die via the gas chamber. However, in 1978, the Colorado Supreme Court overturned the death penalty sentence. Later, in a 2009 parole board hearing statement, Kelsey stated, "She was so smart and good and decent. She wrote poetry … We could laugh for hours together… I was supposed to protect her — I could not. It very nearly destroyed me… When we heard this man might be paroled, the suffering began anew."  Needless to say, his parole was not approved.  Glenn is eligible again for parole in 2014.
If that wasn't all bad enough, five years after Karen's murder, on June 1, 1980, both of Kelsey Grammer's half brothers died unexpectedly. Stephen and Billy were scuba diving off of St. Thomas at the time. When Billy failed to resurface, Stephen went back in after him but died of a fatal embolism during an improper ascent that followed. Billy's body was never recovered.
If you liked this article, well hell, what's wrong with you?  But if you need a pick me up, you might also enjoy these non-alcoholic options:
Also slightly relevant from our resident paramedic writer: Top 5 First Aid Tricks Everyone Should Know
Bonus Facts:
Kelsey Grammer's good friend and the producer of Frasier, David Angell, died in the September 11 terrorist attacks. Angell and his wife, Lynn, were both passengers of American Airlines Flight 11, the first plane to hit the World Trade Center.
Kelsey Grammer has been married four times and has five children. His first daughter, Spencer Karen Grammer is named after his sister. His second daughter, Kandace Greer Grammer's middle name is the same as the name of his father's bar-and-grill in St. Thomas, Greer's Place. His only son, Jude Gordon Grammer, is named after his maternal grandfather, Gordon, who helped raise him.
Expand for References