Does Cranberry Juice Get Rid of Urinary Tract Infections
Matt asks: Does cranberry juice really help with urinary tract infections?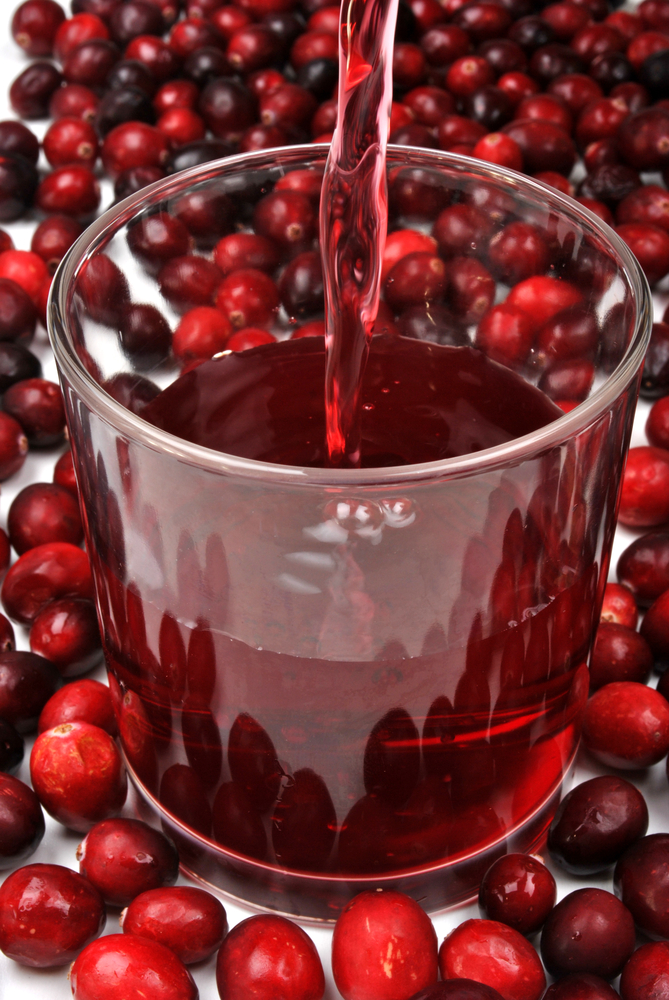 The short answer is probably not according to recent research on the subject, though of course there are certainly many who swear by this method of getting rid of / preventing urinary tract infections (UTI's) and there are good theories behind why cranberry juice could potentially help.
In the past, it was because of these theories that health professionals used to recommend drinking a glass of cranberry juice per day for those who were at increased risk of chronic recurrences of infection. In fact, there are some health professionals that still promote the idea despite the fact that current studies and reviews of past studies have shown there is no statistically significant difference of infection rates in individuals who drink cranberry juice or take cranberry tablets.  In the end, those who drink 2 glasses of cranberry juice per day for several months straight, and are prone to getting UTI's, might prevent approximately one UTI.
UTI's are a type infection caused by bacteria entering and taking hold inside your urinary system. Your urinary system involves both kidneys, two ureters (the tubes from your kidney's to your bladder), your bladder, and the urethra (the tube from your bladder to the opening of where the urine comes out). The most common type of infection is caused by E-coli bacteria (Escherichia coli). Most of these bacteria are thought to come from fecal matter. Since most women's urethra are closer to the anus than with males, women are more likely than men to get infections- about 1 in 3 women will have a UTI before the age of 24. For comparison's sake, only about 1 in 2000 men will have a UTI in that same span.
There are many types of E-coli bacteria, most are harmless and some are beneficial, helping with the production of vitamin K, which helps with bone and heart health. The ones that cause UTI's have Fimbriae on them. These little hair-like structures allow the bacteria to attach to cells within the urinary system. Once there, they begin to propagate and form a biofilm that allows the infection to begin.
One of the specific measures used to tell if E-coli will most likely adhere to your cells is known as "Gibbs free energy of attachment". Without morphing this article into a physics lecture, this basically means E-coli must use some energy to attach to a cell inside your urinary tract. Using Gibbs free energy formula, E-coli with Fimbriae have a negative number, meaning they will, in effect, be attracted to, and most likely, attach to those cells. In the lab, in the presence of increasing amounts of cranberry juice, this number becomes more and more positive, making the E-coli expend more energy to attach. Since natural processes favor the path of least resistance, this makes it less likely the E-coli will attach to the cells.
So what specifically about cranberry juice is historically thought to help fight E-coli propagation? It was thought that the acidic nature of the fruit (specifically containing benzoic acid, citric acid, malic acid, and quinic acid) helped kill the bacteria. More recently, it was found that cranberries contain molecules known as Proanthocyanidins and Flavonols. These molecules were thought to be responsible for not allowing E-coli with Fimbriae on them to adhere to your cell walls by changing the amount of energy E-coli had to expend to attach, as described above. While this will help you flush out the bacteria, it doesn't affect the growth rate of E-coli, though it can protect against some bacteria (specifically Streptococcus mutans, and Helicobacter pylori).
A Cochrane review in 2012 showed that of the 24 studies done since 2008 on the cranberry juice / UTI question, a person had a 14% lower risk of UTI if taking cranberry products compared to no treatment or a placebo. However, the researchers pointed out that this was not a very significant difference and could simply have just been chance. They went on to say that numerous people dropped out of several studies because it was too difficult to drink the necessary amount of cranberry juice on a daily bases.  The European Food Safety Authority also noted in 2011 that "A claim on cranberry fruit products by standardized by their proanthocyanidin content and reduction in the risk of urinary tract infections in women by inhibiting the adhesion of certain bacteria in the urinary tract has been assessed with an unfavorable outcome."
Historically, cranberry juice and products like cranberry tablets have been used by health professionals in the prevention and treatment of urinary tract infections (UTI's). Like any new science that refutes old opinions, it might take a while for all health professionals to change their opinion and much, much longer before the general public starts accepting this. But even if cranberry juice doesn't help much or at all with preventing UTI's directly, drinking more fluids when you have a UTI is helpful for flushing out bacteria and the Proanthocyanidins and Flavonols in cranberry juice may well help a bit in that process, it just won't specifically cure the infection.  Also, drinking cranberry juice is quite good for you outside of UTIs. Several studies have shown that those infamous Flavonols in the juice might be helpful in preventing cancer, among other health benefits of drinking the juice.
Bonus Facts:
Urinary tract infections account for approximately 8 million doctor's visits every year in the United States. The estimated cost of treating them is around 1.6 billion dollars.
Some common symptoms of a UTI include: cloudy unpleasant smelling urine, blood in your urine, pain when urinating, abdominal pain, back pain, tenderness of the pelvic area, fever, nausea, vomiting and diarrhea.
A specific infection of your bladder is known as cystitis. Kidney infection is known as pyelonephritis. They are both UTI's.
6 ounces of Ocean Spray cranberry juice cocktail has 94 calories, 24 grams of carbohydrates, .17 grams of crude fiber, .02 grams benzoic acid, .28 grams of citric acid, .30 grams of malic acid, and .45 grams of quinic acid.  If you want to be really hardcore, instead of going with the "from concentrate" Ocean Spray blend type cranberry juice, head on over to what I like to call the "hippie" section of your local grocery store and check out the pure-juice section.  The straight cranberry juice you'll find there is a bit harder to chug down, but some swear this version of the juice is much better at "curing" UTIs, for what that's worth.
The first known cultivation of cranberries was tended in Dennis, Cape Cod in 1816. Native to North America the Native Americans used to call them "ibimi", meaning "bitter berry". They mixed dried venison and fat with crushed berries to create "Pemmican"… Yum?
[Image via
Shutterstock
]
Expand for References