Sushi is Not Raw Fish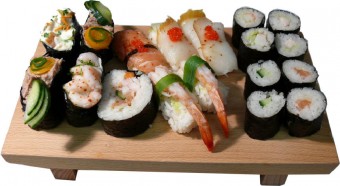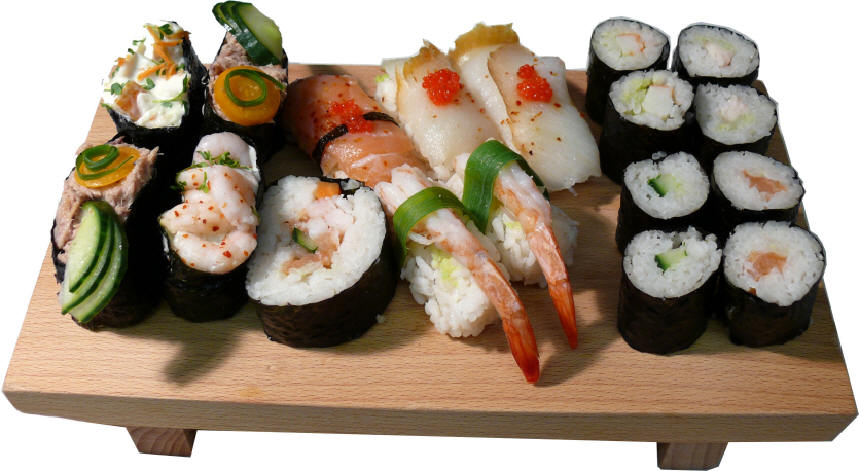 Today I found out sushi is not raw fish, that's sashimi.
Sashimi is just sliced raw fish, sometimes dipped in sauces and sometimes served with sushi.  Sushi is any food dish consisting of vinegared rice, usually served with some other toppings, but not always. It happens to often be served with various types of sea food, either cooked or raw, and perhaps even a mix of the two; but that tradition simply comes from the primary food staples of the locations where sushi originated (not Japan, by the way). Sushi can be served with just about any toppings or none at all.
The variety of sushi served with raw sea food has given rise to the notion that sushi is any dish served with raw fish. In fact though, sushi is more often than not served in the western world with fully cooked sea food, including: cooked imitation crab (California roll); smoked salmon (Seattle roll); grilled squid or octopus; fully cooked shrimp; and fully cooked clam. It is also often served with fried and battered sea food of varying types. There are also a variety of vegetarian sushi dishes, including the very popular maki (cucumber rolls).
Perhaps the reason sushi is so strongly thought of as "raw fish" in the western world is that, whatever the toppings, it is commonly served cold. Also, the general idea of raw fish isn't exactly to the liking of most westerners conceptually, so that form of sushi stood out more when it was first introduced; giving rise to the notion that sushi was any dish that included raw fish.
The term sushi, literally means "it's sour", and comes from an ancient grammatical form that is no longer used in other contexts. The "sour" description comes from the ancient way of preparing sushi by fermentation of meat, generally sea food, packed in rice with salt used as a preservative. The vinegar produced from the fermenting rice ends up breaking down the fish meat into amino acids. This, in turn, results in a strong umami flavor, which is one of the five basic tastes the human tongue can detect. Once the meat was properly fermented, thus preserved, the rice would then be discarded and only the meat itself would be eaten. Basically, it was just a handy way to preserve meat before ice boxes and refrigerators.
Modern forms of sushi are not typically prepared in this way and the rice is now the main part of the meal. Around the Muromachi period (1336-1573 AD), they began adding vinegar, which aided in preserving the food and in improving the flavor. Eventually, this lead to the fermentation process being shortened and ultimately abandoned in favor of just eating it right away with the rice.
A few centuries later, osaka and sushi combined to form oshi-zushi. In this type of sushi, various types of sea food and rice are pressed using molds. This eventually led to the version of sushi created by Hanaya Yohei, in the 19th century, which most of the world thinks of as "sushi" today. In this form, the sushi can be prepared extremely quickly and eaten with one hand, making it one of the earliest forms of fast food.
If you liked this article, you might also enjoy our new popular podcast, The BrainFood Show (iTunes, Spotify, Google Play Music, Feed), as well as:
Bonus Facts:
Sashimi is considered a Japanese delicacy and is made from fresh, raw seafood that is sliced into thin, small pieces, which are then to be dipped in various sauces, such as soy sauce with wasabi paste. Each piece is typically about one inch wide by one and a half inches long and one fifth of an inch thick.
The word sashimi means "pierced body". The word is thought to have derived from the fact that, traditionally, sashimi would have the fish tails or fins stuck to the meat itself, so you could identify what fish the meat came from. Alternatively, from the fact that as soon as the fish used for sashimi are caught, the brains are pierced to kill the fish without damaging the meat; this also minimizes lactic acid in the meat by killing the fish instantly, which allows the fish to store longer (as many as 10 days) without degrading in quality. Once the brain is pierced, the fish are immediately put in ice.
Sushi served rolled in dried sheets of seaweed is called makizushi.
In bowl form, sushi rice, with toppings scattered over it, is called chirashi-zushi.
Sushi comes from Southeast Asia, not Japan; it is still very popular in both Southeast Asia and Japan today. It is thought that it was introduced to Japan in the 7th century from China.
The name of the modern form of sushi called Edomae nigirizushi comes from the fact that it was originally made with freshly caught marine life from Edo Bay (Tokyo Bay).
Expand for References