Eric Clapton's Son Died Running Out of a 53rd Story Full-Wall Window a Janitor Had Removed to Let in Fresh Air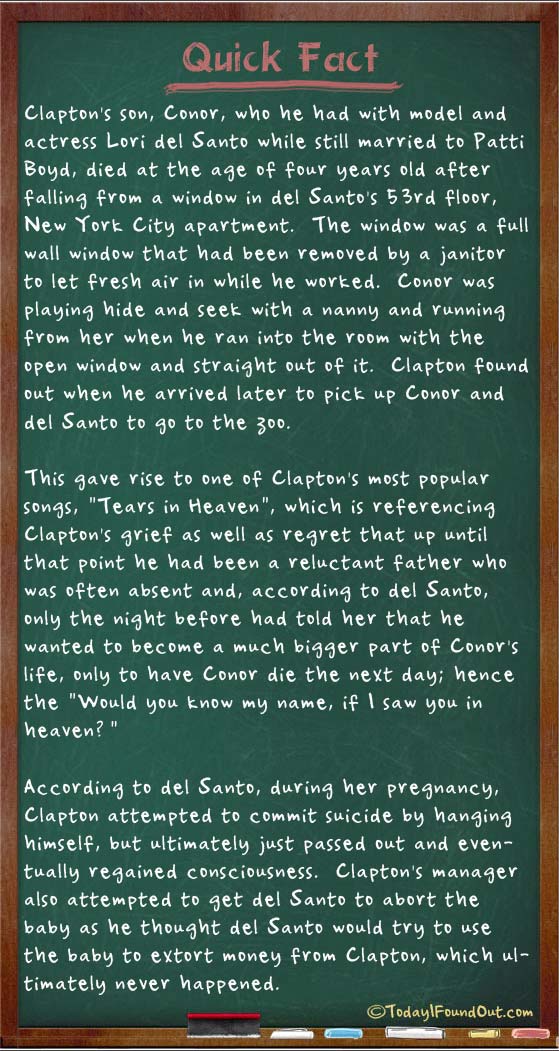 Clapton's son, Conor, who he had with model and actress Lori del Santo while still married to Patti Boyd, died at the age of four years old after falling from a window in del Santo's 53rd floor, New York City apartment.  The window was a full wall window that had been removed by a janitor to let fresh air in while he worked.  Conor was playing hide and seek with a nanny and running from her when he ran into the room with the open window and straight out of it.  Clapton found out when he arrived later to pick up Conor and del Santo to go to the zoo.
This gave rise to one of Clapton's most popular songs, "Tears in Heaven", which is referencing Clapton's grief as well as regret that up until that point he had been a reluctant father who was often absent and, according to del Santo, only the night before had told her that he wanted to become a much bigger part of Conor's life, only to have Conor die the next day; hence the "Would you know my name, if I saw you in heaven?"
According to del Santo, during her pregnancy, Clapton attempted to commit suicide by hanging himself, but ultimately just passed out and eventually regained consciousness.  Clapton's manager also attempted to get del Santo to abort the baby as he thought del Santo would try to use the baby to extort money from Clapton, which ultimately never happened.