Behind the Hits: Soundtrack Cuts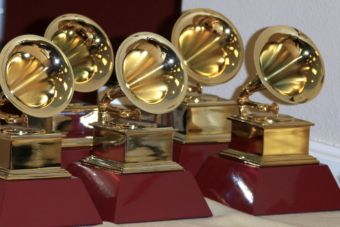 Movie soundtracks have long generated popular songs, from "Stayin' Alive" to "Whistle While You Work," to "Goldfinger" and hundreds more. Here are the origins of a few more soundtrack hits.
Movie: Titanic
Song: "My Heart Will Go On"
Story: While making his $200-million movie in the mid-1990s, director James Cameron planned for all of the music to be performed by ethereal Irish vocalist Enya. One problem: Enya wasn't interested. So Cameron asked composer James Horner, with whom he'd worked on the 1986 movie Aliens, to score the film. Cameron didn't want any contemporary pop music in the film, but Horner disagreed. He secretly wrote the epic ballad "My Heart Will Go On" with songwriter Will Jennings and got singer Celine Dion to record it. Then Horner asked Cameron to watch a rough cut of the movie with "My Heart Will Go On" playing over the end credits…and Cameron relented. The song was almost as big a hit as Titanic itself—it sold 15 million copies, went to #1 in 18 countries, and won the Oscar for Best Song.
Movie: The Bodyguard
Song: "I Will Always Love You"
Story: The soaring love ballad was written by country pop singer Dolly Parton in 1972, before she was a superstar. At the time, she was best known as the co-star of Porter Wagoner's syndicated country music TV series. She was ready to go solo, but wanted Wagoner to know she appreciated all he'd done for her, so she wrote the song. "It's saying, 'Just because I'm going don't mean I don't love you. I appreciate you and I hope you do great, and I appreciate everything you've done, but I'm out of here,'" she told CMT in 2012. The morning after she wrote it, she played it for Wagoner in his office. He cried and said, "That's the prettiest song I ever heard." He agreed to release Parton from her contract, provided he could produce a recording of "I Will Always Love You." He did, and the song went to #1 on the country chart in 1974, then again in 1982 when Parton remade the song for the film adaptation of The Best Little Whorehouse in Texas.
All of that was completely overshadowed by Whitney Houston's 1992 cover version, which was not originally part of The Bodyguard soundtrack. Houston's character was slated to sing a version of Jimmy Ruffin's "What Becomes of the Broken-hearted"—until the movie Fried Green Tomatoes featured Paul Young singing it. Bodyguard co-star Kevin Costner came to producers with a song he thought would work better: "I Will Always Love You." He was right. The single sold four million copies and propelled the soundtrack to sales of 45 million copies, spending a record 14 weeks at #1.
Extra Cut: Among the other songs on The Bodyguard soundtrack was soft-rock singer Curtis Stigers's version of "(What's So Funny 'Bout) Peace, Love, and Understanding," written by British rocker Nick Lowe but made famous by Elvis Costello. Royalties for soundtrack sales are distributed among the many different performers on the albums, with an especially high cut for songwriters. Lowe, who has a large cult following, only ever had one hit: "Cruel to Be Kind," which went to #12 in America, Canada, and Britain in 1979. But royalties from Stigers's cover of his song on The Bodyguard earned him an estimated $4 million.
Movie: Con Air
Song: "How Do I Live"
Story: In 1997 Diane Warren was well entrenched as Hollywood's go-to writer of movie ballads—including Celine Dion's "Because You Loved Me" for Up Close and Personal, Starship's "Nothing's Gonna Stop Us Now" for Mannequin, and many more. Touchstone Pictures agreed to use her song "How Do I Live" as an end-credits ballad for its action movie Con Air. Warren promised LeAnn Rimes, a 15-year-old country music phenom, that she could sing the song. But Touchstone executives thought Rimes's voice was too poppy and young to sell a song about heartbreak. So they hired country star Trisha Yearwood to re-record it, and her version was included in the movie and released as a single. When Rimes and her label, Curb, found out, they were furious, and rushed her version to stores and radio. Both versions of "How Do I Live" were released on the same day—May 27, 1997. Yearwood's went to #2 on the country chart and #23 on the pop chart before her label, MCA, refused to make any more copies of the single for fear it would eat into her album sales. The song disappeared by August. Rimes's version, however, was a monster hit. It spent a record 69 weeks on the pop chart, where it peaked at #2. It sold 3.7 million copies. More impressively, Rimes's take stayed on the country charts until February 2003—nearly six years.
Movie: Armageddon
Song: "I Don't Want to Miss a Thing"
Story: Aerosmith was huge in the 1970s, had a massive comeback in the late 1980s, and was bigger than ever in the mid-1990s thanks to hits like "Cryin'" and "Crazy," whose videos starred Liv Tyler, daughter of Aerosmith's lead singer, Steven Tyler. When producers of the 1998 asteroid movie Armageddon approached Aerosmith with an opportunity to record the movie's love ballad, written by soundtrack song queen Diane Warren, Tyler said no. He feared the band would lose its hard-won rock cred if they recorded a sappy ballad. However, Armageddon co-starred Liv Tyler, really wanted her father's band to be involved. So she set up a screening of a rough-cut of the movie for him. He later reported that one scene in the rough cut changed his mind—when Bruce Willis's character gets left behind, and his image disappears from a monitor as its being hugged by his daughter (played by Liv). The daughter-daddy stuff got to him—he admits he cried, and agreed to have Aerosmith perform the song. Good move: The song became the first and only #1 hit of the group's career.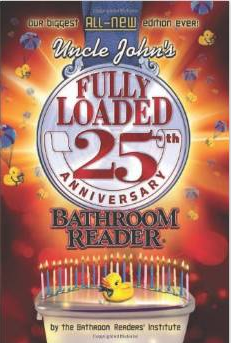 This article is reprinted with permission from Uncle John's Fully Loaded 25th Anniversary Bathroom Reader. This behemoth of a book is overflowing with the incredible stories, surprising facts, weird news, little-known origins, fun wordplay, and everything else the millions of loyal fans have come to expect from the world's best-selling bathroom reading series.
Since 1987, the Bathroom Readers' Institute has led the movement to stand up for those who sit down and read in the bathroom (and everywhere else for that matter). With more than 15 million books in print, the Uncle John's Bathroom Reader series is the longest-running, most popular series of its kind in the world.
If you like Today I Found Out, I guarantee you'll love the Bathroom Reader Institute's books, so check them out!