The Longest Sniper Kill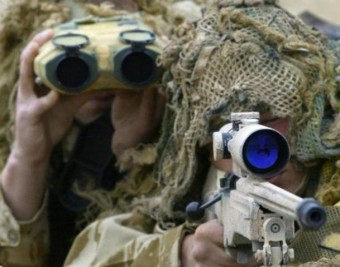 Throughout the history of modern warfare, the record for longest confirmed sniper kill is one that has steadily gotten more and more extreme as technology has progressed. At the time of writing this, the holder of that record is British sniper Craig Harrison, who notably broke the previous record twice on the same day by hitting two enemy targets on two consecutive shots an astounding 2,474 metres away.  For our friends across the pond, that's 8,116.8 feet or 1.54 miles or about 22.5 NFL football fields (including end zones) away. The shot was from such an extreme range that it took the bullet about three seconds to reach the target.
Corporal of Horse Craig Harrison made his record breaking shot in November of 2009 while stationed in the Helmand Province of Afghanistan. Harrison personally didn't find out about its record breaking nature until after he returned home in 2010. The distance from which he took the shot, which was measured and confirmed via GPS, amazed his superiors in the Ministry of Defence so much that they published the details of his shot almost as soon as he got back to the UK, and even granted him permission to give interviews about it to the world's media.
If you're wondering about the circumstances surrounding the shot, Harrison was providing cover fire for his commanding officer and members of the Afghan National Army, who'd been ambushed by two insurgents. According to Harrison, the insurgents were armed with a PKM machine-gun and had pinned down the soldiers, giving him only a short time to assess the situation and subsequently line up a shot to ruin the attackers' day.
With a help from a spotter, Cliff O'Farrell, and 9 test shots to nail down the exact distance, Harrison lined up his shot and squeezed the trigger for a 10th time, firing a .338 Lapua Magnum round and striking the machine-gunner in the gut, killing him. The remaining insurgent, who wouldn't have even heard the shot coming, reached out to take command of the now free machine-gun only to be hit by a second round launched by Harrison. With both insurgents down, Harrison pulled the trigger one more time to disable the machine-gun itself.
Thus, Harrison not only broke the previous record (7,972 feet set in 2002 in Afghanistan) held by Canadian Rob Furlong using a McMillan-Tac 50, but he made the shot essentially three times in a row without missing- hitting the two insurgents and their machine-gun. This means he technically broke the record twice within a few seconds of one another.
As if all that wasn't impressive enough, the actual shots were noted as being about 3,000 feet beyond the L115A3 rifle's effective range.  Needless to say, as Harrison said, "Conditions were perfect, no wind, mild weather, clear visibility".
Interestingly, despite the interviews he gave over the matter, we shouldn't really know Harrison's real name. Official Ministry of Defence rules state that the identities of snipers, regardless of interviews of this nature, should never be disclosed publicly, as they would quickly become prime targets. Harrison was well aware of this rule and reportedly only agreed to speak with the media about his record shot on the understanding that his identity wouldn't be disclosed or that they'd give him a pseudonym. However, for reasons that aren't clear, the MoD never passed this restriction onto any of the media outlets Harrison spoke with and they all released stories crediting Harrison under his real name, with some sources even noting where he lived.
The police quickly warned Harrison and his family that they were in danger after the story was printed. To protect his wife, daughter, and himself, Harrison was left with no choice but to uproot his family, which in turn resulted in his wife losing her job and his daughter being pulled from school mid-year. We're also guessing that for the following few months, Harrison ensured that his wife and daughter were always within 8000 feet of his location, just in case.
Understandably, Harrison got pretty upset about his identity being printed in the news when he was explicitly told it wouldn't be. Thus, he asked the MoD for compensation for drawing a bullseye on his family's backs and to cover moving expenses. He was later awarded £100,000 (about $156,000) for his trouble.
If you liked this article, you might also enjoy our new popular podcast, The BrainFood Show (iTunes, Spotify, Google Play Music, Feed), as well as:
Bonus Facts:
Just a few weeks after making the longest kill shot in sniper history, Harrison was shot in the head while under enemy fire, but luckily his helmet took the brunt of the blow and the bullet did not penetrate his skull.  Shortly thereafter, he had both his arms broken when the vehicle he was travelling in drove over a roadside bomb. He not only managed to make a full recovery after this devastating injury, but insisted on being sent back to the front line as soon as he was fit, stating that the explosion hadn't affected his "ability as a sniper".
The spotter Harrison used to make the shot was a military  driver with no formal training in the spotting, making the shot that much more impressive.
Expand for References