This Day in History: November 14th- JFK, TV, Money, and Politics
This Day In History: November 14, 1959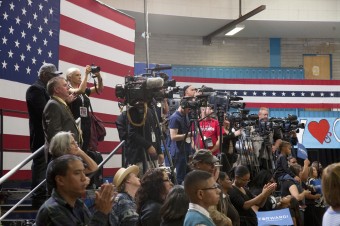 "TV has altered drastically the nature of our political campaigns, conventions, constituents, candidates, and costs…" — Senator John F. Kennedy
On November 14, 1959, an article written by Senator John F. Kennedy from Massachusetts appeared as part of a series TV Guide was presenting called "Television As I See It." JFK's contribution was titled "A Force That Has Changed The Political Scene," and it left no doubt that Kennedy would be a shrewd manipulator of the medium during his run for the presidency over the following year.
Kennedy pointed out that an obvious advantage television provided was the amount of people a politician could reach at one time.
Just 40 years ago Woodrow Wilson exhausted his body and mind in an intensive cross-country tour to plead the cause of the League of Nations. Three weeks of hard travel and 40 speeches brought on a stroke before had finished "taking his case to the people" in the only way then available. Today, President Dwight Eisenhower, taking his case to the people on the labor situation, is able to reach several million in one 15-minute period without ever leaving his office.
But it was the power of the televised image that was changing the political landscape most drastically, and Kennedy advised the reader that, "It is in your power to perceive deception, to shut off gimmickry, to reward honesty, to demand legislation where needed. Without your approval, no TV show is worthwhile and no politician can exist."
Kennedy certainly understood the importance of projecting a presidential image. This was seen in full-force when he challenged Vice President Richard Nixon in the first-ever televised presidential campaign debate. Kennedy appeared well-groomed, calm and collected while Nixon looked waxen and underweight from a recent hospitalization. Interestingly, the majority of those listening to the debate on the radio thought that Nixon had won – but those radio listeners were in the vast minority. 88% of American households had television sets by 1960. Those watching the debate on TV declared Senator Kennedy the clear winner.
After his election, Kennedy skillfully cultivated a relationship with the press that he always worked to his advantage (the whole Camelot business, for example).
But Kennedy noted that the merging of the televised media with politics was not without its serious drawbacks, such as the fact that
It is a medium which lends itself to manipulation, exploitation and gimmicks. It can be abused by demagogs, by appeals to emotion and prejudice and ignorance. Political campaigns can be actually taken over by the "public relations" experts, who tell the candidate not only how to use TV but what to say, what to stand for and what "kind of person" to be. Political shows, like quiz shows, can be fixed-and sometimes are.
He was even more concerned about "financial cost," and the inequality among candidates this may engender, as well as the necessity to rely on financial backers. Kennedy wrote (after seemingly gazing into his crystal ball): "If all parties and candidates are to have equal access to this essential and decisive campaign medium, without becoming deeply obligated to the big financial contributors … then the time has come when a solution must be found to this problem of TV costs."
Of course, he didn't get everything right in this article,
In the old days, many a seasoned politician counted among his most highly developed and useful talents his ability to dodge a reporter's question, evade a "hot" issue and avoid a definite stand. But today a vast viewing public is able to detect such deception…
In truth, the ability to seem like one is answering a question without actually saying anything or taking a stand on the issue at hand is still a politician's best friend, perhaps more so now than ever.
If you liked this article, you might also enjoy our new popular podcast, The BrainFood Show (iTunes, Spotify, Google Play Music, Feed), as well as:
Expand for References