This Day in History: October 31st- Galileo and Why He was Convicted of Heresy
This Day In History October 31, 1992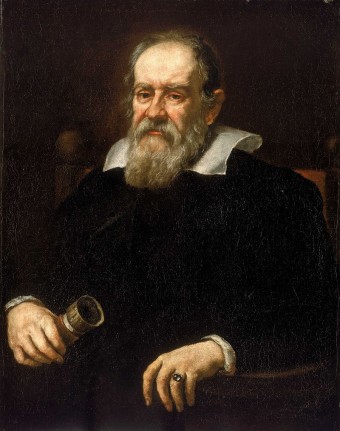 On October 31, 1992, the Roman Catholic Church admitted it had been wrong to condemn Galileo Galilei for promoting the Copernican astronomical theory. After a 13 year investigation into the persecution of Galileo that led to his official condemnation in 1633, Pope John Paul II rectified a wrong that forced the Italian astronomer and physicist to live the last years of his life in exile, and worse yet, to recant his proven discoveries to save his hide.
Through his use of the telescope – a tool he did not invent but greatly improved upon -Galileo proved the Copernican theory that Sun, and not the Earth, was the center of the solar system. This scientific fact was in direct contradiction to certain interpretations of scripture and was therefore considered heresy at the time. The relevant text included Psalm 104:5, "the Lord set the Earth on its foundations; it can never be moved…"
But Galileo had influential patrons such as the Medicis and Barberinis, and Pope Urban VIII happened to be a member of the Barberini family, as well as a close friend and great admirer of Galileo's. Pope Urban VIII also, before being raised to Pope, opposed a previous attempt at condemning Galileo in 1616.
In the end, the Pope allowed Galileo to continue his study into both the Ptolemaic and the Copernican theories, on the condition that he drew no definitive conclusion that would contradict Church teachings. Instead, he was to merely present the cases for and against both sides of the argument, staying neutral in the telling.
Galileo agreed, but when he published "Dialogue Concerning the Two Chief World Systems," it was a ringing endorsement of Copernican thought in direct defiance of the Pope's order. However, Galileo, who was Catholic himself, took the position that this was not in opposition to scripture because not every passage should be taken literally, particularly ones dealing with lyrics to songs, a position shared by many even among the clergy.
He might have gotten away with this even still, except for one little fact not often talked about. The Pope had requested that Galileo include the Pope's own thoughts on the matter. Galileo did this, but in such a way as to make the Pope look the fool, incorporating his ideas into the arguments of "Simplicio," (with connotations of "simpleton" in the name) who defended the Geocentric view, often with bumbling errors in the process.
It's not thought that Galileo intended to make fun of the Pope in doing this. He was no fool himself and even explicitly stated in the preface that "Simplicio" was in homage to the philosopher Simplicius. Nevertheless, Pope Urban VIII certainly felt like he was being mocked in seeing some of his own words put into the mouth of Simplicio.  Needless to say, making the Pope feel like you were publicly calling him an idiot was not a good idea when you're writing already highly controversial scientific notions about the universe that is likely to antagonize the Catholic church.
Because of his perceived heresy, Galileo was summoned to Rome to appear before the dreaded Inquisition. During his trial, Galileo fervently denied that he had advocated for the Copernican view in his work, despite all evidence to the contrary.  Despite threats of torture, he still held onto his denial.  Nevertheless, he was convicted of "suspected heresy" and was required to "curse and detest" the Copernican viewpoint.
Galileo was placed under house arrest in his home near Florence until his death in 1642 at the age of 77 (though was permitted to travel to Florence to see doctors). Beyond being under house arrest, his punishment was relatively light compared to others who'd been convicted of heresy.  He was, for a time, required to recite seven psalms of penitence once per week, but Maria Celeste, his daughter, was eventually able to convince the church to allow her to fulfill this punishment for him.
With nothing better to do while confined to his home, he wrote perhaps his most famous work, Two New Sciences, which more or less summarized his life's work. After several failures to get this new work published, due to the prohibition on any of his writings, he finally found a publisher in Holland willing to risk the Catholic church's ire in publishing it.
Since then, the Catholic Church has taken several steps to reverse its stance against Galileo's findings prior to the action in 1992. Galileo's "Dialogue Concerning the Two Chief World Systems" was stricken from the Index, a list of banned publications, in 1757. A preliminary report conducted in 1984 by scientists, theologians, and historians surmised that Galileo had been falsely condemned. Pope John Paul II concluded that he had been "imprudently opposed."
The leader of the investigation conducted in 1992, Cardinal Paul Poupard, said, "We today know that Galileo was right in adopting the Copernican astronomical theory," a statement that would have put him at risk of being arrested, and possibly executed, by his own Church just a few hundred years previously.
Pope John Paul II said he wanted to make clear that "the Galileo case has been a sort of 'myth,' in which the image fabricated out of the events was quite far removed from the reality. In this perspective, the Galileo case was the symbol of the Church's supposed rejection of scientific progress." The whole business was rather a "tragic mutual incomprehension" where both parties were at fault. It never should have happened in the first place, the Pope insisted, because when faith and science are properly understood, they can never be at odds.
If you liked this article, you might also enjoy our new popular podcast, The BrainFood Show (iTunes, Spotify, Google Play Music, Feed), as well as:
Expand for References