This Day in History: September 24th
This Day In History: September 24, 1896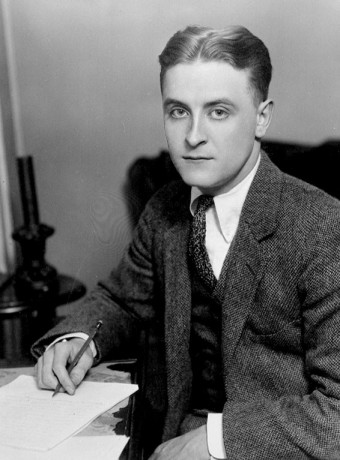 F. Scott Fitzgerald, who exemplified the highs and lows of the Jazz Age through both his writing and his personal life, was born in St. Paul Minnesota on September 24, 1896. The son of an alcoholic father and an Irish immigrant mother, Fitzgerald was always painfully aware of the divide between his family and the social elite as he was growing up.
Fitzgerald began writing at a very young age, and was far more interested in pursuing that interest than in excelling academically. When he attended Princeton University, he honed his writing chops by producing scripts for the college's Triangle Club musicals, and penning frequent articles for the Nassau Literary Magazine and the Princeton Tiger. His coursework eventually suffered, and he dropped out of school in 1917 to join the army.
He continued to write, and submitted his first novel at the age of 21. It was rejected, but the publishers offered words of encouragement as well. Fitzgerald rewrote "The Romantic Egoist" and tried his luck again. No go. In 1918, the army inadvertently played matchmaker by stationing him in Montgomery, Alabama, where he fell in love with Zelda Sayre, an 18-year-old belle who refused to marry Fitzgerald until he could provide for her in the manner to which she was accustomed.
Luckily for Fitzgerald, his novel was accepted the third time under the title "This Side of Paradise." After it was accepted to be published, F. Scott wrote the publisher stating that he would like the book to be published as quickly as possible as "I have so many things dependent on its success—including of course a girl."  It worked; after he sent a message to Zelda telling her that he had a book about to be published, she immediately accepted his proposal for marriage.
The Fitzgeralds enjoyed their position as sought-after celebrities, traveling the globe and frequenting the most exclusive restaurants, salons and speakeasies. Fitzgerald mined their own life for fodder for his novels; "The Beautiful and the Damned" was written the year after he and Zelda married. Three years after that, when their only child was born, Fitzgerald's best-known novel was published, "The Great Gatsby," now widely accepted as one of the great American novels.
The Saturday Evening Post was the vehicle for Fitzgerald's shorter works of fiction, many based on the new free-spirited, free-thinking young American woman of the 1920s so much like Zelda – "the first flapper."
However, the hard-drinking, globe-trotting lifestyle that played so well on paper began to negatively affect the couple's life. Fitzgerald succumbed to alcoholism as Zelda slid into mental illness, and no amount of moving from city to city could help them escape their encroaching demons. By 1930, the Fitzgeralds were back in America as Zelda's breakdowns, both physical and mental, kept her in and out of institutions from that point until her death in 1948.
Zelda's ill health was the inspiration for Fitzgerald's novel, "Tender is the Night," but his wife's downslide had a debilitating affect on his writing, and he slid deeper into his own black hole. By 1936, he was drinking heavily and deeply in debt, unable to write, and estranged from his wife. The following year he pulled himself together and worked as a freelance storywriter and screenwriter in Hollywood with modest financial, if not critical, success for his efforts.
Fitzgerald was working on his last novel "The Love of the Last Tycoon," when he died on December 21, 1940 of a heart attack. He was just 44 years old and died thinking he was a failure, as none of his works had received anything more than modest success during his lifetime.
After his death, F. Scott Fitzgerald gained the reputation as one of America's most prestigious authors, largely in part to his novel "The Great Gatsby," which became an American classic and required reading for just about every student.
If you liked this article, you might also enjoy our new popular podcast, The BrainFood Show (iTunes, Spotify, Google Play Music, Feed), as well as:
Expand for References