This Day in History: September 1st
This Day In History: September 1, 1850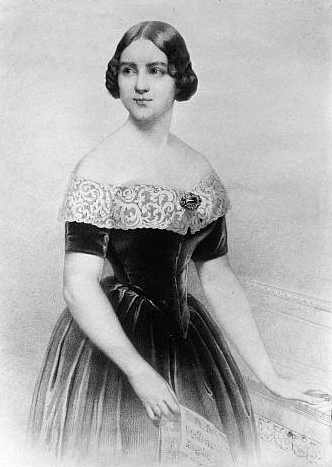 Before there was Madonna, Britney, or heaven forbid, Miley, Jenny Lind was packing them in like crazy and setting box-office records all over the country. And here's the truly impressive thing about her achievement – she managed to create this kind of demand before anyone in the U.S. heard her sing a note.
So why were 30,000 New Yorkers waiting to meet the ship of a Swedish opera singer most of them had never even heard of until very recently?
It was thanks to the incomparable salesmanship of the one and only P.T. Barnum. He paid Jenny Lind a whopping $187,000 advance (about $5.1 million today) to tour America, and cleverly touted her to the masses as a simple girl with an other-worldly voice who used her gift to raise funds for various charities. The public, as always, ate up Barnum's every word.
The best part was Barnum wasn't overstating Lind's talents as a singer or a philanthropist. She was singing in Paris and performing in numerous operas in her native Stockholm by the time she was 21. In the 1840s during her 20s, she became the toast of Europe and could count Queen Victoria among her most ardent fans.
So, combined with Jenny's reputation in Europe and Barnum's legendary skills as a promoter, it wasn't tough to create some buzz around the "Swedish Nightingale's" arrival.
First thing on the itinerary was finding suitable venues for Jenny to perform in. After poking around a bit, Barnum and Jenny settled on Castle Garden for Lind's first American performance. Demand for tickets to the show was so great that they decided the first tickets would be sold at auction. The first ticket sold went for $225 (about $6,200 today); the non-adjusted dollar amount is pricey even by present day standards, but astronomical by contemporary reckoning.
As the tour moved through Boston, Philadelphia, Richmond, and other cities across the country, Jenny was greeted by huge, hysterical crowds that wouldn't be seen again until four young lads from Liverpool would show up over a hundred years later. Of course, there were a few who were less than impressed. Walt Whitman for one, rated her show essentially a "meh", but the vast majority gave Jenny rave reviews.
Lind donated large portions of her earnings to American charities, such as the Fire Department Fund and the Lying-in Asylum for Destitute Females, while touring the country. Her generosity and the connection she made with her audiences during her performances made her hugely popular. Schools and bridges were named in her honor, and consumer products from bonnets to whiskey also bore her name.
In 1852, Jenny married her accompanist and left the United States, settling in England. She rarely sang in public after her U.S. tour and usually only with her husband. She performed for the very last time in 1883 and died at age 67 of a cerebral hemorrhage.
If you liked this article, you may also enjoy: