This Day in History: January 3rd
Today In History: January 3, 1938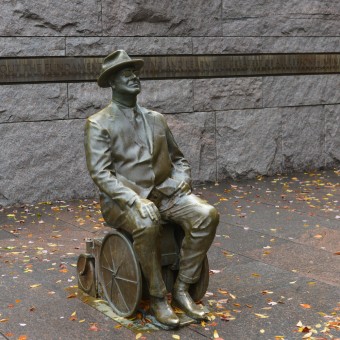 President Franklin Roosevelt, himself a victim of polio, founded the National Foundation for Infantile Paralysis on this day in history, during an era when the disease was on the rise in the United States. Better known as the March of Dimes, efforts to launch the organization were boosted by stars of the screen and radio, largely due to the personal appeal from the president.
The phrase "March of Dimes" was coined by popular comedian Eddie Cantor during the first radio appeal in 1938, when he asked each American to contribute one dime, or several dimes, in the fight against polio. Cantor said,
The March of Dimes will enable all persons, even the children, to show our President that they are with him in this battle against the disease. Nearly everyone can send in a dime, or several dimes. However, it takes only ten dimes to make a dollar and if a million people send only one dime the total will be $100,000.
Within a single week 2,680,000 dimes, amounting to $268,000 (about $4.3 million today), were sent to the White House. Thousands more dollars in donations were sent as well.
The March of Dimes-funded researchers continued to search for a cure, and by 1955 Jonas Salk had patented a vaccine for polio that drastically curbed the incidence of the disease within a few short years.
Instead of resting on their laurels, the March of Dimes took up new challenges. Their next crusade was the prevention of birth defects and infant mortality. The organization has been a leader in researching the genetic causes of birth defects, the promotion of newborn screening, and educating both medical professionals and expectant mothers on how to have a healthy pregnancy.
Over the decades, the March of Dimes has been an overwhelmingly positive force in countless children's lives. Although, perhaps today they should change the name to the "March of Dollars". 😉
If you liked this article, you might also enjoy our new popular podcast, The BrainFood Show (iTunes, Spotify, Google Play Music, Feed), as well as:
Expand for References