Teflon was Invented by Accident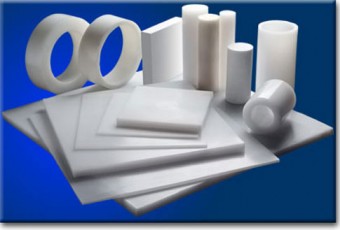 Today I found out Teflon was invented by accident.
The man who accidentally invented it was Dr. Roy Plunkett.  After receiving his BA, MS, and eventually PhD in organic chemistry, Dr. Plunkett took a job with DuPont, in Jackson New Jersey.  He was subsequently assigned to work on synthesizing various new forms of refrigerant, trying to find a non-toxic alternative to refrigerants like sulfur dioxide and ammonia.
According to DuPont, in 1938, 27 year old Dr. Plunkett and his assistant, Jack Rebok, were experimenting with one such potential alternative refrigerant, tetrafluorethylene (TFE).  Dr. Plunkett subsequently created around 100 pounds of TFE and stored the gas in small cylinders.
On April 6, 1938, upon opening the valve on one of the pressurized cylinders of TFE that had previously been frozen, nothing came out, even though by its weight, it seemed to still be full.  Dr. Plunkett and Jack Rebok then decided to investigate further by cutting the cylinder open.  Once they managed to get it open, they discovered that the TFE gas inside had polymerized into a waxy white powder, polytetrafluoroethylene (PTFE) resin.
Ever the scientist, Plunkett then proceeded to run tests on this new substance to see if it had any unique or useful properties.  Four of the most important properties of this substance discovered were that it was extremely slippery (one of the slipperiest substances known to man), non-corrosive, chemically stable, and that it had an extremely high melting point. These properties were deemed interesting enough that the study of the substance was transferred to DuPont's Central Research Department and assigned to chemists that had special experience in polymer research and development, while Dr. Plunkett was then promoted and transferred to a separate division that produced tetraethyl, used to boost gasoline octane levels.
Three years later, the process and name of Teflon were patented and trademarked.  Four years after that, Teflon first began being sold, initially only used for various industrial and military applications due to the expense of producing TFE.  By the 1960s, various forms of Teflon were being used in a variety of applications, such as stain repellant in fabrics and electrical wire insulation.  It was also in the 1960s that Teflon began being used in its most publicly known application, as a coating for non-stick pans.  Today, Teflon or other brands of the same product are also used in windshield wipers; carpets and furniture (as a stain repellant); light bulbs; coating on glasses; in various hair products; in semiconductor manufacturing; automotive lubricant; igniters for solid-fuel rocket propellants; and in infrared decoy flares, among other things.
If you liked this article, you might also enjoy our new popular podcast, The BrainFood Show (iTunes, Spotify, Google Play Music, Feed), as well as:
Bonus Facts:
Dr. Plunkett's roommate in college, Paul Flory, went on to win the Nobel Prize in chemistry in 1974.
The Guinness Book of World Records once listed Teflon as the slipperiest substance in existence.  This has since been shown to be incorrect, actually being the third slipperiest substance.  Although, it still is the only known substance that a gecko's feet cannot stick to, because of Teflon's resistance to van der Waals forces.  Van der Waals forces are the sum of the attractive and repulsive forces between molecules.
Molecularly, Teflon is one of the largest molecules known to man and consists of carbon and fluorine.  Each carbon atom has two fluorine atoms attached.  It turns out, when fluorine is part of a molecule, it actually repels other matter, which is why the gecko's feet cannot stick to it.  The bond between the fluorine and carbon is also extremely strong which makes Teflon very non-reactive to other chemicals, which is why it was used in the Manhattan Project as a coating for the valves and seals of containers holding the extremely reactive uranium hexafluoride.
The first non-stick pan using Teflon was called "Tefal" and was made by a French engineer by the name of Marc Grégoire, in 1954.   The first U.S. based Teflon coated pan was marketed by Marion A. Trozzolo in 1961, called "The Happy Pan".
Unlike the older generations of Teflon non-stick pans, the newest generations are dishwasher safe and can be scraped with things like metal whisks or spatulas without ruining the non-stock coating.
Today, particularly in politics, Teflon has become a nickname for people for whom criticism does not seem to stick.  One example of this was "Teflon Tony", for British Prime Minister Tony Blair
Dr. Plunkett retired from DuPont in 1975 and was inducted into the Plastics Hall of Fame in 1973 and eventually into the National Inventors' Hall of Fame in 1985.  He died on May 12, 1994.
Expand for References: