A Group of Cats is Called a 'Clowder'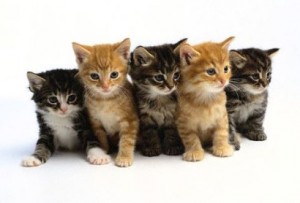 Today I found out that the correct term for referring to a group of cats is 'clowder'.  Interestingly, there are also two other valid ways to refer to a group of cats, other than just saying "group of cats" or "cats".  Those other two terms are 'clutter' and 'glaring'.
In addition to this, if one wants to refer to a group of wild cats, the correct terms are 'dowt' and 'destruction'.   A male cat, when neutered, is called a "gib", when not, is called a "tom".  Female cats are known as "molly".
The word "cat" itself derives from the Old English "catt".  Catt has its source in the Late Latin "catus", meaning: "domestic cat".  This Late Latin word probably derives from an Afro-Asiatic word: "kaddîska", meaning "wild cat".
Bonus Facts:
Cats can survive a fall from virtually any height. According to a study done by the Journal of the American Veterinary Medical Association, 132 cats falling from an average of 5.5 stories and as high as 32 stories, the latter of which is more than enough for them to reach their terminal velocity, have a survival rate of about 90%, assuming they are brought in to treat their various injuries that may occur because of the impact with the ground.  Read more Here
Cats cannot detect the sweet taste.  This is due to a mutant chemoreceptor in their taste buds.  Because of this, cats generally ignore sweet tasting food items like fruit.
Cats purr at around 26 cycles per second, which is about the same as an idling diesel engine.  Cats are also not the only animal that purrs.  Other animals that purr include: squirrels, guinea pigs, lemurs, and elephants, among others.
Domestic cats can run as fast as 30 mph.
It was long thought that domestic cats have their origin in Ancient Egypt.  However, in 2007 it was discovered that domestic cats pre-date Ancient Egypt and actually go as far back as 8000-9000 BC, with the first direct evidence being of a cat buried along side a human in Cyprus around 7500 BC.
It was also once popularly thought that cats were domesticated by humans in order to provide rodent control.  However, it is now thought that domestic cats were probably self domesticated in that they simply lived around humans long enough, hunting rodents and other vermin in towns, and gradually became adapted to domesticated life. Fast forward to today and cats are currently the most popular pet in the world.
A cat's forelimbs have a free-floating clavicle bone.  Unless they are very overweight, this allows them to fit through any space their head can fit through.
The heaviest cat ever recorded was 46 pounds 15.2 ounces.  The lightest adult cat ever recorded was just 3 pounds.
A cat's normal body temperature is around 101.5° F.  Unlike humans, they can comfortably withstand high external temperatures ranging up to 126° F to 133° F before showing any signs that they are hot.  This is thought to be a remnant of the fact that they were once probably desert animals.  Their feces is also typically very dry and their urine highly concentrated so as not to waste water.  In fact, cats need so little water that they can survive on nothing but uncooked meat, with no other water source needed.
Cats can see quite well in light levels as little as 1/6 of what is required for humans to see well.  They accomplish this largely via a tapetum lucidum, which reflects light passed through the retina back into the eye.  They also have exceptionally large pupils for their body size.
Cats also have some of the best hearing of any animal.  They can hear frequencies as high as 79 KHz and as low as 55 Hz.  For reference, humans hearing range is typically between 31 Hz to 18 KHz and dog's hearing range is typically between 67 Hz and 44 KHz.  This extremely good hearing helps cats hunt rodents in that rodents often communicate in ultrasonic frequencies which the cats can hear.
A cat's sense of smell is also about twice that of a typical human.
Cats are attracted to catnip largely because of the chemical nepetalactone, which mimics the smell of a certain pheromone found in cats.  Other plants that produce the same effect in cats are Silver Vine and the herb Valerian.  Interestingly, nepetalactone has the opposite effect on cockroaches and mosquitoes in that it repels them.
Domestic cats typically have a lifespan of around 12 to 14 years.  The current world record holder for oldest cat, though, is 38 years.  The cat's name was Creme Puff.
Human foods that can be toxic to cats include: chocolate, because of the theobromine; onions, in large amounts; and garlic, again, in large amounts.  Tylenol is also very toxic for cats.
The male cat's penis has around 120-150 barbs on it that point backwards.  When the penis is withdrawn from the female, this scrapes her vagina and triggers ovulation, as well as attempts to clean out any sperm from other cats.
A female cat will often mate with several male cats while they are in heat.  This will often result in cats within the same litter having different fathers.
While domestic cats are pets in most parts of the world, in certain parts of Asia, particularly southern China in the Guangdong province, cats are also seen as a food source.  It is estimated that around 10,000 cats per day are eaten in that province alone.  In all of Asia, it is estimated that around 4 million cats are eaten every year.
Expand for References: