There is No Such Thing as a Negative Calorie Food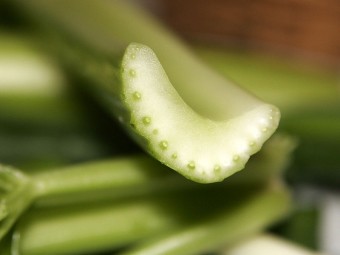 Myth: Your body uses more calories to digest certain types of foods, called "negative calorie" foods, than the actual calories contained in them.
The concept of negative calorie food has recently been popularized by the media, around on Internet discussion boards, and from publications, such as "Foods that Cause You to Lose Weight: The Negative Calorie Effect", by Neal D. Barnard. In this so called "negative calorie diet", it is believed that there are certain foods, such as celery, broccoli, papaya, and lettuce, where the amount of energy used to digest the foods is greater than the amount of energy provided by the foods. More technically, that the Thermic effect is greater than the food energy content.
Unfortunately, like so many other gimmicky diets, this is just too good to be true and currently there is zero scientific evidence that there are any foods that are actually "negative calorie". In fact, the digestive process typically only accounts for around 10% of most caloric in-take. With the so called "negative calorie" foods, this number tends to jump to around 20%-30%, but not always, sometimes it stays around the standard 10%. Even in the extreme case, unfortunately, "20%-30%" is not greater than 100%.
For a specific example, arguably the most popularly touted "negative calorie food", celery, tends to contain around 6 calories per medium sized piece, but only actually takes around 1/2 a calorie to digest that piece, so around 8% of the caloric in-take is "lost", not 100+%. That's not to say celery isn't a great food to eat (it very much is for a variety of reasons), but it's not even close to "negative calorie".
Even knowing that "negative calorie" food is one of many dieting myths, you still can benefit from including more vegetables and fruits in the everyday menu as they are naturally low in calories and have vitamins, minerals, anti-oxidants, and phytochemicals. Further, the specific fruits and vegetables often touted as "negative calorie" foods typically are very low in calories, so often make great snacks and meals.
Bonus Facts:
In 2007 Coca-Cola and Nestle had to pay a $650,000 fine for saying their green tea drink, Enviga, burned 20 – 33 calories more than it delivered in a 12-ounce can. The FDA didn't find any scientific evidence to support this claim and so subsequently fined them.
The 'calorie' was first defined by Nicolas Clément in 1824 as a unit of heat. In most fields, its use has been replaced by the 'joule'. Today in many countries, like the United States, 'calorie' remains in use as a unit of food energy.
Some of the most common foods on the list of "negative calorie" foods are: Asparagus, Beets, Carrots, Zucchini, Papaya, Fennel, Broccoli, Lettuce, Cauliflower, Celery, Spinach Cress, Cucumber, Apricot, Mandarin orange, Peaches, Grapefruit, Strawberry, Lemon, and Watermelon.
The Thermic Effect of Food is defined as: the increment in energy expenditure above resting metabolic rate due to the cost of processing food for storage and use.
Expand for References: