The First Professional Baseball Team Was the 1869 Cincinnati Red Stockings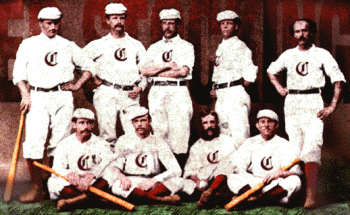 Today I found out the first fully professional baseball team was the 1869 Cincinnati Red Stockings, ten men on salary for eight months from March 15th to November 15th.  The team was organized by Harry Wright, who also played center field for the team and managed the defensive positioning, which was something that typically wasn't done at that time.
The Cincinnati Red Stockings won their first game on May 4th, 1869 by a score of 45-9.  They then went on to go 57-1 (wins-tie), touring the U.S. playing teams from Boston to San Francisco, something that had not been done before.
The following year, they won another 24 straight games before finally losing 8-7 in 11 innings against the Brooklyn Atlantics on June 14th.  After their first loss, attendance declined substantially and they were disbanded the following year despite only losing 6 games all season.
Bonus Facts:
Harry Wright's younger brother, George Wright, played shortstop for the Cincinnati red-stockings and later the Boston Red Stockings.  He is reputed to have been the best player of that era.
After the Cincinnati Red Stockings were disbanded as a professional club, Harry Wright was hired by Ivers Whitney Adams to organize a new professional club in Boston with the first professional league.  In 1871, he then put together the Boston Red Stockings, bringing over three of the members of the former Cincinnati Red Stockings.
The Cincinnati Red Stockings have no connection with the 1876-1880 and 1882-present day Cincinnati Reds other than being from the same town and inspiring those club's names.
The Boston Red Stockings eventually became the Boston Braves, which are now the Atlanta Braves.  The Boston Red Sox were not established until 1901.
Expand for References: