Weird Al Yankovic Was the Valedictorian of His Class in High School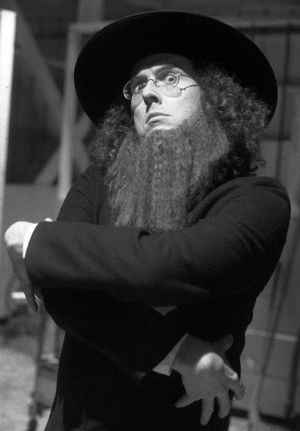 Today I found out Weird Al Yankovic was the valedictorian of his class at Lynwood High School, which is just outside of Los Angeles.
In addition to this, he graduated high school at just 16 years old.  He was able to do so because his parents had him attend kindergarten a year earlier than is typical.  After performing well academically in kindergarten and the first grade, he then was allowed to skip second grade, which ultimately put him about two years ahead of most kids his age in school. He went on to be a straight-A student throughout high school, which eventually culminated in him becoming the valedictorian of his class.
It was during high school when he also submitted home-made recordings to Dr. Demento, which were tapes of Weird Al performing various parodies of songs, accompanied with his accordion.  Dr. Demento would occasionally put some of Weird Al's songs on the air, such as "Belvedere Cruisin", which was one of his more popular "high school years" songs.
Yankovic did not, however, go into professionally performing right out of high school.  Instead, he attended the California Polytechnic State University and earned a degree in architecture.   However, while at college, he did have a radio show and continued to write and publish parody songs on the side, including his first hit "My Bologna", parodying "My Sharona", which was actually recorded in a men's bathroom at the university.
The lead singer of The Knack, Doug Fieger, eventually heard "My Bologna" on the radio and convinced his label to sign Yankovic to a contract.  In thanks, Yankovic bought Fieger an over-sized bologna.
Bonus Facts:
After graduating from college with a degree in architecture, Weird Al decided he didn't like architecture and so applied for a job at McDonald's, but was ultimately rejected due to being overqualified.  He later got a job in a mail room.
Yankovic earned money in high school by giving accordion lessons, as well as working as an accordion repo-man.
Weird Al was just six years old when he started playing the accordion.   He received formal training on that instrument for the next three years.
"Like a Surgeon" was suggested to Weird Al by his manager, Jay Levey, who had a friend who was also a friend of Madonna's. Madonna had wondered aloud to that friend when Weird Al was going to make "Like a Virgin" into "Like a Surgeon".  To date, that is the only Weird Al song where some aspect of the song wasn't originally thought up by Yankovic himself.
Before parading any song, Weird Al always gets permission from the copyright holder first, even though he is not required to do so by U.S. copyright law, which allows parodying of copyrighted work without permission.
Notable cases where artists refused permission to Yankovic to parody one of their songs were:

Paul McCartney: ("Live and let Die" to "Chicken Pot Pie"), which was apparently refused because McCartney, though a big Yankovic fan, is a vegetarian.
James Blunt's label, Atlantic Records, rejected "You're Pitiful", from Blunt's "You're Beautiful", though Blunt had already given permission to Yankovic, so Weird Al removed it from his album and released it for free via the web (Yankovic also recorded himself defacing Atlantic Record's Wikipedia page with "You Suck").
Prince: who Weird Al has tried unsuccessfully to get to let him parody several songs through the years, but is always rejected
Coolio, "Gangster's Paradise" to "Amish Paradise": Yankovic got permission from Coolio's record label who supposedly asked Coolio and got permission, but Coolio contends he was never asked and would have said no, supposedly not finding out about the parody until the album was already released.  In order to avoid this problem in the future, Weird Al now always speaks to the artist themselves, rather than through the record labels as he occasionally did before.

Nirvana band members were reportedly extremely excited when they found out from Kurt Cobain that Weird Al had called him and asked to parody "Smells Like Teen Spirit".  In that conversation, Cobain, who described Yankovic as a "musical genius", gave permission but said "Um… it's not gonna be about food, is it?" to which Yankovic responded, "No, it'll be about how no one can understand your lyrics."
Weird Al's 1986 song "Christmas at Ground Zero", which is obviously a song about Nuclear war, has been banned at many U.S. radio stations since 2001 due to the fact that they fear that people will think it's about the World Trade Center attack.
Weird Al's parents died in 2004 of carbon monoxide poisoning after lighting a fire without being aware that the flue was closed.  His father was found dead sitting in his recliner and his mother was found dead lying on their bathroom floor.
It was during college that Yankovic earned the nickname "Weird Al", which is a name people first occasionally called him during his freshman year at college and which later stuck when he used it as his DJ name at the campus radio station KCPR.
Expand for References: