Jesus Wasn't Really A Carpenter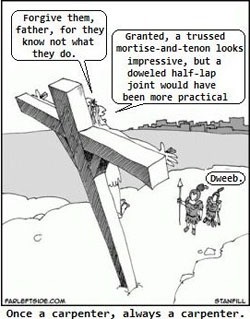 Today I found out Jesus wasn't really a carpenter, at least not as we understand the profession.  Now obviously, eventually Jesus's chosen profession was of a "Rabbi" or teacher; so in that sense he wasn't a carpenter regardless of translation.  However, in his early years, it is supposed from Mark 6:2-3 that he was, like his step-father, a "carpenter" as commonly translated.
However, the chosen translation from the Greek word "tecton" to mean "carpenter" is a bit of a mistranslation.   In fact, "tecton" (in Mark) or "tekton" (in Mathew) is more aptly translated into a word describing a "contractor"; specifically, contracting  as a "builder" or "handyman".  Not necessarily having anything to do with wood in most of the jobs he likely took.
He was basically a "Mr. Fix it".  You had something that needed mended/fixed, designed, or built and he was the guy to call.  And note, this isn't just referring to small jobs such as repairing a leaky roof or the like, though this type of thing would have likely been a part of what he did when bigger business was slow; it also refers to such things as designing and building bridges, stone temples, etc.   So perhaps by today's notion of the profession, he'd more likely be called an "engineer".
Expand for References: