Where Bacon Comes From On a Pig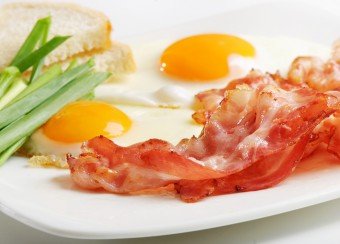 Today I found out where Bacon comes from.   Now you might think, as I always did, that Bacon comes from combining two parts awesome with a smidgen of outstanding.  But in fact, Bacon, or as my brother calls it "meat candy", obviously comes from our snout nosed little bald friends, pigs, which don't seem remotely awesome.  Though of course, one can also find Bacon made from turkey,  chicken, and even soy for all our smelly hippie friends out there.
More interestingly, what part of a pig does bacon come from?  Well that depends on the style.  American Bacon, or "streaky bacon" as our lovely limey friends from the British Isles like to call it, is generally cut from the fatty sides of a pig's belly.   Who says belly fat is a bad thing?  If you ever find yourself in an apocalyptic scenario with no food about, consider caging a few of us pot-bellied Americans.  Bacon for everyone!
Now Canadian Bacon, known as "back bacon" to the English who apparently like to come up with their own names for everything Bacon related, is made up of the tender loins located on the back of Piglet and his swine friends.  This obviously produces a more "meaty" strip of heaven, without as much artery lubricating fat.
Then of course, we have the sides of the pig, which are also used for Bacon, but to which no country has yet staked its name to.  Might I propose we call it "English Bacon" so that the limeys won't insist on coming up with a different name for the sweet meaty goodness that is side bacon?
Now for preparing future bacon, after the strips of flesh have been cut from the pig, they are then soaked in brine or rubbed in a salt mixture.  Next, the treated flesh is typically dried by smoking it from fires burning with various materials such as hickory. oak, etc,  though it can also simply be left out in a cold place to dry over the course of a couple months.
If you liked this article, you might also enjoy our new popular podcast, The BrainFood Show (iTunes, Spotify, Google Play Music, Feed), as well as:
Bonus Bacon Facts:
It turns out that there is very little difference between Bacon and Salted Pork or Ham.  The difference between them is primarily in the brine used to cure the flesh.
In many countries, Bacon is not typically cut into strips, but rather into cubes.
Expand for References