Medieval Times [Part 5]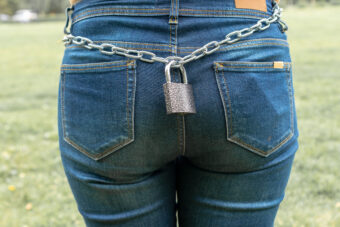 In this episode of The Brain Food Show, we are start out with an appetizer looking at whether chastity belts were ever actually a thing in medieval times or if it is just a Hollywood invention.
Next up we have a brief message from our sponsor… Ourselves! Go check out our new-ish channel Highlight History, an upcoming re-launch / re-think of Fact Quickie, a new upcoming one in Ancient Marvels,  and Simon's latest attempt to host all YouTube channels- Side Projects.
Next up, in the main course, we look at whether you could actually be transported back in time to Medieval Times and actually communicate to anyone in English or not as is often depicted in popular entertainment.
As for the desert for today, we discuss what you actually get for being knighted in modern times and what the process is these days for that.
And note, to see that wall of text Simon hard to read there, this is what he was looking at:
INTHEBEGINNINGTHEREWASNOPUNCTUATIONLOWERCASELETTERSOREVENSPACESBETWEENWORDSTHEREALSOWASNOGRAMMATICALWAYOFDISTINGUISHINGWHENANIDEAHADFINISHEDANDANEWONEBEGUNITDIDNTHELPTHATTHEIDEAOFSTANDARDIZEDSPELLINGWASALSONOTATHINGATLEASTNOTASWEWOULDTHINKOFITREADERSWERELEFTTOMUDDLETHEIRWAYTHROUGHANYTEXTASBESTTHEYCOULDUNSURPRISINGLYUNDERSTANDINGWHATAPARTICULARWORKWASACTUALLYSAYINGONTHEFIRSTREADTHROUGHWASPRETTYWELLUNHEARDOFATTHISTIME
On another note, if you could do us a huge favor and rate and review this show in whatever podcasting platform you're using (including hopefully giving us some feedback related to the new format), we would be extremely grateful. Thanks!
Don't miss future episodes of this podcast, subscribe here: iTunes | Spotify | Google Play Music | Stitcher | RSS/XML
You can also find more episodes by going here: The BrainFood Show
Podcast (brainfood): Play in new window | Download (Duration: 1:24:45 — 116.4MB) | Embed
Subscribe: Apple Podcasts | Android | Google Podcasts | Stitcher | RSS