Good Grief: The Peanuts Story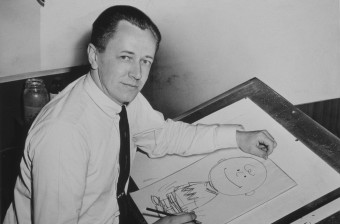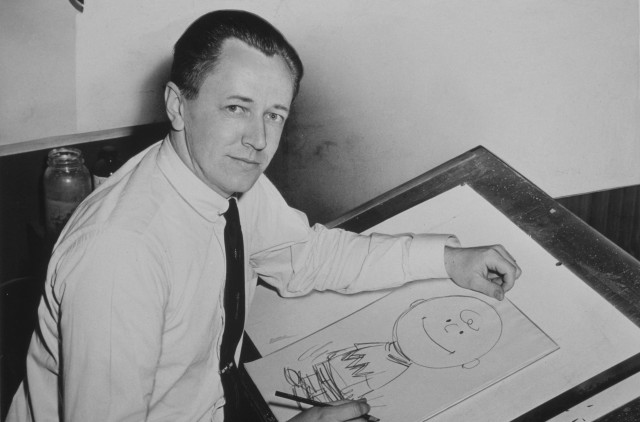 Here's an inside look at the world's most popular comic strip and the man who created it.
BACKGROUND
To say that Peanuts is the most famous daily comic strip in the history of the art form is an understatement. Like Superman and Mickey Mouse, Peanuts transcended its medium and became woven into the fabric of society. Readers of all ages found something to connect with—Charlie Brown's perseverance in the face of one disappointment after another, Snoopy's cool, Lucy's crabbiness, or Linus's innocent wisdom. The sheer numbers Peanuts generated are still unmatched, nearly two decades after the strip came to an end: From 1950 to 1999, Charles Schulz wrote and drew 18,250 daily Peanuts strips. They appeared in 2,600 newspapers, reaching 355 million readers in 75 countries, and were translated into 21 different languages. Between the daily strips, the merchandising tie-ins, and the television specials, Peanuts is also a phenomenal moneymaker—at its peak, it earned more than $1 billion per year and made its creator, Charles M. Schulz, one of the richest entertainers in the world.
CRACKS IN THE ARMOR
So what was the appeal? For one, Peanuts was ahead of its time. Doonesbury creator Garry Trudeau, who grew up reading the strip, said, "Peanuts vibrated with '50s alienation. Everything about it was different. Edgy, unpredictable—it was the first Beat strip."
Early-1950s America was a time of prosperity: World War II had been won, the economy was strong, President Eisenhower encouraged good old American know-how for the construction of interstate highways and pristine neighborhoods. This optimism played out in popular movies, on television, and even in the comics. The few comic strips that featured children, like Ernie Bushmiller's Nancy, portrayed kids as innocent and…well, kid-like. In the movies, children routinely got into and out of cute adventures, never offering any great philosophical truths. And no one expected them to. Then, all of a sudden, here was a comic strip with a strange round-headed boy saying, "I don't feel the way I'm supposed to feel."
Statements like that reflected the painful truth that a lot of people weren't content. Treading a thin line between wholesome and subversive, Charlie Brown and his friends jumped off the page and connected with readers. Schulz tapped into something that kept people glued to Peanuts' extended storylines (something new to kid-oriented strips): they dealt more with pain than triumph.
The pain that emanated from the strip came straight from Schulz's own life. He once admitted, "I worry about almost all there is in life to worry about. And because I worry, Charlie Brown has to worry." Schulz also pointed to the strip's recurring themes: "All the loves are unrequited; all the baseball games are lost; all the test scores are D-minuses; the Great Pumpkin never comes; and the football is always pulled away." Schulz knew that for every winner out there, there were 10 more losers. They all want to win—to fit in—but most have to make do with what they end up with. The struggle to fit in had been a part of Schulz's life for as long as he could remember.
A BOY AND HIS DOG
Charles Monroe Schulz was born in Minneapolis, Minnesota, on November 26, 1922, to parents of German and Norwegian descent, and the family soon moved to nearby St. Paul. Daily newspaper comic strips were always a big part of his life (when he was two days old, an uncle gave him the nickname he carried for the rest of his life, "Sparky," after a horse called Sparkplug from the comic strip Barney Google).
In a way, reading Peanuts is like reading about Schulz's childhood. He owned a black-and-white dog named Spike that followed him around the neighborhood and ran onto the field during his baseball games. Just like Charlie Brown, Schulz flew his kites into the trees, liked to ice skate, went to summer camp reluctantly, and had a father who was a barber.
Also like Charlie Brown, Schulz was often teased by his friends, which led to a lifelong inferiority complex. Schulz's high marks in grammar school led to his being promoted from the third grade to the fifth grade, putting him in a classroom full of kids who were bigger, older, and more streetwise than he was. By the time he got to high school, Schulz suffered from bouts of depression.
But when he was alone, he found solace in reading and drawing comic strips. His first published drawing—at age 15—was a picture of Spike that he submitted to Ripley's Believe It or Not! Yet the drawings that Schulz submitted to his high-school yearbook were rejected. "I was a bland, stupid-looking kid who started off badly and failed at everything," he once said in an interview. Schulz never stopped drawing, though, and filled sketchbook after sketchbook with depictions of Popeye, Mickey Mouse, Donald Duck, and dozens more of his comic-strip heroes.
OFF TO WAR
After high school finally ended, Schulz dove straight into his dream. With his parents' support, he took a correspondence course at the St. Paul Art Instruction School. But his dreams were put on hold when he was drafted into the army and sent to Europe as a machine-gun squad leader. (On his only opportunity to shoot someone, his gun wasn't loaded. Fortunately, the German soldier surrendered.) Schulz's feelings of isolation only grew more intense during the war. He was still grieving for his mother, who had died in 1943, and he never really fit in with the other guys. Just as he had in high school, Schulz lost himself in his sketchbook. "The army taught me all I needed to know about loneliness," he said.
BACK TO THE DRAWING BOARD
Schulz returned to St. Paul in 1945 even more disillusioned, but he knew his path: cartooning. He went back to the Art Instruction School and asked them for a job as a correspondence-course instructor. They hired him. He soon landed a second job at a Catholic comic magazine called Timeless Topix, lettering their comics pages. While there, Schulz met a comic-strip artist named Frank Wing, who would become his mentor. Soon Schulz was drawing his own cartoons at Timeless Topix. His first: a single-panel cartoon with two kids sitting on a curb. "One kid," Schulz wrote, "is sitting on the curb with a baseball bat in his hands talking to a little girl, saying, 'I think I could learn to love you, Judy, if your batting average was a little higher.'" Wing saw the cartoon and told Schulz, "Sparky, I think you should draw more of those little kids. They're pretty good."
Around this time, Schulz discovered a classic comic strip called Krazy Kat, drawn by George Herriman. Without Krazy Kat, Peanuts might have been just another comic where the kids did kid-like things. But Krazy Kat was surreal—a cat, a mouse, and a dog living in a dreamlike world. They had childlike qualities countered by very advanced vocabularies. Krazy Kat demonstrated to Schulz that fantasy and grown-up language could be effective tools to describe not only the everyday lives of children, but of people in general. Even though he drew only kids from then on, Schulz's comic strips would be primarily targeted toward adults.
LI'L FOLKS
In 1947 Schulz sold his first newspaper cartoons—single-panel gags—to his hometown paper, the St. Paul Pioneer Press. Called Li'l Folks, it had no set cast of characters, but there was a kid he called Charlie Brown (borrowed from the name of an artist friend) and a dog that resembled Snoopy. While writing Li'l Folks, Schulz also sold 17 cartoons to the Saturday Evening Post from 1947 to 1950. Bolstered by these successes, he attempted to syndicate Li'l Folks in other newspapers, but couldn't get it picked up. Then in 1949 the Pioneer Press dropped Li'l Folks.
Rather than admit defeat, in 1950 Schulz shopped his best single-panel gag cartoons to United Features Syndicate in New York. They liked them…but thought they weren't original enough to stand out. So Schulz showed them a few four-panel comic strips he'd been working on. The syndicate loved them and asked Schulz to create "some definite characters." Energized, Schulz returned to St. Paul and started forming the characters that he would draw for the rest of his life.
AN UNDIGNIFIED NAME
Schulz wanted to keep the name Li'l Folks, but because there was already a comic called Li'l Abner and another called Little Folks, the syndicate chose a new name: Peanuts. Schulz hated it. "It's totally ridiculous," he said. "It has no meaning, is simply confusing, and has no dignity. And I think my humor has dignity." Nevertheless, on October 2, 1950, the first Peanuts strip appeared in seven newspapers. Originally, there were four main characters: Charlie Brown, his dog Snoopy, a girl named Patty, and a boy named Shermy. Back then, Charlie Brown was more of a wisecracker than a loser, and he wasn't intended to be the star of the strip. But because Shermy didn't have much of a personality and Patty was just plain mean, Charlie Brown got the best lines, becoming the protagonist by default.
Over the next three years, Shermy and Patty's roles got smaller, and two new characters—Linus and Lucy—were added to the strip. Within a year, Linus became Charlie Brown's friend and Lucy became his foil. This really opened up ideas for Schulz, especially with the addition of a Sunday strip in 1952. The now-familiar themes of the baseball team always losing and Lucy pulling the football away really struck a chord with readers…and newspaper editors. By 1953 Peanuts had expanded to over 40 newspapers, and Schulz's original salary of $90 per week had grown to $30,000 per year (about $268,000 today).
BREAKING OUT
Interestingly, it was the limitations of the format that led Schulz to focus on more character-oriented storylines. Bill Watterson, creator of Calvin & Hobbes, explained what Schulz was up against:
"Back when the comics were printed large enough that they could accommodate detailed, elaborate drawings, Peanuts was launched with a tiny format, designed so the panels could be stacked vertically if an editor wanted to run it in a single column. Schulz somehow turned this oppressive space restriction to his advantage, and developed a brilliant graphic shorthand and stylistic economy, innovations unrecognizable now that all comics are tiny and Schulz's solutions have been universally imitated.

Schulz distilled each subject to its barest essence, and drew it straight-on or in side view, in simple outlines. But while the simplicity of Schulz's drawings made the strip stand out from the rest, it was the expressiveness within the simplicity that made Schulz's artwork so forceful."
That "expressiveness within the simplicity" made Schulz a huge hit not only with readers, but with his contemporaries as well. In 1955 the National Cartoonists Society gave Schulz the Reuben Award for "Outstanding Cartoonist of the Year." And that was only the first of many: He won the Yale Humor Award in 1956 and the School Bell Award from the National Education Association in 1960. In 1962 Peanuts was named "Best Humor Strip of the Year" by the National Cartoonists Society. Two years later, Schulz became the first comic-strip artist in history to win two Reuben Awards. In 1978 more than 700 cartoonists from around the world cast their votes and named Schulz "International Cartoonist of the Year."
FAMILY MAN
Meanwhile, as Peanuts grew in popularity, Schulz maintained a low-key lifestyle, not flaunting his riches. In 1958, at the urging of his wife, Schulz moved his family to Sebastopol, California, where he built his first studio. He made it a goal to only work from about 9 a.m. to 4 p.m. on weekdays so he could have enough time to raise his five children. That alone provided most of the "research" that he'd need to add new characters and storylines to the strip; what Schulz didn't mine from his own childhood, he mined from his children—and later from his grandchildren.
But when it was time to work, he worked. Unlike other comic-strip artists who hired a consortium to letter, color, or even draw their strips, Schulz insisted on doing every aspect of the work himself. And his process was always the same: He began with a script idea, then drew rough sketches of the scenes. Then he worked painstakingly on the wording—getting it to flow perfectly before he finalized the characters and the background.
This attention to detail in such a "simply drawn" strip added to the realism—readers felt they knew Charlie Brown and Snoopy. It soon became obvious that they couldn't remain confined to the borders of a newspaper comic strip for long.
PEANUTS NATION
Books were the first crossover Peanuts products, starting in 1952 with a hardcover collection of cartoons called Peanuts. No one had ever released a book of comic strips before, but it sold well enough for a second collection, called More Peanuts, in 1954. After that came Good Grief, More Peanuts! (1956), Good Ol' Charlie Brown (1957), and so on. Over the years, there have been hundreds of Peanuts collections. In fact, the abundant comic-strip books we see today owes their origins to Schulz, who almost single-handedly launched this publishing phenomenon.
For the strip's first seven years, Schulz was reluctant to give in to the many marketing opportunities presented to him. "I never even thought about licensing; all I thought about was just trying to draw the strip. But I realized this is a business, and I knew it was possible to make a lot of money at it."
In 1958 Schulz finally agreed to a request from Hungerford Plastics to release a set of Peanuts dolls. They created six plastic characters depicting Charlie Brown and his friends, which sold very well. Over the next 15 years, fans could buy everything from Snoopy plush dolls to Charlie Brown lunch boxes to Linus wristwatches to bedsheets, T-shirts, and hundreds of other items. By 1999, there were 20,000 Peanuts-related products per year. While Schulz had no problem with the saturation of his characters in popular culture, he did maintain the final say over what couldn't be produced. Among the products he rejected: Peanuts ashtrays, vitamins, sugary breakfast cereals, tennis rackets, and baby wipes (for "aesthetic" reasons).
AND NOW FOR A WORD FROM OUR SPONSOR
Advertisers also understood the appeal, and many approached United Features, but Schulz relented only on a few. Kodak was the first to use Peanuts, placing the popular characters in their 1955 camera instruction books. In 1961 the Ford Motor Company ran a huge promotion that featured the Peanuts gang boasting about how economical and safe the new line of Ford Falcons were. "We got criticized quite a bit for that," Schulz recalled years later, "which is something that always puzzled me." After Ford, the Peanuts kids spent 15 years selling Metropolitan Life Insurance. "We also received criticism for that. A lot of people apparently hate insurance companies. Maybe they're justified."
THE BEAGLE HAS LANDED
The 1960s belonged to Peanuts. The optimism of the 1950s had been diminished by the looming threat of a nuclear war with the USSR, and people were scared. That may explain the appeal of Happiness Is a Warm Puppy, the first in a series of little square-shaped books that featured each of the Peanuts characters celebrating the simple things in life. In 1963 Happiness Is a Warm Puppy became the first book based on a comic strip to reach the New York Times bestseller list. And as the public mood grew even darker following the assassination of President Kennedy and the escalation of the Vietnam War, Peanuts became more popular, treading a thin line between innocence (the kids still play ball in the sandlot) and rebellion (a bird complains to Snoopy that no one understands his generation). Basically, Peanuts was everywhere.
In 1965 the Peanuts gang made the cover of Time magazine.
That same year, a Presbyterian minister named Robert Short received Schulz's permission to write The Gospel According to Peanuts, which presented strips from the comic as modern-day Christian parables. The book sold more than 10 million copies.
In 1966 a rock group called the Royal Guardsmen sold three million copies of their song "Snoopy and the Red Baron."
In 1967 Peanuts made their off-Broadway debut with the musical You're a Good Man, Charlie Brown (starring as Charlie Brown: 22-year-old Gary Burghoff, who later played Radar on M*A*S*H). The musical ran for 1,597 performances and was revived on Broadway in 1998, when it won two Tony Awards.
But perhaps the Peanuts kids' greatest achievement in the 1960s was when they accompanied the Apollo 10 astronauts to the Moon in May 1969. The crew chose Snoopy as its official mascot and named the lunar module after him. The command module was called Charlie Brown.
READY FOR PRIMETIME
In 1964 a San Francisco television producer named Lee Mendelson made a documentary about baseball legend Willie Mays that garnered some pretty good reviews. Having honored the world's greatest baseball player, he later recalled, "now I should do the world's worst baseball player, Charlie Brown." So Mendelson approached Schulz with the idea of making a documentary about Peanuts. Schulz had seen the Willie Mays show and was very interested. The two had just started work on the documentary Charlie Brown & Charles Schulz, which focused on Schulz's troubled childhood, when the Coca-Cola company approached Mendelson about making a Peanuts Christmas special for 1965. "I said, 'Absolutely!'" recalled Mendelson. "I phoned Sparky and told him that I had just sold a Charlie Brown Christmas show. He asked which show and I told him, 'The one we're going to make an outline for tomorrow.' And we literally did the outline in one day."
With the story worked out, Schulz hired Bill Melendez, the animator that Ford had used on the Peanuts commercials. (Melendez's impressive resume included such Disney films as Bambi and Fantasia, and many classic Bugs Bunny and Daffy Duck cartoons for Warner Bros.) The three men would end up working together on dozens of Peanuts specials and films over the next 30 years.
ON A SHOESTRING
But their first project turned out to be the most difficult. For one thing, they had a tiny budget to work with, which resulted in very choppy animation, even by 1960s standards. There were other problems, too: CBS wanted to hire adult actors to voice the children, and they wanted a laugh track. By this time, Schulz was powerful enough to get what he wanted, and he wanted actual children's voices with no laugh track. (He cringed at the idea of telling people when they should be laughing.) CBS gave in, but had another demand—they didn't want Linus reciting a Bible verse. "The whole thing is about the true meaning of Christmas!" Schulz argued. "Take that out and there's no show!" After some hard-fought negotiations, the network finally relented, as they also did about using jazz music in the soundtrack. CBS executives didn't understand it; they were expecting the special to flop.
A TRADITION IS BORN
Airing on Thursday, December 9, 1965 (in Gilligan's Island's regular time slot), A Charlie Brown Christmas became an overnight sensation. More than half of the televisions in the United States tuned in. While Schulz, Mendelson, and Melendez cringed at some of the low-budget technical aspects of A Charlie Brown Christmas—the static speaking style of the kids (especially Sally, who was voiced by a little girl too young to read, so she had to be fed her lines phonetically)—they felt that they had created something unique. The critics agreed. They lauded its simple message that Christmas means more than crass commercialism (even though the special was sponsored by Coca-Cola). The public agreed, too. A Charlie Brown Christmas won an Emmy and a Peabody Award and became a Christmas tradition.
More animation followed, most notably A Boy Named Charlie Brown in 1969 (the first Peanuts feature film) and two more well-received holiday specials: It's the Great Pumpkin, Charlie Brown in 1966 and A Charlie Brown Thanksgiving in 1973. In all, the team of Schulz, Mendelson, and Melendez produced more than 40 primetime specials over the next three decades. (Melendez also provided the squeaky voices of Snoopy and Woodstock.)
HEAVY BURDENS
But as the years went on, Schulz devoted less and less of his time to these outside projects, leaving most of the screen work to Mendelson and Melendez. In the early 1970s, Schulz's home life started to deteriorate, leading to a divorce in 1972. "I didn't think she liked me anymore," he said, "and I just got up and left one day." A year later, while skating at a local ice rink, Schulz met Jeannie Clyde. The two hit it off and were married in 1973. They remained together for the rest of Schulz's life.
With a renewed spirit and more time to work on the strip, Schulz spent the rest of the 1970s perfecting the characters he'd been fleshing out over the previous 20 years. Only a few new characters were added; instead, he focused more on extended story lines such as Peppermint Patty's troubles at school, Snoopy's campus adventures as "Joe Cool," and Charlie Brown's first-ever win at a baseball game (he walked with the bases loaded). But even though Peanuts remained popular, it was obvious that it had peaked in the 1960s. That was fine with Schulz—the fewer promotional appearances and outside projects he had to deal with, the better.
LOSING ITS EDGE
By the 1980s, Schulz found himself in the odd position of being the "old timer." Suddenly it was no longer "Peanuts and everything else." A new crop of humor cartoonists, all inspired in some way by Peanuts, were making their own marks on the daily comics page—Lynn Johnston's For Better or For Worse, which Schulz loved, Jim Davis's Garfield, which Schulz loathed, and Gary Larson's The Far Side, which Schulz never said much about…although he probably wasn't too pleased to see Larson's depiction of Charlie Brown buried up to his neck in the sand (by Indians) awaiting an army of oncoming ants. Yet that's the kind of cutting-edge humor that was catching people's attention in the early 1980s. Charlie Brown and Snoopy's antics seemed passé next to, say, the political volatility of Garry Trudeau's Doonesbury. For the first time, Peanuts was no longer leading the way.
To compete with the new strips, Schulz was urged by his syndicate to modernize the look of Peanuts—or at least make the kids start commenting on current events. Schulz refused both requests and stubbornly kept Peanuts locked in the same innocent setting where it began. "I could never be a political cartoonist," he said in 1988, "because I refuse to blast people I don't know. I suppose that's why they say Peanuts is no longer on the cutting edge. That's absurd. What's 'cutting edge,' anyway? Insulting the president? Delighting in meanness? If that's cutting edge, then I don't want it." One of Schulz's strongest advocates was up-and-coming comic strip artist Bill Watterson, creator of Calvin & Hobbes. In 1987 he came to Schulz's defense:
Every now and then I hear that Peanuts isn't as funny as it was or it's gotten old. I think that what's really happened is that it changed the entire face of comic strips and everybody has now caught up to him. I don't think he's five years ahead of everybody else like he used to be, so that's taken some of the edge off it. I think it's still a wonderful strip in terms of solid construction, character development, and the fantasy element. Things that we now take for granted—reading the thoughts of an animal, for example—there's not a cartoonist who's done anything since 1960 that doesn't owe Schulz a tremendous debt.
HEART PROBLEMS AND INTO THE WOODS
Schulz's struggles with keeping the strip timely only increased when his health started to deteriorate in the early 1980s. For one, it made the demands of a daily strip more difficult to keep up with. Normally, Schulz had a three-month lead time, meaning the comic he drew today would run in the newspapers 90 days later. That gave him ample time to develop new stories. But in 1981, the 59-year-old cartoonist suffered a heart attack, prompting an emergency quadruple-bypass. As he recovered, he saw his lead times shrink down to a few weeks. And he hated working under pressure.
Worse yet, he developed Parkinson's disease, which caused his hands to shake. "It's just annoying," Schulz said in 1988. "It slows me down, and I have to letter very carefully. After my heart surgery, it was intolerable, and then I wracked up my knee playing hockey. That was worse than the heart surgery; it just took all the life out of me. I remember one day I came back, and I was so weak I finally had to quit. I just couldn't hold that pen still. Am I supposed to sit here the rest of my life drawing these things while all my friends are dying or retiring?"
Rather than pack it in, however, Schulz invented new story lines in the 1990s to help him cope. He focused heavily on Snoopy's adventure as a Beagle Scout—following the dog and his bird friends into the forest. "Hiking, camping, and roasting marshmallows over an open fire can revive a writer's dampened spirit," Schulz said.
THE END OF AN ERA
Schulz had planned to draw the strip well into his 80s…until he suffered a stroke and was diagnosed with colon cancer in November 1999. Yet he still refused his syndicate's insistence that he bring in ghostwriters. "Everything has to end," he said. "This strip is my excuse for existence. No one else will touch it." (Schulz was always saddened to see one of his cartoonist friends retire or die, only to have their syndicate hire other artists to keep the strip going.) But with his health failing, on December 14, 1999, Schulz, now 77, reluctantly announced his retirement. He died on February 12, 2000, the same day the last original Sunday Peanuts strip ran. It was a montage of classic scenes, along with a note that came straight from Snoopy's (and Sparky's) typewriter:
Dear Friends, I have been fortunate to draw Charlie Brown and his friends for almost 50 years. It has been the fulfillment of my childhood ambition. Unfortunately, I am no longer able to maintain the schedule demanded by a daily comic strip. My family does not wish Peanuts to be continued by anyone else, therefore I am announcing my retirement. I have been grateful over the years for the loyalty of our editors and the wonderful support and love expressed to me by fans of the comic strip. Charlie Brown, Linus, Lucy…how can I ever forget them…
YOU'RE A GOOD MAN, CHARLIE SCHULZ
Schulz was buried in Sebastopol, California, with full military honors. Fittingly, four Sopwith Camel biplanes (Snoopy's plane from his battles with the Red Baron) performed a flyover. A few months later, nearly 100 of Schulz's fellow cartoonists showed their appreciation with Peanuts-themed comic strips.
According to Robert Thompson, a professor of popular culture at Syracuse University, Peanuts may be the "longest story ever told by one human being." He pointed out that the 50-year journey of the Peanuts gang is longer than that of any epic poem ever written, and dwarfs any Tolstoy novel or Wagnerian opera. One of Schulz's heroes and best friends, a World War II cartoonist named Bill Mauldin, summed up Sparky's impact: "I rank Schulz with Gandhi in the scope and influence on people in the 20th century. Sure, Gandhi spoke to multitudes, but has anybody counted Schulz's circulation? And the same message is conveyed: Love thy neighbor even when it hurts. Love even Lucy."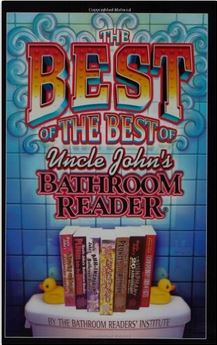 This article is reprinted with permission from The Best of the Best of Uncle John's Bathroom Reader. They've stuffed the best stuff they've ever written into 576 glorious pages. Result: pure bathroom-reading bliss! You're just a few clicks away from the most hilarious, head-scratching material that has made Uncle John's Bathroom Reader an unparalleled publishing phenomenon.
Since 1987, the Bathroom Readers' Institute has led the movement to stand up for those who sit down and read in the bathroom (and everywhere else for that matter). With more than 15 million books in print, the Uncle John's Bathroom Reader series is the longest-running, most popular series of its kind in the world.
If you like Today I Found Out, I guarantee you'll love the Bathroom Reader Institute's books, so check them out!