The Unwilling Soldier of Three Armies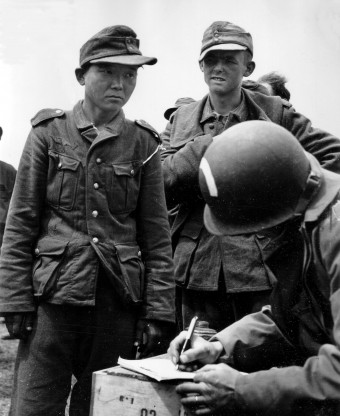 A lot of things happened on D-Day- the largest seaborne invasion in history took place; James "Scotty" Doohan from Star Trek fame was shot six times by his fellow countrymen; and Mad Jack Churchill stormed the beach with a sword and a bow. Another unusual thing that occurred was the capture of what initially was assumed to be a Japanese soldier in a German uniform by American paratroopers. As it turns out, this soldier was neither Japanese nor German and was in fact a young Korean man who, through a bizarre series of incidents, had been conscripted to fight for the Soviets, the Japanese and the Germans during WW2. This is the story of Yang Kyoungjong.
Little is known about Yang's life prior to his service in WW2 other than that he was a native Korean who happened to be living in Japanese controlled Manchuria at the start of WW2. Due to this, Yang found himself conscripted against his will in 1938 and forced to serve in the Kwantung Army at just 18 years old.
After basic training, Yang was sent to take part in what has since become known as the Battles of Khalkha Gol, along the borders of Manchuria. These battles were mostly fought between the Kwantung Army and a combined force consisting of Mongolian and Soviet troops (the two countries were allies at the time) around the Khalkha River, which the Japanese insisted fell within the borders of Manchuria, despite claims to the contrary from Mongolia.
During one particularly heated battle, Yang was captured by the Soviets in 1939 and sent to a labor camp. If the Soviet Union hadn't suffered intense casualties fighting Nazi Germany on the Eastern front in the latter half of the war, this is probably where Yang would have stayed for the duration of WW2.
But as its pool of able bodied men had been severely depleted by extensive engagements against the Nazis, Soviet military officials made the decision in 1942 to replenish their fighting force by "drafting" thousands of POWs. Among the soldiers drafted was Yang who was once again forcibly made to join the fight in WW2- this time under the Soviet Flag.
Yang's service with the Soviets lasted about a year, during which time he took place in numerous engagements along the Eastern Front, most notably the Third Battle of Kharkov. It was in this battle that he found himself once again a prisoner of war for yet another nation.
The Germans were apparently unconcerned with how a Korean had come to end up fighting in Ukraine for the Soviets and simply took him prisoner along with hundreds of other soldiers. Again, the interesting part about Yang's story would likely have ended here if the Nazis weren't in the habit of allowing prisoners they didn't execute to "volunteer" to serve with the Wehrmacht following their capture.
As a result of this practise, Yang was conscripted to fight in a German Ostbataillone (literally: East Battalion) in the 709 Infanterie-Division of the Wehrmacht. For the curious, Ostbataillones were small battalions of men comprised of "volunteers" from the numerous regions of Europe Nazi Germany controlled. These were folded into larger units of German soldiers to serve as shock troops and backup to more experienced Wehrmacht battalions.
After being conscripted to fight for the Third Reich, Yang was sent to help defend the Cotentin peninsula in France shortly before D-Day. When D-Day arrived and Allied troops successfully stormed the beaches, Yang was among a handful of soldiers captured by the United States' 506th Parachute Infantry Regiment.
Initially it was reported by Lieutenant Robert Brewer of the 506th that they'd captured "four Asians in German uniform". While this was technically true, the 506th mistakenly believed the four men (Yang included) were Japanese. In reality, three of the men hailed from Turkestan while Yang, as already noted, was of Korean heritage.
Unable to communicate with Yang due to him not being fluent in either English or German, Yang was sent to yet another POW camp, this time in Britain, where he mercifully remained until the end of the war.
When WW2 ended, Yang chose not to return home, but instead immigrated to the United States where once again his story becomes hazy. The only thing we can find for sure about Yang's life after WW2 is that he eventually ended up settling in Cook County, Illinois where he quietly passed away in 1992. Very unfortunately for those of us who like all the little details of a story, such as Yang's thoughts on his experiences in WW2 and how he got through it all, after the war, Yang never talked publicly about his WW2 misadventure. In fact, according to a December of 2002 article on Yang that appeared in Weekly Korea, he didn't even discus it with his three children, leaving us to wonder.
If you liked this article, you might also enjoy our new popular podcast, The BrainFood Show (iTunes, Spotify, Google Play Music, Feed), as well as:
Expand for References