This Day in History: July 20th- First!
This Day In History: July 20, 1704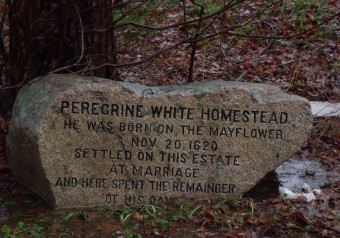 The first baby born in the Americas to those who traveled over on the Mayflower was the second child of William and Susanna White, who are thought to have been part of a London merchant group, rather than the Leiden Holland religious movement. The couple boarded the Mayflower in England with their young son Resolved. They named their second son Peregrine, which means "one who journeys to foreign lands" or, more succinctly, "pilgrim." Fitting, considering he was born while the ship was at anchor in Provincetown Harbor in late November of 1620.
During that first winter in the New World, William White, like so many others of this group, died.  Just three months later on May 12, 1621, Susanna married another Mayflower passenger named Edward Winslow. The couple went on to have two children of their own and the family of six settled in Marshfield, MA, just north of Plymouth.
Peregrine did very well for himself throughout his life. He was a member of the militia as a lieutenant and then as a captain. He served as a representative to the community's general court and, like most settlers, he was also a farmer. He enjoyed minor celebrity status for being the first of his community born in the region, but it didn't spare him from being brought before the local judge for "fornication before marriage" with his bride-to-be Sarah Basset.
The randy young couple married in 1648 and eventually had seven children. They moved onto land owned by Sarah's parents, who arrived in Plymouth on the Fortune in 1621. Peregrine was eventually given 40 acres of his own to farm, then granted even more in 1655 for being "first of the English that was borne in these ptes."  Then a couple decades later he was granted another 100 acres, making him relatively well off for his time.
He died on July 20, 1704 at the age of 83.
His obituary in the Boston Newsletter read:
Marshfield, July, 22 Capt. Peregrine White of this Town, Aged Eighty three years, and Eight Months; died the 20th Instant. He was vigorous and of a comly Aspect to the last; Was the Son of Mr. William White and Susanna his Wife; born on board the Mayflower, Capt. Jones Commander, in Cape Cod Harbour, November, 1620. Was the First Englishman born in New-England. Altho' he was in the former part of his Life extravagant; yet was much Reform'd in his last years; and died hopefully.
If you liked this article, you might also enjoy our new popular podcast, The BrainFood Show (iTunes, Spotify, Google Play Music, Feed), as well as:
Bonus Fact:
The honor of the first known English baby born in the New World goes to Virginia Dare of the Roanoke Colony, who was born on August 18, 1587.
Expand for References