Why Dean Martin and Jerry Lewis Split Up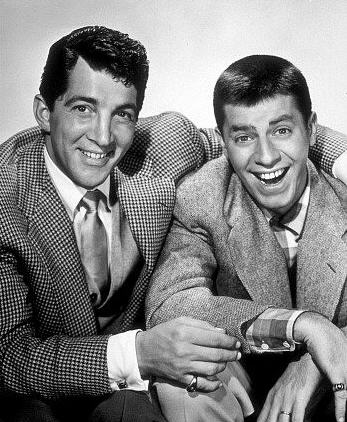 Dean Martin and Jerry Lewis were, in my own humble opinion, the greatest comedy team in the history of show business.
I like Laurel and Hardy very much; I love the Marx Brothers and I idolize the Three Stooges, but there was something so electric about Dean and Jerry. It was a new concept, a fresh idea, teaming up a handsome, smooth, ultra-cool singer with a funny guy, his antithesis, his pesky kid brother- a monkey.
Somehow the mix worked perfectly.
Dean and Jerry were together as a team for 10 years, from 1946 to 1956, and although they existed as a team before I was even born, I have worshipped Martin and Lewis from day one.
I first saw them together in the 1956 movie Pardners, a comedy western, it was re-released in 1963 and I must have seen this film in that year. I remember my Uncle Harvey was with my dad as they picked me up from the Strand theater. I raved on about how great Dean and Jerry were and Uncle Harvey said, "They went pffft." (Yes, he made that sound.)
I didn't understand what he meant at the time, but of course, I do get it now. From 1949 to 1956, Martin and Lewis had great success in movies (the two made 16 films together and every one made a boatload of money.) They were also a hugely popular live act, touring the country to wild acclaim, in nightclubs and other live appearances.
Few realize it, but Martin and Lewis were the first comedy team to strike it big on television. Dean and Jerry periodically co-hosted a variety show called "The Colgate Comedy Hour" from 1950 to 1955, and the two were a huge ratings smash.
So with all this lucrative success, why did Martin and Lewis break up?
When Dean and Jerry did split in '56, the commonly given reason was their respective work ethics.
Jerry was a self-acknowledged workaholic. He was a whirling dervish of energy (and raw talent) and he wanted to churn out more and more films, TV shows, and live appearances.
On the other hand, while Dean liked the work, he loved his golf. Dean only enjoyed working "so much", then he liked to get out onto the links and tee off… a simple enough explanation for the breakup.
But pinpointing the reasons regarding such a split, like trying to surmise why any couple splits up, is usually not so simple.
It is usually not just one thing, more likely a compound of several factors, each one to a greater or lesser degree.
Reason Two Commonly Given For the Split Up: Jerry was "taking over" the act.
Although most people of our generation know Dean Martin as a funny, personable, talented singer, at the time of Martin and Lewis, he was basically thought to be a "fifth wheel", a lucky guy who latched onto a multi-talented, brilliant comedian. Dean Martin and Jerry Lewis were thought of as "a nice guy straight man" with "a great comedian" who basically carried the act.
While Dean was fairly content to be a singer/straight man to Jerry, Jerry had huge ambitions. Jerry, admittedly, wanted to "make them forget (Charlie) Chaplin". Even as early as the mid-1950's, he was dreaming of not only being a comedy star, but branching out into directing, producing, writing, and many other fields.
The fact that Jerry Lewis was regarded as the "real star" of the act wasn't the most pleasant news to Dean Martin. Contemporary reviewers would constantly rave over Jerry's performances and generally dismiss Dean, often not even throwing him a bone.
Dean (as would almost anyone) developed a sour attitude about being Jerry's partner, especially knowing full well that he was a great straight man and helped the act tremendously. (Jerry, to his credit, always acknowledged Dean's contribution to their act, calling him a "genius" and "the greatest straight man in the history of show business'.)
Reason Three Commonly Given for the Breakup: Their wives.
Jeanne Martin and Jerry never really got along very well (Jerry and his wife Patti, were very close to Dean's first wife, Betty, and when Dean divorced Betty to marry Jeanne, she claimed they gave her the "deep freeze".) As Jeanne Martin was to admit, "Whether they admit it or not, two women can do more to drive two men apart [faster than any other factor]."
For instance, according to one source, late in their partnership, at a party, Dean made a crack about Patti Lewis' morals before she'd married Jerry and the two almost came to fisticuffs.
Reason Four: Dean and Jerry developed different ideas about the act.
Early on in their movies and TV shows, Jerry tried to bring in more and more pathos, against Dean's wishes. Like Charlie Chaplin, he wanted his character to be a sympathetic figure, the "little guy" you felt and rooted for.
In one sketch on their TV show, all the men in the bit find attractive women dance partners and dance with them, while Jerry is left alone to dance with a lady mannequin.
According to Jerry, "Dean just hated the bit."
"Why don't you cut out all this sad stuff and just be funny?", Dean said in frustration.
Other minor incidents occurred, motivating Dean's unhappiness. On the set of their 1954 movie "Three Ring Circus", a group of young boys approached Dean.
"Hey mister", they asked, "Where's Jerry Lewis?" According to a witness, he never saw such a hurt look on a man's face as he saw on Dean's face that day.
The proverbial "last straw" came in 1956 when Dean and Jerry were scheduled to star in the movie "The Delicate Delinquent". In the film's script, Dean was to play a policeman. But Dean didn't relish the idea of playing a cop and refused. "Then we'll just have to get someone else", said Jerry loftily.
"Start looking, boy!" said Dean as he stormed away.
Thus, the two who had made millions of dollars together and made the world laugh so richly broke up. I think Jerry Lewis said it best himself: "…the man said to the other man, 'Those are beautiful shoes you're wearing'. And the other man replied, 'Yes, but I'm the only one who knows how much they hurt.'