Female Ferrets Will Die If They Don't Mate
Today I found out that a female ferret (A.K.A. Jill) will die if she doesn't mate.  It's one thing to say, I swear I am going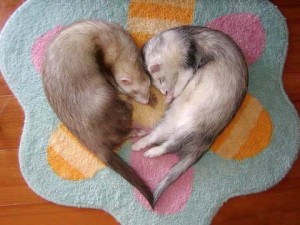 to die if I don't get some soon.  For Jill however, when sheis in heat, if she doesn't find a mate she will secrete high levels of estrogen and if this hormone stays in the blood for a prolonged period of time, it will cause a progressive depression of  bone marrow that results in a severe, life threatening aplastic anemia which is fatal.
It's not like she needs to get pregnant, she simply needs the act of mating.  (we've all been there) The physical act of mating induces ovulation in Jill and will bring her out of estrus.  She'll then have a false pregnancy that will go full term,  (about 40 to 45 days), but without the nasty side-effect called kids.
Jill has a very unique reproductive system, namely it includes induced ovulation.  This basically means she will stay in heat or estrus until the physical act of mating is performed.  Once she has mated, Jill and Hob or Hobbet (Manly ferrets) go their separate ways.  She will go through the pregnancy and give birth and raise the young all on her own.  The Hob has no responsibilities what-so-ever.  (Oh, if only reincarnation we real.  Talk about winning the lottery!)
Thanks to medical miracles though, if you have a Jill and she is in heat and you can't find Hob anywhere, you can take Jill to the vet and they can give her an injection of hormones called a "Jill Jab" which in turn will terminate estrus.  While this method isn't near as much fun as the natural method, it will keep her living a long and wonderful life.
What a great pic-up line if you were a Hob.  "Hey baby, I'll save you!"  Then he can go around all day and brag about how many Jill's he saved.
Bonus Ferret Facts:
Typical Life Span is 5 to 8 years.
All Ferrets are born deaf.  They will begin to hear around 34 days.
Ferrets are born with their eyes shut.  They will begin to open around 34 days. (Day 34 is going to be a good one)
All Ferrets are white when born.  Their color will begin to appear around the age of 3 weeks.
Ferret's sexual maturity is reached between 5 and 6 months.
A ferret's heart will beat anywhere from 200 to 250 beats per minute.
Expand for References: