Could the Tyrannosaurus Rex Really Not See You If You Didn't Move?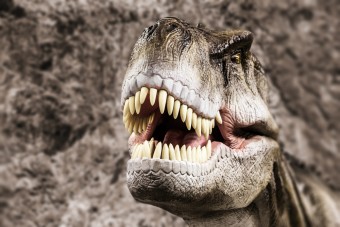 In this episode of The Brain Food Show, we start out with a follow up to a previous episode in which we mentioned Teddy Roosevelt likely helped delay the start of WWI, but then never actually said in that episode how.
Next up we discuss whether the Tyrannosaurus Rex could really not see you if you didn't move as depicted in Jurassic Park, as well as a few other interesting Jurassic Park factoids.
Then we get into a little podcast feedback and finish up by discussing the interesting thing that would have actually happened in Finding Nemo when Nemo's mother died had it been more accurate.
And if you're wondering why we aren't announcing the winner of the contest in this one, it's because we recorded this one before the Caesar series over a month ago and simply completely forgot about it… So it's a little behind the times. 🙂
On another note, if you could do us a huge favor and rate and review this show in whatever podcasting platform you're using (including hopefully giving us some feedback related to the new format), we would be extremely grateful. Thanks!
(You can also discuss this episode and view references on The BrainFood Show forum here.)
Don't miss future episodes of this podcast, subscribe here: iTunes | Spotify | Google Play Music | Stitcher | RSS/XML
You can also find more episodes by going here: The BrainFood Show
Podcast (brainfood): Play in new window | Download (Duration: 1:01:15 — 140.2MB) | Embed
Subscribe: Apple Podcasts | Android | Google Podcasts | Stitcher | RSS