Velcro Was Modeled After Burrs of the Burdock Plant that Stuck to Velcro's Inventor's Pants After a Hunting Trip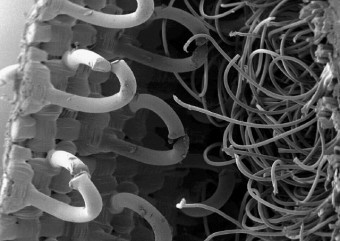 Today I found out Velcro was modeled after burrs of the burdock plant that stuck to Velcro's creator's pants after a hunting trip.
The inventor of Velcro, more generically known as a "hook and loop fastener" or "touch fastener" as "Velcro" is technically just a brand of that product, was Swiss engineer, Georges de Mestral.  After going out on a hunting trip with his dog in the Swiss Alps, his pant legs and his dog's hair were covered in burrs from the burdock plant.  As an engineer, he naturally began to wonder how exactly the seeds stuck so effectively to his pants and his dog.  He then examined the burrs under a microscope and discovered that they had very tiny hooks which allowed the seeds to catch on to things like fabrics, which have tiny loops.
Hook and loop fasteners have been common for hundreds of years, but up this point no one had ever made a hook and loop fastener on the tiny scale of these burdock plant burrs.  Not to be deterred by the difficulty in making hooks that small, de Mestral then set about trying to replicate these hooks to try to make a material that could easily "stick" and be removed, principally initially having in mind creating a "zipperless zipper".
His first prototype for Velcro was using two cotton strips, with one of the strips having hundreds of randomly situated tiny hooks embedded.  The random placement would allow the hooks to be more likely to find a loop in the fabric with the loops also randomly sewn in.  This worked well at first, but the cotton hooks didn't stand up over many detachments.  After developing many different methods for creating the tiny hooks and loops, he eventually found that heat treated nylon worked best for his product, being very durable, and that he could more easily create the hooks by simply making both sides of the material with the loops, then cutting the tops off the loops.
Even though he now had a durable way to mimic the tiny hooks/loop sticking mechanism of the burdock seeds, he still had no way to mass produce Velcro.  It took another ten years before he finally invented a loom that could automatically weave the nylon appropriately and then trim the loops.  His hard work paid off though with Velcro's popularity skyrocketing within just a few years of de Mestral being granted a patent for his "zipperless zipper" in 1955.
Bonus Facts:
The word "Velcro" is derived from the French "velour" (velvet) and "crochet" (hooks), so essentially "hooked velvet".
Velcro received a huge boost in popularity after being used by NASA on parts of astronaut's space suits as well as used to allow astronaut's to store things along the walls of their space craft.  Because of this, similar to Tang, it is a common misconception that Velcro was invented by or for NASA.
The company de Mestral started to sell his hook and loop fastener through, Velcro, has forbidden its employees to use the term "Velcro" due to the fact that their brand has become a genericized trademark, like Xerox or "Philips" screwdrivers.  The employees are instead instructed to call their product a "hook and loop fastener"; "hook tape"; or "loop tape".
de Mestral's patent for Velcro expire in 1978, after he was unsuccessful in updating it.
Velcro hooks were later found to be able to be significantly strengthened by adding polyester to the nylon filaments.
A two inch square piece of modern Velcro is strong enough to hang 175 pounds from.
During the first ever human artificial heart transplant, Velcro was used to hold together the heart during surgery.
The Velcro used by NASA today is made with Teflon loops, polyester hooks, and has a glass backing.  They even use it in the astronaut's helmets where a small strip functions as a nose scratcher.
The U.S. army uses a near silent version of Velcro on their soldier's uniforms.  The version they use reduces the ripping noise by about 95% over traditional Velcro.  Unfortunately you won't see such Velcro for sale in the store anytime soon as the method of manufacturing this silent Velcro is currently classified.
Velcro was not de Mestral's first patented invention.  At the age of 12 years old he invented a toy airplane that he subsequently patented.  He also later patented a hygrometer, which is a device that measures humidity in the air, and an asparagus peeler.
Expand for References: