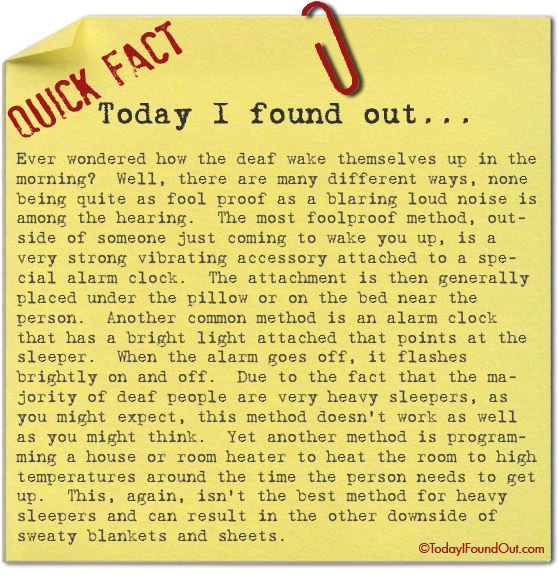 Embed This Quick Fact:

Click Here for Sources and to Learn How Deaf People Think
Ever wondered how the deaf wake themselves up in the morning?  Well, there are many different ways, none being quite as fool proof as a blaring loud noise is among the hearing.  The most foolproof method, outside of someone just coming to wake you up, is a very strong vibrating accessory attached to a special alarm clock.  The attachment is then generally placed under the pillow or on the bed near the person.  Another common method is an alarm clock that has a bright light attached that points at the sleeper.  When the alarm goes off, it flashes brightly on and off.  Due to the fact that the majority of deaf people are very heavy sleepers, as you might expect, this method doesn't work as well as you might think.  Yet another method is programming a house or room heater to heat the room to high temperatures around the time the person needs to get up.  This, again, isn't the best method for heavy sleepers and can result in the other downside of sweaty blankets and sheets.