Jus Primae Noctis: Fact or Fiction?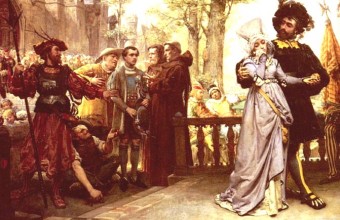 The practice of jus primae noctis ("right of the first night") is, in simplest terms, the right of the local noble to deflower local peasant brides on their wedding night before their newlywed husbands. Precedence for this practice supposedly goes back for many thousands of years, with the first reference of something like it going all the way back to the Epic of Gilgamesh from over four thousand years ago. This practiced (apparently) reached its crescendo during the Middle Ages in Europe, and today is popularly depicted in Hollywood in such films as Braveheart.
But did it really ever happen?
Numerous historians have studied the subject and the result is that it turns out there is no solid evidence of this practice happening in reality at all. Not a single well documented incident recorded, nor a single victim's name passed down.  It could be argued that women in these periods, in general, would not be considered noteworthy, especially peasant women, but with a practice spanning (supposedly) thousands of years, and the presumable rage it would induce in the peasant populace, not to mention occasional bastard offspring and perhaps a boatload of secret weddings to avoid the issue, odds are at least a few documented cases would manage to make it down through posterity.  Or even just a record of the law in some court case, as there are such records of numerous other laws. But any such evidence simply doesn't exist outside of fictional works or, for instance, cases where people were trying to rally the peasant class against their lords using the supposedly former practice of jus primae noctis to whip the mob up.
In fact, the very first mention of this in the Epic of Gilgamesh, we see the hero Enkidu, who was sent by the gods to stop Gilgamesh after the people cried out to the gods for aid, physically blocking a wedding place to challenge Gilgamesh over this appalling abuse of power.
In another early account (in the 5th century BC), Heraclides Ponticus describes how the king of the Island of Cephalonia instituted this practice.  Once again, the commoners weren't pleased and one man went ahead and dressed himself as a bride and subsequently murdered the king when the monarch tried to exercise his lordly right.  For his efforts, the cross-dressing man was made the new king by the overjoyed masses.
There's also the matter of disease to consider.  While these girls were all (supposedly) virgins on their wedding day, that didn't mean they were free from diseases that frequently devastated life through most of history. And, let's face it, these lords weren't just sleeping with these women, but many others to boot.  If the lords were truly sleeping with many or all of these women in their little fiefdoms, beyond spreading diseases to every corner of their lands, jus primae noctis would have been a deadly law for a lord of a fiefdom of any real size, assuming he chose to enforce it.
So it should come as no surprise then, that while it's possible there exists a few rulers in history who actually tried something like this at some point, as mentioned, most historians think the vast majority of accounts are pure fiction or exaggeration.  For instance, Louis Veuillot writing in France during the 19th century stated: "Nothing, absolutely nothing, in the archives of Justice authorizes us to say that our forefathers ever made a crime into a law. If we search the evidence and the literature we find the same silence everywhere. The Middle Ages had never heard of the droit du seigneur [aka jus primae noctis]."
Other European scholars shared Veuillot's opinion. Germany's Karl Schmidt penned a thorough treatise on jus primae noctis in 1881, and came to the conclusion that is was "a learned superstition." Over and over again historians from then to now have tried to find hard evidence of this occurring and come up empty, despite the numerous accounts, sometimes explicitly fictional and other times thought to be, throughout written history in nearly every major culture. For instance, famed philosopher Hector Boece in the 16th century described this practice perfectly during the reign of the Scottish king Evenus III and claimed the practice went on for centuries.  It turns out, though, no such king ever existed and much of Boece's accounts concerning many of the legendary kings of Scotland are thought to be pure fiction. Similar fictional trends are seen elsewhere concerning this supposed law.
Back to Europe and the middle ages, what is true is that in many feudal societies, peasants were required to get permission from their lord to marry. This requirement was called the culagium. This often involved payment of a fee to be granted such permission (some claim this law replaced jus primae noctis, but while there is hard evidence of culagium, not so much with jus primae noctis, as mentioned). Besides an extra source of revenue, another purpose of the culagium was the nobles safeguarding their investment by making sure they didn't lose their valuable serfs to a neighboring lord for nothing.  In essence, jus primae noctis in some cases functioned as a tax due when a serf's daughter married a man not on the lord's estate. By requiring the tax, it also made it easier to track such movements in populace, as well as perhaps deny it when prudent.
In addition, in some areas the Church also demanded payment of a fee to get the couple out of a three day waiting period before consummating their union. (One can only imagine how they tracked this.)  During that three day waiting period, the betrothed were supposed to be deep in prayer to prepare themselves fully for their physical (and spiritual) union.  Of course, payoff your local clergy and you could go forth with a clear conscience.
In the end, let's face it, life was brutal for peasants, and especially peasant women, in this era. When they weren't being wiped out by some pandemic, humiliation and subjugation were just accepted facts of life for those born into the lower social orders. Jus primae noctis or not, female serfs were at the mercy of their lords (and others), who really didn't need an excuse, a law, or a wedding to rape or assault the serfs inhabiting their land. The peasant class didn't appreciate this (or many other such abuses) one bit, and so it's no surprise that they would rally around a concept like jus primae noctis during various uprisings and instances of political discourse. In slightly more modern times, this was, for instance, a favorite weapon against nobility and clergy used by the great enlightenment thinker Voltaire.  (Voltaire also, incidentally, made his fortune by helping to rig the lottery.)
As J.Q.C. Mackrell states in his book, Attack on Feudalism in the 18th Century France, "the Philosophes used the Droit [jus primae noctis] as a ploy to exaggerate the specter of oppressed Serfs. (For them) no charge was too absurd…"  It should be noted here that at this time in France it was also said that lords used to claim the right of droit de prélassement  (right of lounging), a right of a lord to use one of his subject's entrails, freshly ripped from the body, to warm the noble's feet… No charge too absurd indeed.
If you liked this article, you might also enjoy our new popular podcast, The BrainFood Show (iTunes, Spotify, Google Play Music, Feed), as well as:
Bonus Fact:
Besides the lordly right to first night, the fourteenth century Sir John Mandeville claims during his travels he encountered an island "Where the custom is such that the first night that they be married they make another man to lie by their wives for to have their maidenhead…for they of the country hold it…so perilous for to have the maidenhead of a woman.. I asked them the cause why that they held such custom: and they said, that of the old time man had been dead for deflowering of maidens, that had serpents in their bodies that stung man upon their yards [penis], that they died anon."
Despite most movie fans connecting the nickname "Braveheart" with William Wallace because of the award winning film with Mel Gibson (1995), in real life the specific nickname actually belonged to one of the semi-bad guys depicted in the film- Robert the Bruce. While Robert (then the Earl of Carrick) really did switch sides several times during the Wars of Scottish Independence, there is no record of him betraying Wallace and the Battle of Bannockburn wasn't waged spontaneously as it seemed in the movie.  He had been battling the English for nearly a decade up to that point. Robert ultimately became the King of Scots from 1306 and held that title until his death in 1329.
Expand for References