Frogs and Milk- How to Keep Milk from Spoiling Without Refrigeration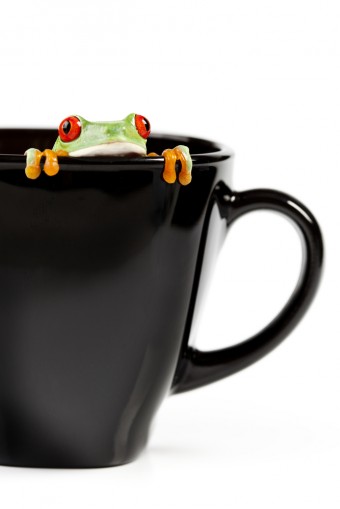 For centuries, before refrigeration, an old Russian practice was to drop a frog into a bucket of milk to keep the milk from spoiling. In modern times, many believed that this was nothing more than an old wives' tale. But researchers at Moscow State University, led by organic chemist Dr. Albert Lebedev, have shown that there could be some benefit to doing this, though of course in the end you'll be drinking milk that a frog was in.
Ice boxes first became available to consumers in the early to mid-19th century and, with that, the ice trade became big business. New England and Norway became major purveyors of ice, but anywhere it was cold, ice was a major export.  Usually made out of wood with tin or zinc walls and insulation material like sawdust, cork, or straw, ice boxes were popular until they were rendered obsolete by the electrical refrigerator starting around the 1930s.
Jacob Perkins invented the first version of the refrigerator in 1834 when it was discovered that the hazardous compound ammonia, when liquefied, had a cooling effect. But it wasn't until the late 1920s when Freon was developed by General Motors and DuPont as a "nontoxic" cooling agent, and replaced ammonia, that refrigerators for consumers started to gain traction.
Despite the prevalence of ice in parts of Russia, in certain small rural Russian villages many didn't have access to ice boxes, so they had to find ways to keep things cold and unspoiled. A practice developed, that continued into the 20th century, as described by Dr. Lebedev from memories from his childhood,
[For] small portions of milk to drink, they used to put [a] frog inside… A small frog over there could prevent the milk from being spoiled.
This rather curious practice was an inspiration for a study and, then, a discovery that may lead to a significant new source of antibiotics. In 2010, scientists from United Arab Emirates University made an announcement that the secretions from certain frogs' skins have antibacterial and antifungal properties. Using species native to African countries, they studied the compounds coming from the frogs, which are known as antimicrobial peptides and are a string of amino acids.
After isolating these compounds, they began testing them against various bacterial infections. For example, the dreaded "Iraqibacter," a drug-resistant bacterial infection that has been known to hit wounded soldiers in Iraq could (once again, potentially) be fought with a compound found in the skin of a mink frog that are native to North America. Secretions from a foothill four-legged frog may have the potential to fight the well-known resistant MRSA staph skin infection.
In 2012, scientists from Moscow State University decided to take this a step further by breaking down the compounds and studying the individual peptides. In a study entitled "Composition and Antimicrobial Activity of Skin Peptidome of Russian Brown Frogs" published in the Journal of Proteome Research in November 2012, and using Russian brown frogs (which are edible and considered a delicacy), they extracted secretions by applying electrodes.
What came out was a cocktail of 76 different peptides that all had different properties. Michael Zasloff, now a professor at Georgetown University, but formerly a researcher with the National Institutes of Health said in an interview that, "What is amazing is that no two frogs have the same cocktail. They're all different, and all beautifully tuned to deal with the microbes that these animals face."
As promising as the results are so far, many scientists are skeptical of any real benefit coming from them. For instance, Jun O. Liu, a professor of pharmacology at John Hopkins University School of Medicine, stated in reference to other apparent natural occurring "magic antibiotics," "There are natural substances that work in a lab beautifully but then when you give it to a human it's totally inactive or it's toxic."
While this all may or may not ultimately be medicinally helpful for humans, beginning centuries ago certain Russians seem to have been on to something with putting frogs in milk to delay it spoiling. Although, I think we can all agree that putting a frog in one's milk takes a back seat to the other age-old way to store milk without refrigeration- making it into delicious cheese.
If you liked this article, you might also enjoy our new popular podcast, The BrainFood Show (iTunes, Spotify, Google Play Music, Feed), as well as:
Bonus Facts:
The world frog population is currently dwindling. For example, the United States amphibian population (which includes frogs, toads, salamanders, and newts) has been declining by 3.7 percent per year of late, according to a U.S. Geological Survey released in May 2013. While the study didn't give firm answers to why this happening, the scientists in the report speculated that possible factors could include climate change, disease, and drought.
"Freon" is the trade name used for a group of chemicals known as chlorofluorocarbons, or CFCs. Refrigerators and air conditioners were developed to use these chemicals and were sold as consumer products for the home. Today, of course, it has since been discovered that there are irrefutable links to CFCs, Freon, and the depletion of the Ozone layer.
Expand for References