This Day in History: April 4th
Today in History: April 4, 1960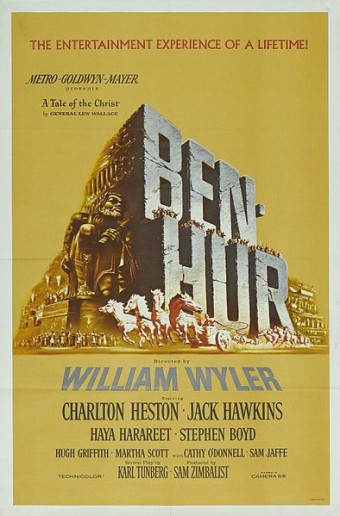 On April 4, 1960 "Ben Hur" dominated the 32nd annual Academy awards at the RKO Pantages Theatre in Hollywood, setting a new record sweeping 11 of the 12 categories it was nominated for, including Best Picture, Actor, and Director. The epic historical drama was adapted from a novel written in 1880 by Lew Wallace called "Ben Hur: A Tale of the Christ," and was a remake of an earlier silent film bearing the same name.
"Ben Hur" tells the story of Judah Ben-Hur, a young, aristocratic Jewish man living in Judea fighting against the oppressive Roman rule in 26 A.D. His principles cause him to lose his fortune, his family and his freedom. He eventually overcomes his many obstacles and reunites with his family. His life and that of Jesus intertwines throughout the movie, culminating in the crucifixion, and Ben's mother and sister miraculously healed from leprosy.
Though it's hard to imagine anyone else playing the title role, a Hollywood Who's Who of well-known actors took a pass on the role of Judah Ben-Hur before Charlton Heston said he'd give it a go. Paul Newman refused the part because he claimed he didn't have the gams to sport a tunic. Burt Lancaster thought the script was a bore. Leslie Nielsen, Rock Hudson and Marlon Brando all said "thanks, but no thanks." Heston was game though, and was formally cast for the role on January 22, 1958.
Filmed in Italy with a budget of $15 million (about $120 million today), "Ben Hur" was the costliest film ever made up to that point. The chariot race, which clocked in at nine minutes and was destined to be one of the most iconic movie scenes ever, involved 15,000 extras and took three weeks to shoot. With the exception of the most dangerous stunts, Heston and Stephen Boyd, who played the part of Messala, did the chariot driving for the film. It achieved the desired affect. The New York Times' Bosley Crowther described the scene as a:
…stunning complex of mighty setting, thrilling action by horses and men, panoramic observation and overwhelming dramatic use of sound.
For years urban legends have circulated purporting that a stuntman died during the filming of the chariot race. There have even been claims that the cameras kept rolling as the poor fellow died, and his demise was there for all to see in the film. This claim was shot down in 2005 by film historian Monica Silveira Cyrino, who reported there were no accounts of any serious injuries, much less any fatalities, that stem from the filming of the chariot scene. But good story, bra.
"Ben Hur" held the record for most Oscars until "Titanic" came along in 1998, and then "The Lord of the Rings: The Return of the King" in 2004. But these films didn't break the record set by "Ben Hur," they only matched it.
If you liked this article, you might also enjoy our new popular podcast, The BrainFood Show (iTunes, Spotify, Google Play Music, Feed), as well as:
Expand for References