This Day in History: January 31st
Today in History: January 31, 1990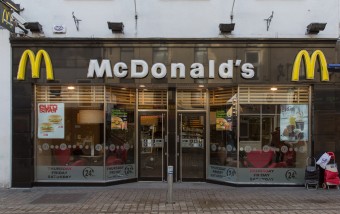 After slogging through 14 years of red tape, the first McDonald's in the Soviet Union opened its doors in Moscow this day in 1990. It was the largest McDonald's restaurant in the world, with enough seating for 700 people and the ability to serve 15,000 to-go orders daily.
McDonald's Canada was at the helm of the Moscow franchise with minimal input from the U.S. parent corporation for political purposes. To drive the point home, a wall display in the restaurant featured Soviet and Canadian flags. In order to deal with supply issues in a country as vast as the U.S.S.R., the company created its own supply network, including farms and distribution systems.
To the average Soviet, these details meant very little. On January 31, 1990, people waited hours (seriously, check out this line) to spend several days' pay just for a McWhatever with fries and a coke. This may seem slightly insane to those of us who can obtain this artery-clogging crap any time the mood hits us for little more than pocket change, but to Soviets of the time it was a Very Big Deal.
The early 1990s were a time of quickly evolving political and cultural change in the Soviet Union. The notion that an icon of decadent capitalism such as the fast food chain McDonald's could make it past the Iron Curtain was proof positive that a shift had already occurred in Russia's political axis. For the Soviets, it was the first time they were given the choice to participate in a self-inflicted gastro-intestinal nightmare, something those in the west just take for granted.
Two years later, the Soviet Union no longer existed, Mikhail Gorbachev had stepped down as leader, and numerous Soviet republics were declaring their independence. Of course, no-one is suggesting that Mayor McCheese can take any credit for this, because if the timing hadn't been right, the Golden Arches never would have replaced the Iron Curtain. But really, the Soviets had a taste of capitalism's most delicious fries and then the Soviet Union fell… coincidence?!?! 😉
If you liked this article, you might also enjoy our new popular podcast, The BrainFood Show (iTunes, Spotify, Google Play Music, Feed), as well as:
Expand for References