The First British Surgeon to Perform a Successful C-Section Was a Woman Disguised as a Man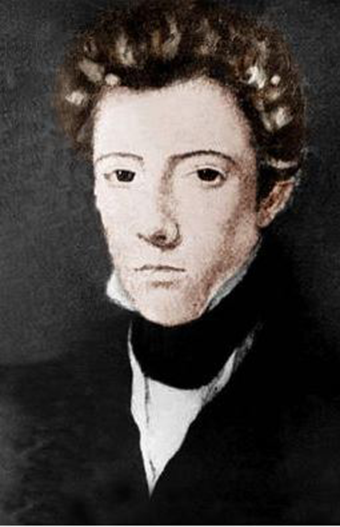 Today I found out that James Barry, the first British surgeon to perform a C-section in which both the mother and baby survived, was born a woman.
It is believed that "James Barry" started out in life as Margaret Ann Bulkley. She was born around 1789 in Ireland. Not much is known about her childhood, except that when it came time for her elder brother, John Bulkley, to start a career and get married, the family was plunged into poverty. John's wedding alone cost £1500, not to mention the huge expense of apprenticing him to an attorney. Margaret's father ended up in prison, and without any help from the ungrateful brother, her mother packed up Margaret and her sister and moved to London in hopes of finding work.
We also know that Margaret had not finished her education by the time she was 14 or 15. Her mother wrote to Margaret's uncle James Barry, an artist, complaining:
What did you give my Child when she was here last June, did you ask her to Dinner, in short did you act as an Uncle or a Christian to a poor unprotected unprovided for Girl who had not been brought up to think of Labor and, Alas! whose Education is not finished to put her in the way to get Decent Bread for herself & whose share has been given to a Brother.
Mrs. Bulkley did not ask for money outright, and it's unclear whether James would have been able to give anything if he wanted to—he doesn't appear to have been very rich. However, when he died in 1806, his assets were liquidated and the money split between Mrs. Bulkley and her remaining living brother, with some of the money set aside for Margaret. But more importantly, James ran with a liberal, forward-thinking crowd. Two of his friends likely took Margaret under their wings. One of them was a doctor, the other a General who wanted to liberate his native Venezuela. They were also acquainted with William Godwin, who happened to be the widower of Mary Wollstonecraft, the writer of Vindication of the Rights of Women.
Together, they provided the ingredients for Margaret's future. The then-radical idea of sending a woman to medical school was hatched. Margaret would go to medical school disguised as a young man named James Barry after his recently deceased uncle, pass the examinations, and reveal her true identity on the way to Venezuela to help the General's cause.
And thus Margaret set off for medical school in Edinburgh in November 1809. She made the switch to the appearance of a man at the end of the month, as we can tell from a letter she wrote to a solicitor, Daniel Reardon: "… it was very usefull [sic] for Mrs.Bulkley to have a Gentleman to take care of her on Board Ship and to have one in a strange country …"
In yet another letter to Reardon sometime later, Barry reported on "his" progress in school:
… indeed everything has far exceeded my most sanguine expectations and Mr. Barry's Nephew is well received by the Professors &ca. I have been introduced to my Lord Buchan & have taken out my tickets for Anatomy, Chemistry and Natural Philosophy. I have been metriculated [sic] and attend the second Greek class at the University in fact I have my hands full of delightfull business & work from seven oClock in the morning till two the next …
It is this letter that is the first to be signed by "James Barry." However, Reardon wrote on the outside of the letter "Miss Bulkley." Comparisons between the handwriting in the letter and a previous one signed by Miss Bulkley further prove that Margaret Bulkley and the future doctor James Barry were in fact the same person.
While at school, Barry studied the sort of classes you'd expect of medical students today: anatomy, surgery, medical theory, chemistry, and pharmacy, among others. She underwent the exams in May 1812. They involved two oral exams, a written exam, and a public defense of a written thesis—all of which was in Latin. She was successful, and graduated with 57 others in her class. In doing so, she became Britain's first qualified female medical doctor.
Unfortunately, she'd hit a little snag in her plans. General Miranda had been taken prisoner and died of typhus, meaning her plans to go to Venezuela came to naught. That meant she had to continue hiding her true gender or risk all of her hard work being for nothing.
Barry decided to join the British Army instead and participate in the Napoleonic Wars. She had a good reputation and some excellent credentials, meaning she was a good candidate for the job. There was just one problem: the physical examination. It's unclear exactly how she managed to get around it, but it's probable that she obtained a certificate from a private doctor saying she was in good health.
The military sent Barry around the world: Canada, Jamaica, India, and Malta, among others. But one of her biggest accomplishments took place in South Africa in 1826. While she was stationed there, she performed a Caesarean section on a woman. This was the first known instance of a British surgeon performing the surgery with both mother and child surviving. It was remarkable at the time, as C-sections were still a rarity, performed in an attempt to save the baby only when it looked like the mother wasn't going to make it. The child, a boy, was named after "Barry".
Barry was reportedly a very good doctor with an excellent bedside manner. She was very professional and attempted to improve conditions for patients wherever she went. Barry also appeared to love working, and resisted retirement at the age of 65. She spent the next few years in London and died in 1865 of dysentery.
In her will, she stated that no post-mortem examination was to be conducted. On her death certificate it was noted that she was male, but the nurse tending her had a different story. When her doctor was questioned about the revelation, he replied with this letter:
I had been intimately acquainted with the doctor for good many years, both in London and the West Indies and I never had any suspicion that Dr Barry was a woman. I attended him during his last illness, (previously for bronchitis, and the affection for diarrhoea). On one occasion after Dr Barry's death at the office of Sir Charles McGregor, there was the woman who performed the last offices for Dr Barry was waiting to speak to me. She wished to obtain some prerequisites of his employment, which the Lady who kept the lodging house in which Dr Barry died had refused to give him. Amongst other things she said that Dr Barry was a female and that I was a pretty doctor not to know this and she would not like to be attended by me.

I informed him that it was none of my business whether Dr Barry was a male or a female, and that I thought that he might be neither, viz. an imperfectly developed man. She then said that she had examined the body, and was a perfect female and farther that there were marks of him having had a child when very young. I then enquired how have you formed that conclusion. The woman, pointing to the lower part of his stomach, said 'from marks here. I am a maried [sic] woman and the mother of nine children and I ought to know.'

The woman seems to think that she had become acquainted with a great secret and wished to be paid for keeping it. I informed his that all Dr Barry's relatives were dead, and that it was no secret of mine, and that my own impression was that Dr Barry was a Hermaphrodite. But whether Dr Barry was a male, female, or hermaphrodite I do not know, nor had I any purpose in making the discovery as I could positively swear to the identity of the body as being that of a person whom I had been acquainted with as Inspector-General of Hospitals for a period of years.
The news made headlines, but the army kept its records from the public for 100 years. That meant no one was able to get their hands on it for some time, at which point Barry's childhood history began to unravel.
As for the stretch marks that initially betrayed her, it's unknown who the child might have been or when exactly Barry carried a child, but there was a time between 1820 and 1821 when she was mysteriously absent which would have allowed her to carry the child and give birth in secret.
It is remarkable to think that Barry was able to maintain the disguise for 56 years without anyone suspecting that "he" was actually "she." Edward Bradford, who met Barry in 1832 in Jamaica, noted that he had a more feminine appearance but recorded his thoughts in a letter:
He was born prematurely and his mother died at birth. . . The stories which have circulated about him since his death are too absurd to be gravely refuted. There can be no doubt among those who knew him that his real physical condition was that of a male in whom sexual development had been arrested about the sixth month of foetal life . . .
With her medical expertise, it's likely that Barry was able to perpetuate these types of lies about herself to cover up the feminine aspects of her appearance—like a perpetually smooth chin—that she couldn't hide. Others, like Bradford, jumped to their own conclusions. After all, how could any woman pass a medical school examination and become a respected doctor?
If you liked this article, you might also enjoy our new popular podcast, The BrainFood Show (iTunes, Spotify, Google Play Music, Feed), as well as:
Expand for References