10 Strange Major League Baseball Feats That Have Only Been Accomplished Once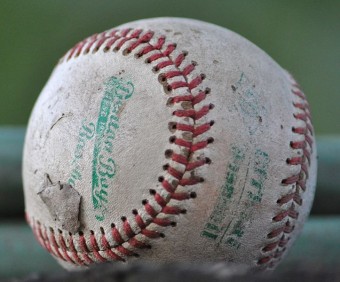 One of the great things about baseball is that it's amazing with how many games there are per season, even lifelong fans frequently see things during games that they've never seen happen before. With that in mind, here are a few of the stranger feats in Major League Baseball history that have only happened once to date:
Pitching a no-hitter on LSD: Dock Ellis of the Pittsburgh Pirates remains the only known pitcher to ever pitch a no-hitter while on LSD.  On June 12, 1970, Dock, not thinking he would be pitching that day (he had his days mixed up) took a dose of LSD.  Soon thereafter, he was summoned to start that evening's game at Three Rivers Stadium against the San Diego Padres and won the game by a 2-0 score, pitching a no hitter in the process.  In Ellis' own words, "I can only remember bits and pieces of the game. I was psyched. I had a feeling of euphoria. I was zeroed in on the [catcher's] glove, but I didn't hit the glove too much. I remember hitting a couple of batters, and the bases were loaded two or three times. The ball was small sometimes, the ball was large sometimes, sometimes I saw the catcher, sometimes I didn't. Sometimes, I tried to stare the hitter down and throw while I was looking at him. I chewed my gum until it turned to powder. I started having a crazy idea in the fourth inning that Richard Nixon was the home plate umpire, and once I thought I was pitching a baseball to Jimi Hendrix, who to me was holding a guitar and swinging it over the plate. They say I had about three to four fielding chances. I remember diving out of the way of a ball I thought was a line drive. I jumped, but the ball wasn't hit hard and never reached me."
One guy gets a hit in two different cities for two different teams on the same day:  On April 4, 1982, Joel Youngblood drove in two runs with a single for the New York Mets in a game at Shea Stadium against the Chicago Cubs.  Joel was promptly traded to the Montreal Expos.  He immediately flew to Philadelphia in time to get a hit in the 7th inning at Veterans Stadium.
Strangest ever standing ovation:  First baseman for the Pittsburgh Pirates, Dick Stuart, led the league in errors a record 7 years in a row. Stuart was renowned for his atrocious fielding and earned the nicknames "Dr. Strangeglove", "Stonefingers", and "The Man with the Iron Glove". As to his strange and one of a kind ovation, Stuart stated, "One night in Pittsburgh, 30,000 fans gave me a standing ovation for catching a hot dog wrapper on the fly."
Two players hit a homer in their first Major League at-bat in the same game:  In a game on April 19, 1938, rookies Ernie Koy of the Brooklyn Dodgers and Heinie Mueller of the Philadelphia Phillies both hit a home run in their first ever at-bat.
12 for 12 strikeouts:  As a rookie for the Brooklyn Dodgers in 1955, Sandy Koufax came to bat 12 times and struck out all 12 times.  Apparently a strikeout artist in every facet of his game. 😉
Only player to refuse a hit:  On June 17, 1942, Paul Waner of the Boston Braves had 2,999 career hits.  Paul came to bat at Pittsburgh's Forbes Field and hit a grounder that resulted in a close play and could have been ruled a hit or an error.  The game's official scorer ruled the play a hit and the crowd went crazy, cheering for Waner's 3,000th hit.  But no- Paul Waner refused to accept the hit and insisted the play be changed to an error. He explained that he wanted his 3,000th hit to clean, not "tainted", and so his hit was taken away and the call was reversed.  Two days later, Waner got his clean and "official" 3,000th hit.
Two brothers win every World Series game for the winning team:  In the 1934 World Series, the St. Louis Cardinals defeated the Detroit Tigers 4 games to 3.  Jerome "Dizzy" Dean and his kid brother Paul "Daffy" Dean won two games each, accounting for all four Cardinal wins.
Pitching a no-hitter and homering twice: On June 23, 1971, Phillies Pitcher Rick Wise pitched a no-hitter against the Cincinnati Reds at Riverfront Stadium and hit two home runs in the same game.
Missing a World Series by reason of insanity: In 1903, Pittsburgh pitcher Ed Doheny helped the Pirates win the N.L. Pennant by winning 16 games.  But Doheny started acting very strange during the season and was committed to the Danvers Asylum for the criminally insane in Danvers Mass. twice within the span of two months late in the year.  Because of his bizarre behavior, Doheny was forced to miss the Pirates appearance in the first-ever World Series of 1903. Doheny was never to pitch in the Majors again, remaining a patient and dying 13 years later in the Danvers Asylum.
Making the final out in two no-hitters against the same pitcher: Harvey Kuenn made the final out of two no-hitters, both against Dodgers' ace Sandy Koufax.  On May 11, 1963, Kuenn made the final out of Koufax's no-hitter against the San Francisco Giants.  On September 9, 1965, Kuenn struck out to end Koufax's perfect game against the Chicago Cubs.
If you liked this article, you might also enjoy our new popular podcast, The BrainFood Show (iTunes, Spotify, Google Play Music, Feed), as well as: