This Day in History: December 8th- Queen of Scots
This Day In History: December 8, 1542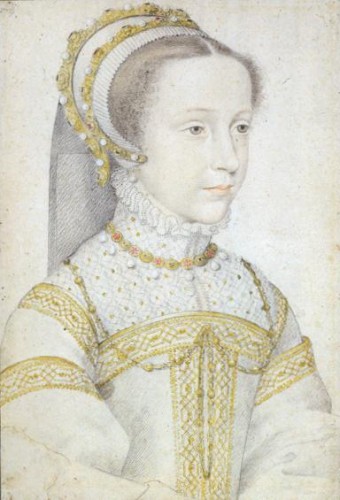 On December 8, 1542, Mary, Queen of Scots, renowned for her beauty and quick wit as well as her sad fate, was born at Linlithgow Palace. Her father, James V, was away fighting the English at the time of her birth. He had suffered a crushing defeat to Henry VIII at Solway Moss two weeks before her entry in the world.
James retreated to Falkland Palace in Fife and "turned his face to the wall, and died" on December 14, leaving his six-day-old daughter Queen of Scotland. When Henry VIII heard of his nephew's death (James's mother was Henry's older sister Margaret Tudor), he ended all aggression toward Scotland saying he could not wage war against a dead man.
Henry was very quick to propose a marriage agreement between the baby Queen and his son, the five-year-old heir to the English throne Edward. Considering Mary's claim to the English crown was almost as good as Edward's, this was a shrewd move on Henry's part.
But not everyone thought this was a great idea, especially her French mother, the formidable Marie de Guise, who was acting as her daughter's regent. Young Edward was being raised in Henry's new Church of England, and Scotland was still a Catholic country. Also, Scotland saw the union as a threat to its own nationality, as well as its religion.
But Henry was not to be deterred so easily. He ordered a series of raids in Scotland that became known as the "Rough Wooing." The English Army went on an arson binge, burning the Abbey of Holyroodhouse (where the recently departed James V had been laid to rest), the Abbeys of Melrose, Jedburgh and Dryburgh, and a whole lot of crops in the Tweed Valley.
The Scots would not be swayed so easily either. The young Queen was ultimately betrothed to the Dauphin of France, Francis in 1548 (who would become King Francis II) and was packed off to France at the age of 5 to be brought up at the French court. (The name of the royal family was changed at this time from Stewart to Stuart to reflect the French spelling of the name.)
Mary and Francis married in Paris on April 24, 1558. The Dauphin succeeded to the French throne the following year, and Mary became Queen consort of France. But just a little while later in 1560, her husband died from an ear infection.
Despite warnings that it would be a Very Bad Idea, Mary decided to return to Scotland in 1561. Things had changed since Mary crossed the channel as a little girl years previous. For starters, Scotland had undergone a religious 180 and was now a mostly Protestant country. But her half-brother, Lord James Stewart, assured her she'd have no problem practicing her Catholic faith openly. But when Mary returned to Scotland in 1561, things were a bit tumultuous.
But it was her marriage in 1565 to her cousin, Henry, Lord Darnley that set in motion the events leading to her imprisonment and eventually her death. Much of it had to with the fact that Darnley claimed to rule jointly with Mary and didn't take kindly to her refusal to make that official.
When Darnley and some cohorts murdered her private secretary and friend, David Rizzio, (who Darnley was jealous of, with rumors that Rizzio was the real father of Mary's child) right before her eyes, it was clear the honeymoon was over. Their son James was born that summer, but this did nothing to draw his estranged parents closer.
Darnley was seemingly murdered on February 10, 1567 via an explosion. Many believe that James Hepburn, Earl of Bothwell was behind Darnley's death, especially when one considers his marriage to Mary, Queen of Scots a mere three months later. Whoever did it, a group of nobles in Scotland used the murder and her subsequent marriage to one of the prime suspects as an excuse to rise against her.
Mary ultimately surrendered and was held in Lochleven Castle. Forced to abdicate, her baby son was now James VI, King of Scotland. She escaped Lochleven in 1568 but was quickly defeated. She headed to England figuring her fellow monarch and cousin Elizabeth I would help her out, but she figured wrong in the end.
For 19 years, Mary was the focus of many a Catholic plot to oust Protestant Elizabeth and put Mary on the throne of England. One of these plots was a plan to assassinate the English Queen. Masterminded by Sir Anthony Babington, he allegedly persuaded Mary to participate, but letters were intercepted, and Babington was executed.
Mary was given what was supposed to pass for a trial. (She wasn't allowed witnesses in her defense or counsel and was not given the evidence against her before it was presented in the trial). Her fate was always a foregone conclusion – guilty and condemned to death. Given the English Queen's Privy Council's attitude was "so long as there is life in her, there is hope; so as they live in hope, we live in fear," Mary didn't want to be making any long-range plans.  She did point out during the trial that as she was never an English subject, she could not have possibly committed treason against England and implored her triers, "Look to your consciences and remember that the theatre of the whole world is wider than the kingdom of England."
Despite the results of the trial, Elizabeth was still hesitant to have Mary executed given the precedent it would set on the "Queen-killing" front. She was also concerned about the potential ramifications, with Mary's son perhaps wanting revenge someday and the Catholic church's not inconsiderable influence potentially coming to his aid in the fight.  Nevertheless, she ultimately signed the death warrant.
And so it was that Mary was beheaded at Fotheringhay Castle on February 8, 1587. Among her last words were to forgive her executioners: "I forgive you with all my heart, for now, I hope, you shall make an end of all my troubles…" and then finally, "In manus tuas, Domine, commendo spiritum meum." ("Into thy hands, O Lord, I commend my spirit.")
She was 44-years-old and had lived almost half of her life as a prisoner in one form or another.
If you liked this article, you might also enjoy our new popular podcast, The BrainFood Show (iTunes, Spotify, Google Play Music, Feed), as well as:
Expand for References