The Tragic Life of JFK's Sister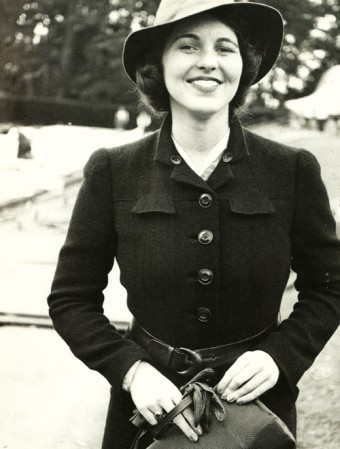 On January 20, 1961, the newly-elected President John F. Kennedy,  at his inauguration in front of the Capital, told Americans to "ask not what your country can do for you, ask what you can do for your country." Over 800 miles away, in Jefferson, Wisconsin in an institution called "St. Coletta School for Exceptional Children" lived a 43 year old woman, who perhaps was listening to the address on the radio. Her name was Rosemary Kennedy and she was President Kennedy's little sister.
Rose Marie ("Rosemary") Kennedy, born on September 13, 1918, was the third child and first daughter for Joe and Rose Kennedy. No source could quite pinpoint why Rose Marie had issues, but they were apparent very early on. As we now know, there can be several factors/reasons for development disorders – genetic, infection, exposure to environmental toxins, and other complications. Rosemary's mother claimed several times that the nurses, due to the tardiness of the doctor, tried to halt her labor, injuring the baby in the process. Even early in life, accounts describe Rosemary to be "slower to crawl, slower to walk and speak than her two bright brothers." She had a hard time "eating with a spoon and steering her sled." In first grade, she was having difficulty keeping up in school.
Despite all of this, many signs point to her having an otherwise happy, fulfilling life as a child and teen, participating and remaining active as a part of the wealthy and well-known family. She was described as beautiful, sweet, great company, and loquacious, and, as put in Laurence Leamer's well-known book, The Kennedy Women: The Saga of an American Family,  Rosemary was "a picturesque young woman, a snow princess with flush cheeks, gleaming smile, plump figure, and a sweetly ingratiating manner to almost everyone she met." Her parents reported to several media outlets (who were always requesting interviews and information about the Kennedy kids) that she was training to be a Kindergarten teacher and that she "has an interest in social welfare work, she is said to harbor a secret longing to go on the stage."
In fact, Rosemary kept a diary during this time that was only uncovered in 1995. The diary is thought to cover 1936 through 1938, when Rosemary was 18 to 20 years old. She describes trips, riding horses, dances, spending time with family, teas, and even a meeting with King George VI and Queen Elizabeth. In 1938, the whole Kennedy clan took a trip to England and was presented in front of the royal couple. As Joe Kennedy said at the time (recounted in the diary), "Rose, this is a hell of a long way from East Boston." Rosemary, along with her sisters, performed the rather complicated royal curtsey. By all indications, Rosemary had a fantastic time – though Leamer reports that Rosemary nearly tripped and fell when presented.
The diary, itself, was written in simple, short prose, but not unlike what you would read in a teen girl's diary today:
"Went to luncheon in the ballroom in the White House. James Roosevelt took us in to see his father, President Roosevelt. He said, 'It's about time you came. How can I put my arm around all of you? Which is the oldest? You are all so big.'"
This diary entries have led some historians and Kennedy biographers to believe that Rosemary may not have had a severe developmental disorder, or at least not as severe as is often claimed. There are theories that she had simple dyslexia (based on certain signs of it in her writing), a learning disability, or depression (as will be described in a moment, she had severe mood swings when she got older). More nefariously, several books claim that Joe Kennedy didn't like that she was "unlady like," "sexually active," and "at times, unhappy."
Whatever the case, in 1941, it seemed Rosemary's normal good-natured demeanor changed. In her mother, Rose Kennedy's, memoirs, she describes "noticeable regression in the mental skills that she (Rosemary) worked so hard to obtain" and "her customary good nature gave way increasingly to tension and irritability." She was known to run away and Rose described her as being violent; "Since she was so strong, her blows were quite hard."
That same year, Joe consulted with doctors to try and find a way to help his daughter (though some more nefariously speculate that he was simply worried about Rosemary embarrassing the family) and came upon a "promising" new procedure developed by Portuguese physician Antonio Moniz called a "leucotomy" or known today as a lobotomy. It was seen as a last resort for those suffering from extreme psychiatric disorders, giving the patient a "hope for contentment." The theory was that by severing the nerve connections to and from the prefrontal lobe, it would "fix" certain mental illness, depression, and a host of other developmental disorders. Of course, by doing this, it potentially sacrificed the patient's personality and some level of their intellect; but, at the time, the potential benefits were often seen to outweigh the potential drawbacks due to the lack of other viable treatments for possibly severe mental disorders. In the 1940s, performing lobotomies wasn't on the fringes of science either. In fact, Moniz won a Nobel Prize in 1949 "for his discovery of the therapeutic value of leucotomy in certain psychoses".
In November 1941, Joe Kennedy had a lobotomy performed on Rosemary at George Washington Hospital by Dr. James Watts and Dr. Walter Freeman, who was a US advocate for the procedure and called it "soul surgery". Joe made this choice, apparently, without approval from Rose (she would later say she was never consulted).  As for the procedure, one of the surgeons stated, "We went through the top of the head… She had a mild tranquilizer. I made a surgical incision in the brain through the skull. It was near the front. It was on both sides. We just made a small incision, no more than an inch… We put an instrument inside…" At which point they began making blunt cuts of her brain with a butter-knife like object. They finally stopped destroying her brain when she became incoherent and no longer could respond to questions they asked her
While the surgery did make her docile, it also resulted in her being unable to speak, walk, or communicate really at all. It also rendered her incontinent and significantly diminished her previous mental capacity. (She was much later in life able to recover some motor skills, such as the ability to walk with the help of a walker). Needless to say, Joe Kennedy was crushed.  The procedure that was supposed to help his daughter ultimately left her, for all intents and purposes, completely incapacitated.
After spending seven years at a hospital in New York, she was sent to St. Coletta in Wisconsin where "she would be better off for her own sake and ours if she went to a home where she would be with people of her own mental capacity."
When Rosemary went to Wisconsin in 1949, it was said that Joe Kennedy never visited nor saw his oldest daughter ever again. He passed away in 1969. Rose paid her a visit once a year, as did some of the children. Initially, Joe and Rose told reporters that Rosemary was "teaching retarded children in Wisconsin and wanted to live a secluded life." Rose would later tell renown biographer Doris Kearns Goodwin that she never forgave Joe for allowing the surgery to be performed on Rosemary, "It is the only thing I ever felt bitter towards him about."
As for John F. Kennedy's own relationship to his sister, during the campaign, it was claimed she was "too busy" to make public appearances. It was only after JFK's election in 1961 that they acknowledged that Rosemary was "mentally retarded." On October 31, 1963, the President signed the Mental Health Work Bill, attempting to free patients from lives stuck in institutions. While never explicitly stated, this may been inspired by his sister Rosemary. This was the last bill ever signed by JFK.
In 1962, Eunice wrote a heartfelt and, at the time, incredibly open article about her sister published in several magazines. She never mentions the failed lobotomy, but says that her family (mostly referring to her mother) did the best they could with Rosemary. She called her sweet, beautiful, and talks about the sadness they had in the family for her, acknowledging that she was "mentally retarded" and "keeping a retarded child at home is difficult." Eunice Shriver Kennedy would continue to talk about Rosemary the rest of her life and would create the Special Olympics in dedication to her sister.
Rosemary Kennedy lived until she was 86 years old and passed away January 7, 2005 in Fort Atkinson, Wisconsin.
If you liked this article, you might also enjoy our new popular podcast, The BrainFood Show (iTunes, Spotify, Google Play Music, Feed), as well as:
Bonus Facts:
 The words moron, imbecile, and idiot originally meant different things.  Originally, in psychology, those who had an IQ between 0 and 25 were considered idiots; IQs between 26 and 50 were considered imbeciles; and those who had an IQ between 51 and 70 were considered morons. These terms were popular in psychology as associated with intelligence on an IQ test until around the 1960s.  They were then replaced with the terms "mild retardation", "moderate retardation", "severe retardation", and "profound retardation".
While were walking down offensive historical term lane, before "Down's Syndrome" was called such, people with this genetic abnormality were sometimes called "Mongolian idiots" and the syndrome itself was called "mongolism". You might think this must have been an extremely antiquated term, but in fact it was used commonly all the way into the 1970s.
The first IQ test was created by French psychologists Alfred Binet and Theodore Simon in 1911.  This initial test measure intelligence by having children point to their nose and count pennies.
The word "moron" was coined in 1910 by psychologist Henry H. Goddard and was derived from the ancient Greek word "moros", which meant "dull". "Idiot" derives from the ancient Greek, "idio", meaning "person lacking professional skill" or "mentally deficient person incapable of ordinary reasoning". Retarded comes from the Latin "retardare", which means "to make slow, delay, keep back, or hinder".  The first record of its use for someone considered mentally deficient was in 1895.
Expand for References